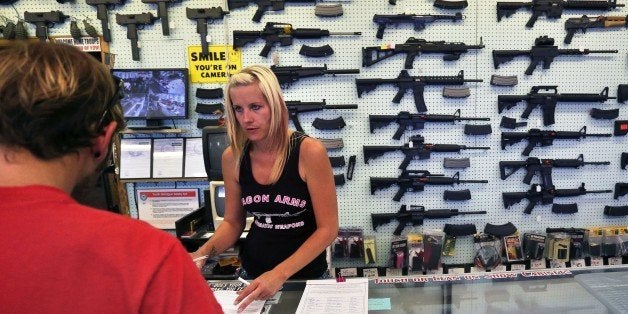 American opinion on guns has shifted significantly since Newtown. Republicans and Democrats agree that police should be treated equally in the justice system, but differ on whether they are. And pretty much everyone expects more Washington gridlock. This is HuffPollster for Thursday, December 11, 2014.
SUPPORT FOR GUN RIGHTS AT 20 YEAR HIGH - Pew Research: "For the first time in more than two decades of Pew Research Center surveys, there is more support for gun rights than gun control. Currently, 52% say it is more important to protect the right of Americans to own guns, while 46% say it is more important to control gun ownership. Support for gun rights has edged up from earlier this year, and marks a substantial shift in attitudes since shortly after the Newtown school shootings, which occurred two years ago this Sunday….Nearly six-in-ten Americans (57%) say gun ownership does more to protect people from becoming victims of crime, while 38% say it does more to endanger personal safety. In the days after Newtown, 48% said guns do more to protect people and 37% said they placed people at risk." [Pew]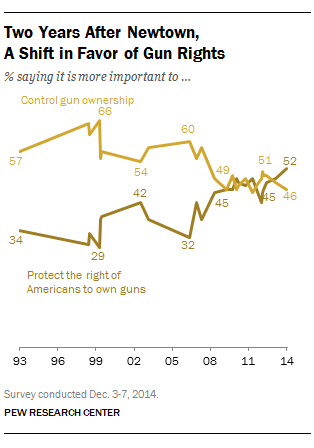 MOST SAYS POLICE HAVE PRIMARY RESPONSIBILITY TO KEEP SITUATIONS FROM ESCALATING - HuffPollster: "75 percent of Americans say that if a police officer is in a dispute with an unarmed civilian, the officer bears more responsibility to keep the situation from escalating, aHuffPost/YouGov poll finds. Just 14 percent say it's more the civilian's duty, with the remaining 11 percent unsure….The poll finds another point of political agreement: Almost three-quarters of Americans, including roughly equal percentages of Democrats, Republicans and independents, agree the criminal justice system should treat police officers and civilians equally….Ask people whether reality lines up with that aspiration, however, and the consensus falls apart. Democrats and independents mostly believe that officers tend to get off too easily, with 71 percent and 52 percent saying that police are treated more leniently than other citizens. Republicans, however, are split, with 28 percent saying officers are treated more leniently, 34 percent that they're treated equally to others, and 30 percent that they're treated more harshly than civilians." [HuffPost]
AMERICANS AGREE ON LIKELIHOOD OF GRIDLOCK - Jennifer Agiesta and Emily Swanson: "Americans may not agree on much lately, but one opinion is nearly universal: There's almost no chance that President Barack Obama, a Democrat, and the Republican Congress can work together to solve the country's problems. A new Associated Press-GfK poll finds just 13 percent of Americans are confident the leaders, separated by nearly 2 miles of Pennsylvania Avenue, can work together, while 86 percent have no such faith. That's far more than the 58 percent who felt that way just after the 2010 midterm elections in which the tea party movement rose to prominence….Neither side holds much hope things are going to get better, either. Just 16 percent think the president is likely to restore public trust in government in the next two years, while 20 percent feel congressional Republicans will." [AP]
HISPANIC SUPPORT FOR OBAMA RISES - Justin McCarthy: "Hispanic Americans' approval of President Barack Obama's job performance is up 12 points, to 64%, since he issued an executive order protecting some immigrants who are living in the U.S. illegally from deportation. Whites' and blacks' ratings of the president did not change meaningfully during this time….Since that announcement, his job approval ratings among all Americans have climbed two points. Given no change in approval rating among whites, and a small but not statistically meaningful decline among blacks, the increase in his overall job approval rating appears to be largely driven by Hispanics' opinions….Hispanic Americans' opinions of the president's performance have varied more since he took office than has been the case among blacks and whites. Monthly approval ratings among Hispanics reached a high of 82% early in Obama's term in May 2009, and a low of 47% in September 2014. This 35-percentage-point range is wider than the 27-point range among whites and the 14-point range among blacks." [Gallup]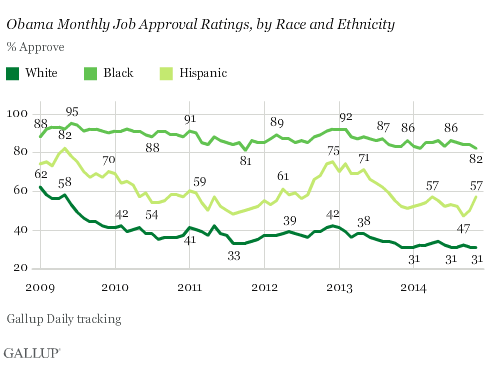 MOST AMERICANS WANT ANY CAPTURED ISIS FIGHTERS SENT TO GUANTANAMO - Dana Blanton: "A majority of American voters want any ISIS terrorist captured by the United States sent to Guantanamo Bay rather than a federal prison. That's a key finding of the latest Fox News poll, as President Obama wants to close Gitmo amid widespread fears ISIS will try to strike the homeland soon. A large 81-percent majority expects the Islamic extremist group ISIS to attempt a U.S. attack in the near future, including 48 percent who think it is 'very' likely, according to the poll released Wednesday. If an ISIS fighter were to be captured by the U.S., where should that prisoner be sent? By a 59-29 percent margin, voters say the Guantanamo Bay detention center in Cuba. Obama wants to close the facility and fulfill a 2008 campaign promise, yet 56 percent of voters want to keep it open. That's up from 52 percent in June, though down from a record 63 percent in 2013." [Fox]
HUFFPOLLSTER VIA EMAIL! - You can receive this daily update every weekday morning via email! Just click here, enter your email address, and and click "sign up." That's all there is to it (and you can unsubscribe anytime).
THURSDAY'S 'OUTLIERS' - Links to the best of news at the intersection of polling, politics and political data:
-Most New Jerseyans don't think the U.S. is ready for a 'Jersey Guy' president. [Yahoo]
-PPP (D) sees early support for Republicans Richard Burr and Pat McCrory in North Carolina. [PPP]
-Sean Trende says the extinction of Southern Democrats was not inevitable and can be reversed. [RCP]
-A poll of millionaires finds support for Hillary Clinton. [CNBC]
-Nathan Yau finds an infographic that used "physical objects and people" as visual clues rather than digital bars and lines. [Flowing Data]
BEFORE YOU GO
PHOTO GALLERY
People Who Want More Guns In Schools