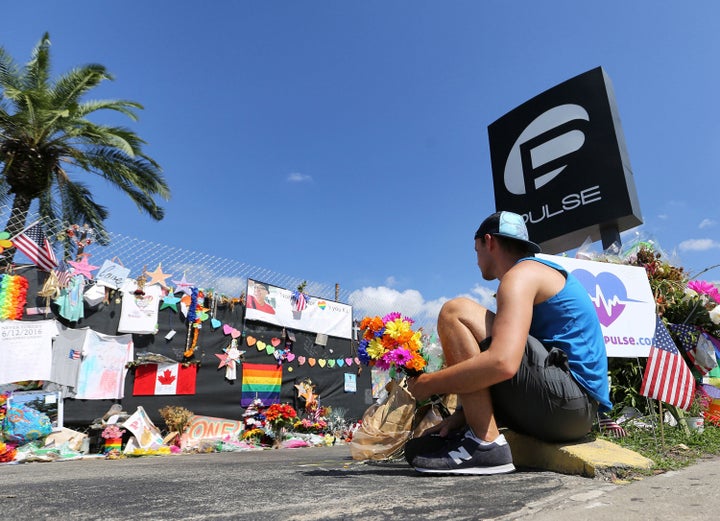 Gun violence permeates the American way of life.
The past two years have been so bloody that it's possible to lose track of individual events, even the most devastating ones. Shootings that rip open families and communities, that become the before-and-after events around which people forever define their lives, are so common now that they blur together.
It's easy to forget the past as we try to move forward. But it's important to remember that 2016 was the year that America suffered its deadliest mass shooting amid a torrent of gun violence all over the country. It's important to remember how it felt, and to fight to try and ensure nothing similar ever happens again.
On June 12, a gunman swept through Pulse, a nightclub in Orlando, Florida, killing 49 people and injuring dozens more. Omar Mateen committed one of the most violent acts of terror in the country since 2001, and the deadliest mass shooting in modern American history.
On July 7, a gunman took aim at police in Dallas during a Black Lives Matter protest, killing five officers and injuring another seven people. It was another record day for gun violence: the deadliest day for cops since Sept. 11, 2001.
Those shootings were a punch in the gut (as were the deaths, days earlier, of Alton Sterling and Philando Castile, two black men killed by police in Louisiana and Minnesota, respectively). There have been 289 mass shooting incidents in 2016, according to the Gun Violence Archive, which compiles data from shootings where four or more people are killed or injured. Since Jan. 1, 2016, there have been at least 16 mass shootings in which four or more people were killed, not including the perpetrator, according to data collected by Everytown for Gun Safety. Running tallies of mass shootings, such as those compiled by Vice and other outlets, are virtually unreadable for their sheer length.
These are just some of the communities that were left in shambles in 2016. Some of these shootings you may not remember, or maybe didn't even hear about at the time. The people who lived through them don't have the option to forget.
What happens next
States are starting to chip away at semiautomatic guns ― which are often involved in the most deadly shootings, and which are, as we've reported, a breeze to obtain.
California passed a sweeping gun control measure in November that bans possession of large-capacity magazines and the sale of semiautomatic weapons with quick-release magazine buttons. The measure also makes background checks mandatory for ammo purchases. Of course, gun sales skyrocketed after Gov. Jerry Brown (D) signed the bill, but semiautomatic rifles will need to be registered with the state after Jan. 1.
In Nevada, voters passed a state background check initiative despite a $6.6 million opposition campaign by the National Rifle Association, according to Everytown. Nevada joined 18 other states in curbing a long-standing loophole allowing people to avoid background checks by purchasing weapons at gun shows and other private events, the Las Vegas Sun reports.
Though Congress has repeatedly failed to get real gun control at the federal level ― despite hundreds of school shootings since the 2012 Sandy Hook massacre ― President Barack Obama earned a small win by signing his Mental Health Reform Act this month. The act is meant to provide funding for training teachers, emergency personnel and others to identify symptoms of at-risk individuals and symptoms of mental illness.
It remains unclear how the work toward gun control might be affected by the Trump administration. The president-elect has already flip-flopped on the issue, saying during the debates that the Second Amendment is "under absolute siege" but also calling for people who buy "all sorts of body armor and other things" to be flagged.
Popular in the Community