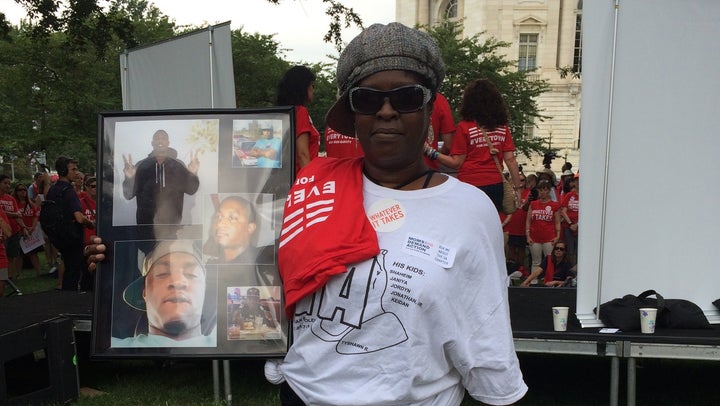 WASHINGTON -- Margaret Eaddy was one of hundreds of people gathered outside the U.S. Capitol last month for a rally against gun violence.
Everyone there had a story. Some lost siblings. Some lost friends. Eaddy lost her son, Jonathan. He was shot in the head in 2014 by a convicted felon who bought his gun at a gun show, she said, where background checks aren't enforced. Jonathan was in his late 20s, a father of four and about to start college the following Monday. The man who shot him is awaiting trial in Hampton, Virginia, where Eaddy lives.
The Huffington Post talked to several people that day about what brought them to the rally, but Eaddy stood out. At times, she spoke as a broken mother, still unable to get out of bed in the morning on some days because it feels like too much to bear without her son. In other moments, she spoke as an angry American, demanding to know what it will take for Congress to do something, anything, about gun violence.
"I just don't understand, what is it so hard for them to do? Just to put some ink on a piece of paper? Is money more important than our lives? That's what it's looking like. I just don't understand anymore," Eaddy said through tears.
Jonathan's killer was able to obtain a gun because of the so-called gun show loophole -- something the Senate tried to address in 2013 but ultimately failed to get the votes to do. Congress has done nothing since.
"You know, I had all confidence in America and Congress. I've always been a law-abiding citizen and everything. Now that I'm looking at the way this is happening, it's making me lose faith," Eaddy said. "I'm just getting really, really aggravated. Just tired. Just weary. And hopeless. When is somebody going to do something? When is it going to be enough?"
Listen to Eaddy's plea below. That includes you too, lawmakers.
Calling all HuffPost superfans!
Sign up for membership to become a founding member and help shape HuffPost's next chapter