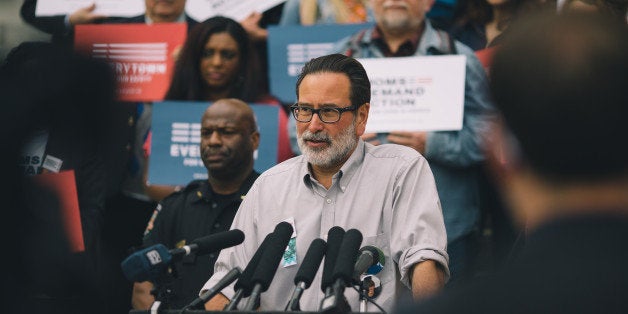 NEW YORK -- Richard Martinez's right wrist bulges with rubber bracelets, each one inscribed with a name and given to him by a grieving family shattered by an act of gun violence.
Around his left wrist is the watch his son, Christopher, was wearing when he was killed. Martinez was given the watch when he went to the morgue to identify his 20-year-old son's body. "It was the hardest thing I've ever had to do," he said.
It's been almost a year since a killing spree in Isla Vista, California, left six people -- including Martinez's only child -- dead, and more than a dozen injured. Speaking the day after the tragedy, Martinez made national news with an emotional denouncement of lawmakers afraid to act on gun control. "Chris died because of craven, irresponsible politicians," he raged. "Too many people have died. We should say to ourselves, 'Not one more!'"
Since that first public introduction, Martinez, who is a criminal defense attorney and a United States veteran, has been traveling around the country advocating for safer gun laws. He's spoken at churches and synagogues, schools and business clubs, to legislators and local officials and anyone else who will hear him out. Along the way, he's bonded with the others in his same tragic tribe: those who have had a loved one ripped away by a bullet.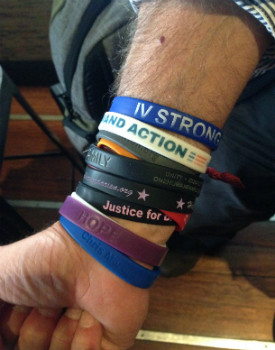 Martinez is not anti-gun -- "I have friends in the NRA to this day," he said -- but he said he is disturbed by the failure of the U.S. to pass what he calls "common sense" gun safety legislation.
"Americans have prided themselves over the course of their history about their ability to solve difficult problems," he said. "We can do better than this."
Last week, Martinez was in New York to take part in a fellowship program created by Everytown For Gun Safety, a gun violence prevention organization backed by former New York City Mayor Mike Bloomberg. Thirty-five gun violence survivors from 18 states were selected to join the fellowship program. Over three days, fellows attended sessions on legislative advocacy, media coaching and gun violence research. The fellows share Everytown's goal of fighting for safer gun laws -- in Martinez's words, to help America do better.
Since its beginnings, Everytown has elevated the voices of survivors in the gun control debate by featuring them in ad campaigns, connecting them to grassroots campaigns in their states, encouraging them to share their stories with elected officials and even including some survivors on its staff. But this is the first time the organization has trained survivors en masse and mobilized them as a ground force for change.
Everytown's calculation is this: More than statistics, more than glossy reports, its power comes from the heartbreaking, personal stories of gun violence, told by the people who are living it.
"I've seen it when a legislator realizes they are talking to a survivor of gun violence," said Colin Goddard, a senior policy advocate at Everytown who was shot four times during the 2007 Virginia Tech massacre. "It changes the dynamic entirely."
Some of the fellows are gunshot survivors. Others, like Martinez, had their lives irrevocably altered after a family member was killed with a gun. And then there are those who made it out alive after witnessing massacres that all Americans now know by a single phrase: Sandy Hook, Tucson, Virginia Tech.
Goddard said that many of the fellows are already active in their communities, and the training was intended to offer them practical tools and resources for advocacy. Most importantly, he said, the fellowship connected survivors with a network of other people who are doing the same thing -- and facing the same challenges.
"It can be very isolating, to be a gun violence survivor," said Kate Ranta, an Everytown fellow who was shot twice by her ex-husband in 2012 and is now an advocate for stronger gun laws for domestic abusers. "Having each other and not feeling alone is amazing."
She said she was eager to speak with legislators about the connection between domestic violence and gun access. In 2014, Everytown helped to pass bills in six states to keep guns out of the hands of domestic violence offenders. "I think that legislators get bogged down with the politics of the issue," she said. "Survivors put a face on this violence epidemic."
A session on speaking to community groups was led by Pam Simon, a staffer for Gabby Giffords shot twice alongside the former congresswoman in 2011, and Lucy McBath, whose son Jordan Davis was shot and killed at a gas station in Florida.
"Your story is your most powerful tool, but we want them to do more than just feel bad," said Simon, who was a teacher for more than 20 years before joining Giffords' staff. "More than empathy and sympathy, we want action."
She suggested tailoring the message to the audience -- for example, focusing on public health when addressing medical professionals, or on moral duty when speaking to clergy -- and supplying action points to take after hearing the speech.
McBath, who was thrust into the international spotlight because of the racial overtones of her son's murder, stressed the importance of self-care for survivors. "I get sometimes up to seven speaking requests per month," she said. "I got to the point where I had to say, I am not super woman. You need to make sure you are giving yourself a chance to rest and planning your opportunities strategically."
One issue Richard Martinez has narrowed in on this year is guns on campus.
"The gun lobby solution to the gun violence problem is more guns -- how can that make sense?" said Martinez, who testified against the Texas campus carry bill last month. "I heard arguments about how it will help women defend themselves against sexual assaults. Isn't it more likely there will be more sexual assaults at gunpoint?"
As Martinez talks about Christopher, his face shows just how complex -- and emotionally exhausting -- deep grief often is: In the span of a few minutes, he breaks into a smile remembering his son's competitive spirit and tears up reading a poem Christopher wrote when he was 9. He admits he doesn't sleep very much anymore. "None of us," he said. "We all have PTSD."
Despite his pain, he is optimistic that he and other survivors can make an impact on the gun control debate in the U.S.
"I have found that people who have experienced great loss and speak from the heart, they are formidable," Martinez said. "I think collectively we can make a difference."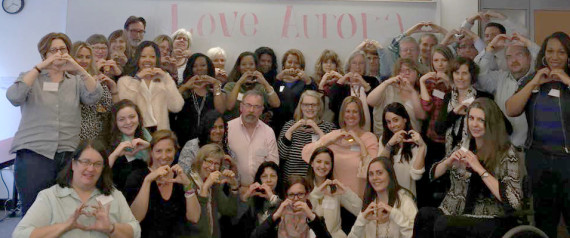 Everytown fellows send a message of support to gun violence survivors in Aurora, Colorado, as the town prepares for the trial of a man accused of killing 12 in 2012.
Before You Go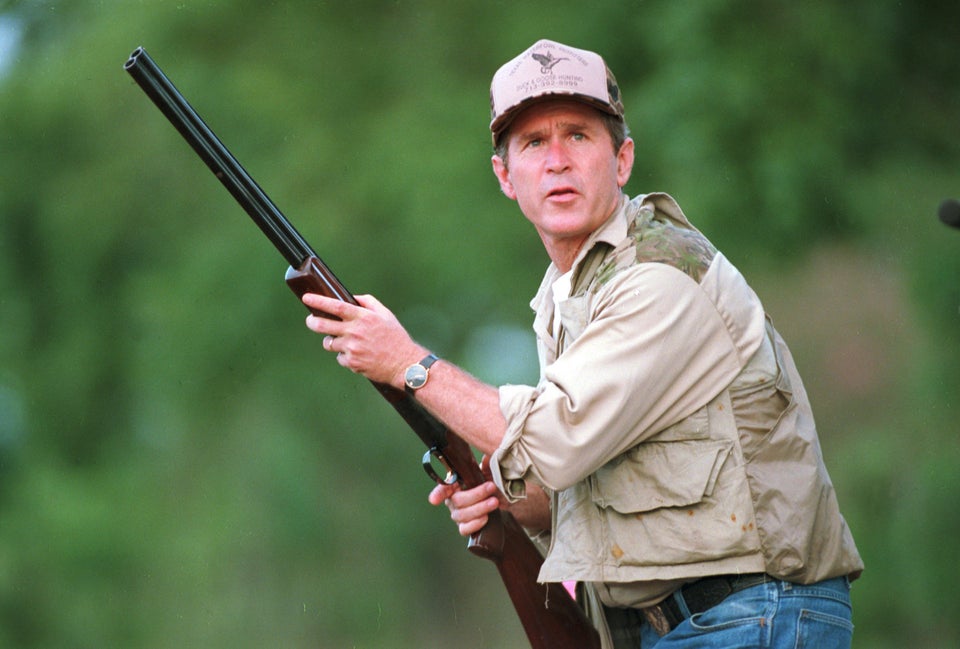 Politicians Holding Guns
Popular in the Community