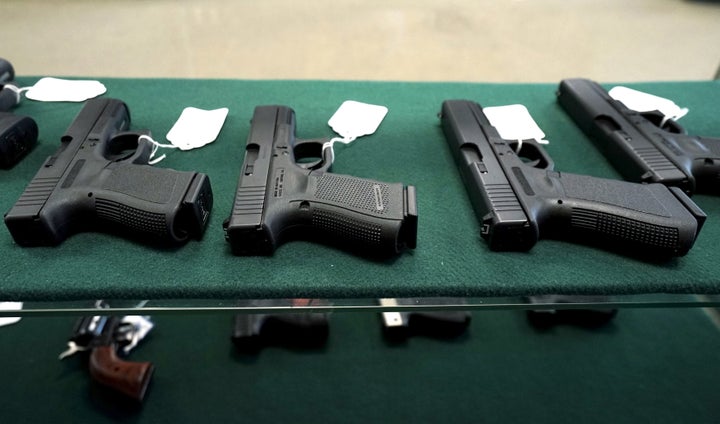 Despite being one of the leading causes of death in the United States, gun violence remains one of the country's least studied and most underfunded public health crises, a study released Tuesday found.
While gun violence kills more than 30,000 people in the U.S. every year, the study in the Journal of American Medical Association found, it's the least researched major cause of death relative to the number of lives it claims.
Among the top 30 causes of death recorded by the U.S. Centers for Disease Control and Prevention, gun violence claims more lives than HIV, Parkinson's disease, fires and 12 other public health crises, but is researched less than all of them, as plotted by the study authors in the graph below.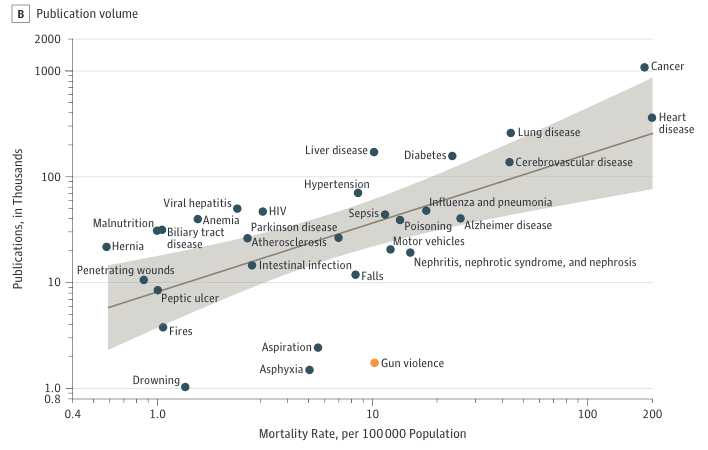 The study authors measured research by counting the number of studies published on each cause of death between 2004 and 2014, the most recent year for which CDC mortality statistics are available.
Funding for research on gun deaths, they also found, is the second lowest relative to its mortality rate, beating out all but deaths by falling: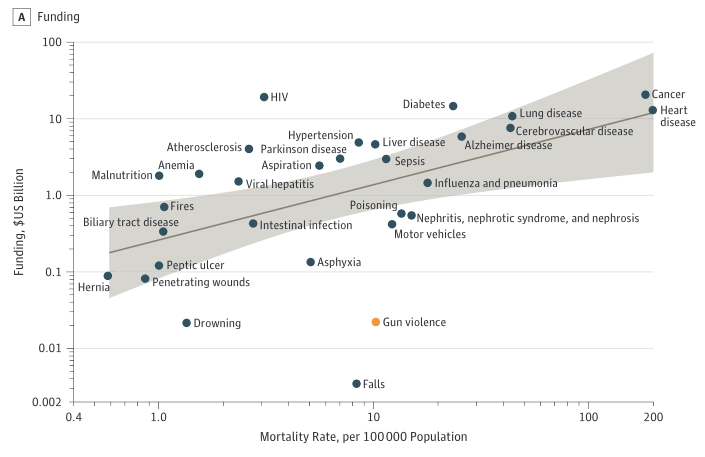 If federal funding for research on causes of death matched their mortality rates, the researchers estimated, gun violence studies would receive about $1.4 billion over a decade. Instead, just $22 million in federal funding ― about 1.6 percent of the expected amount ― was spent on the subject in the decade surveyed.
Similarly, the study found that just 4.5 percent of the expected volume of research on gun violence was met.
The likely culprit of this disparity, the study authors point out, is a 1996 congressional appropriations bill mandating that "none of the funds made available for injury prevention and control at the Centers for Disease Control and Prevention [CDC] may be used to advocate or promote gun control."
It remains to be seen whether lawmakers stand a chance of changing this research stipulation with a Republican-controlled Congress under Donald Trump as president. While his nominee for attorney general, Sen. Jeff Sessions (R-Ala.), has spoken out firmly against gun control, advocates for gun violence research hold out hope.
"There are going to be demands on [Sessions] to protect police officers from getting shot. He's going to have to show that he can protect minorities," Dr. Mark Rosenberg, the former director of the CDC's National Center for Injury Control and Prevention, told The Huffington Post last month. "The only way he can solve these really hard questions is through research."