CHEVERLY, Md. ― When Che Bullock awoke in a hospital in August 2013, the first thing he felt was grateful to be alive. He'd been stabbed 13 times outside a nightclub in the Washington, D.C., area and taken by helicopter to a medical center, where doctors performed lifesaving surgery.
Bullock's sense of relief quickly faded, first into physical pain and anxiety, then into fear and finally into a rage toward his attackers.
"It was kind of like they put a hit out on me," said Bullock, now 30. He recalled friends coming to his hospital room to stand guard.
Just days after the stabbing, Bullock had recovered enough to return home to the Washington neighborhood where he said he'd had a beef with the individuals who'd tried to kill him. Bullock was prepared to defend himself but also ready to hit back.
But before he could act, Bullock got a call from Joseph Richardson Jr., a University of Maryland associate professor, offering him an alternative. Richardson, now 50, invited him to participate in a study on young black men who had been shot or stabbed more than once ― repeat victims of violence sometimes referred to as "frequent flyers." Bullock was hesitant, thinking Richardson might be working with police, but in the end he decided to sign up.
That study ultimately saved his life.
Gun violence is an American crisis that leads to more than 33,000 deaths each year ― about a third of which are homicides ― and tens of thousands more nonfatal shootings, according to federal data. Preventing that violence has been a topic of debate for decades, with politicians making glacial progress. But Richardson and others have decided to pursue another route, offering patients a glimpse into a less violent future that isn't hampered by the political stalemate.
In September 2017, Richardson launched the Capital Region Violence Intervention Program out of the Prince George's Hospital Center in Cheverly, where Bullock was treated. The program, which arose from Richardson's initial study, takes a public health approach, treating violence like a disease that can both be spread and "inoculated" against, said Richardson, who now serves as co-director.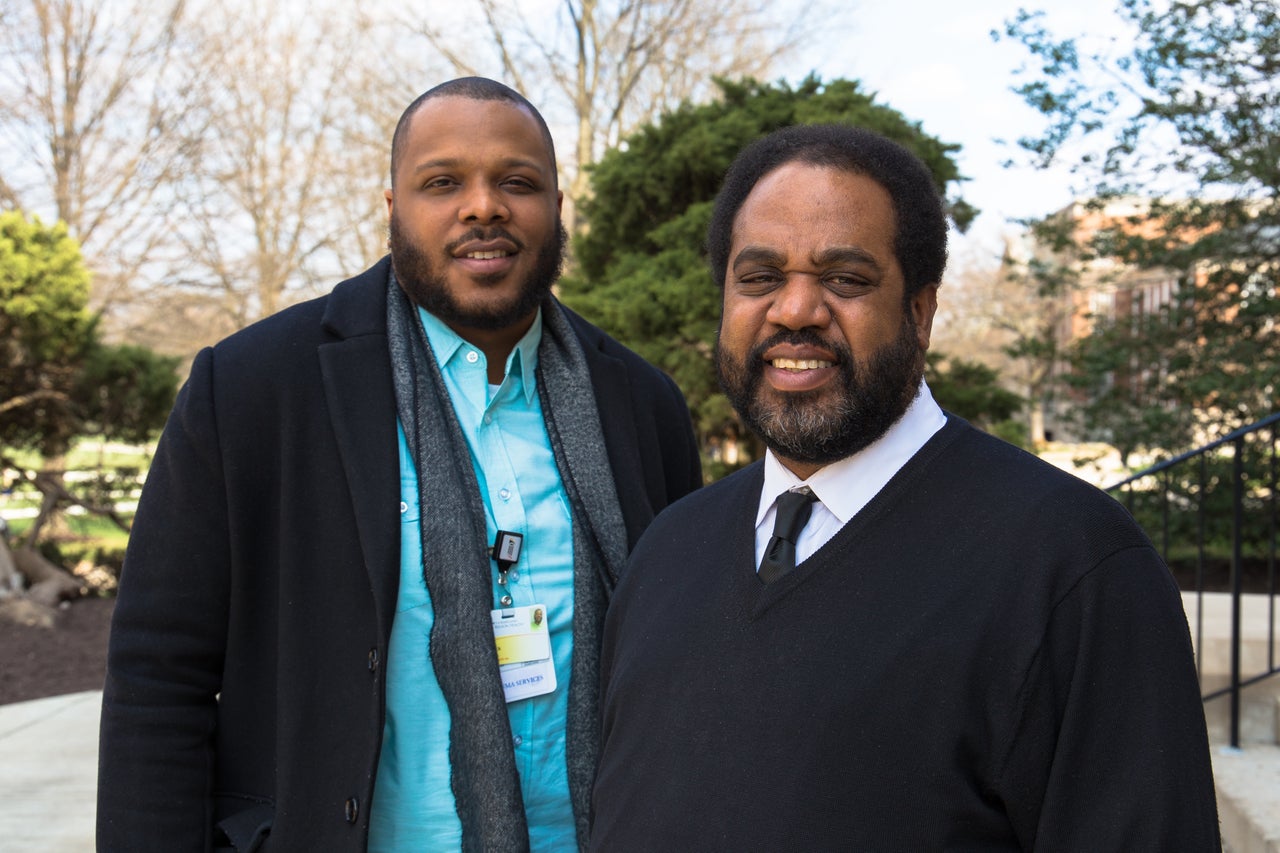 The model is the area's first hospital-based violence intervention program, or HVIP, and is one of about 30 accredited programs in the U.S., with a few more in development and a handful operating internationally.
HVIPs target the structural causes of violence ― many of which spring from broader racial and socioeconomic inequalities ― giving survivors tools to make lifestyle changes that can prevent them from being re-victimized or from perpetrating further violence. Research shows HVIPs have been effective at reducing violent injury and death, which can lead to substantial savings on health care and criminal justice costs.
Richardson's program, which also serves victims of stabbings and other traumas, has seen promising results in its first year, but it doesn't yet have enough data for a full analysis on results. Of the more than 100 patients so far enrolled, none has been re-hospitalized for violent injury, he said. Before the program's launch, one-third of all violently injured patients they saw had been hospitalized two or more times before.
Save A Life And Pay It Forward
Bullock's road to rehabilitation began in 2013 with a simple question.
"One of the first things Dr. Richardson asked me is, 'What do you want to do with your life?'" Bullock recalled of their first meeting. Richardson, at the time, was working one-on-one with some survivors, helping them find social and mental health services.
Bullock didn't know how to answer the question, but Richardson, who has a doctorate in criminal justice, had an idea. He invited Bullock to speak about his personal experience to an African American studies class he was teaching on the modern Jim Crow at the University of Maryland. Richardson believed Bullock's life story was important; now he just needed to persuade Bullock to share it.
The following week, Bullock headed to campus to tell his story ― ending with his attack ― in front of more than 100 students packed in a room.
"You could drop a pin in the auditorium, I guess that's how engaged they was," Bullock said.
On the drive home, Bullock's mind raced. His presentation was a success, and the positive response from students left him considering other possibilities for his future. Perhaps he could become a motivational speaker?
But just before he got on the freeway, someone shot at his car. The bullet missed him but shattered a window, leaving him with a gash on his forearm. It had only been a few weeks since his stabbing, and Bullock once again found himself traumatized and thinking about retaliation.
"I even remember finding out who did it," he said.
Bullock called Richardson to tell him what had happened. Richardson urged Bullock to meet with him before doing anything reckless. They met again and began to discuss the factors that had led Bullock to be targeted in the first place.
"I started to think about how I was getting my money, what were the forces of my financial capital," he said. "Of course, it was drugs."
Richardson suggested he try something different and cut him a check for $300 to speak to his class again.
"I made $300 in an hour, and the hustler in me is, like, how can I turn this $300 into $1,500?" Bullock said. "When I started getting more and more speaking engagements, I really didn't think about retaliating too much because I was focused."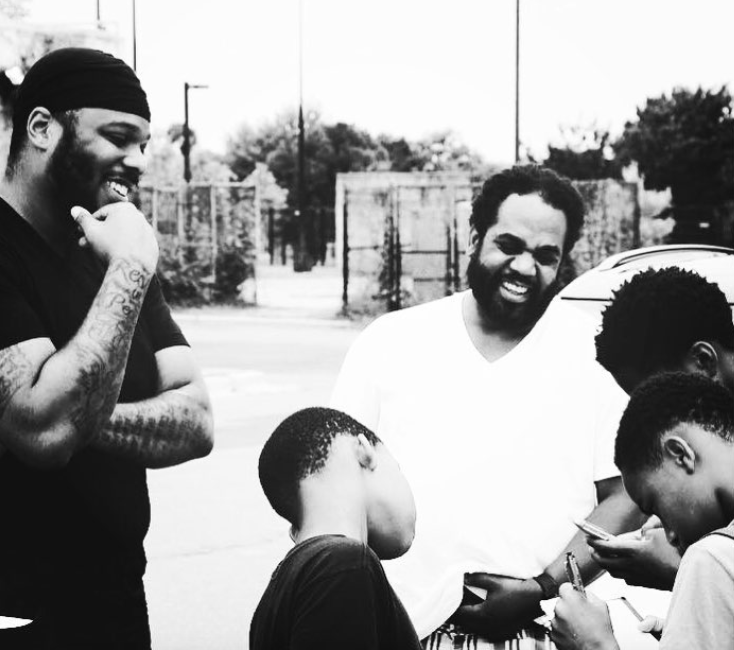 For the first time, Bullock saw a different path for his future. He continued to work with Richardson over the next four years, helping Richardson develop the Capital Region Violence Intervention Program. When the program launched last year, Richardson hired Bullock to recruit survivors and serve as their case manager.
"When I walk into the rooms now, the first thing I ask is, what's the plan? What do you want to do with your life?" Bullock said. "Most guys don't know."
Bullock meets with patients daily while they're in the hospital. When they're released, he follows up, helping to set up goals and identify needs. Bullock also works with patients to develop "coping mechanisms" to manage the stress that can stem from trauma, and he urges them to get mental health treatment, which he said can be challenging because of a broader stigma in the African American community against seeking help.
After a near-death experience, experts say there's a "golden moment" in which survivors are especially receptive to guidance. Bullock builds trust and rapport with the patients and then asks them to join the program. Some turn him down, but so far the program has an enrollment rate of over 90 percent, he said.
Bullock also works to reach out to the friends and loved ones of survivors, which is integral to the model's success, Richardson said.
"If violence is a disease and this person who was injured was infected, you're trying to inoculate this person by giving them mental health services and getting them a job, but if you're sending that person back to a network of people who are still infected, what have we really solved?" he said.
Investing In Prevention
It costs about $300,000 a year to run an HVIP serving about 100 patients, said Kyle Fischer, policy director for both the Maryland program and the National Network of Hospital-based Violence Intervention Programs.
The Capital Region program has so far not had trouble securing funding for the immediate future, said program director Dawn Moreland. But with around 740 survivors of violent injury coming through the hospital each year on average, she said, additional funding could help them expand to meet the needs of the community.
"The volume will always be there, unfortunately," said Moreland. "We'll always have more clients to serve."
There's reason to believe HVIPs are a worthy investment. Gun violence deaths and injuries cost a total of $229 billion each year, according to a 2012 study that measured direct spending on law enforcement, criminal justice and health care related to shootings, as well as indirect costs like lost wages and the effects on victims' quality of life.
In other words, the average cost to taxpayers for a single gun homicide in America is nearly $400,000, according to the study.
"A lot of the guys tell us that this is the first time someone actually cared what happened to them."
This phenomenon is often referred to as "murder inequality." But the racial disparities of gun violence are also evident in the nearly unending stream of nonfatal shootings at the hospital, said Dr. Sean Benoit, a Prince George's Hospital Center trauma surgeon and co-director of Richardson's program.
"These guys come in after getting shot, we send them back out, they get shot and they come back in. So we're just patching them back up," Benoit said. "We have many patients who leave here not even knowing what surgery we did."
Many survivors who find themselves at the Maryland hospital have normalized violence, seeing prison or death as acceptable or even inevitable, said Bullock.
In recent years, Benoit has made a habit of bringing his anatomy book to patients to show them how he's operated. He said it helps them understand how close they may have come to death. Small gestures like that can make huge differences, said Benoit.
"A lot of the guys tell us that this is the first time someone actually cared what happened to them, that this is the first time they have spoken to anyone who cares if they finish high school or get a GED or go to community college or get a job," he said.
Do HVIPs Really Work?
Studies indicate that HVIPs prevent violent injury, but the research has been limited in size and scope, often due to relatively small sample sizes and narrow sets of measured metrics, experts say.
But even in small studies, researchers are seeing success. By providing wraparound care to survivors, participants receive more opportunity for job placement, educational advancement, housing and even legal aid, said Rachel Myers, research coordinator of the violence intervention program at the Children's Hospital of Philadelphia.
"It's a matter of identifying people who have gone through this recent traumatic injury and really connecting with them in a human way," Myers said.
For survivors, just having someone believe in them can help them become productive members of society, she said.
Myers, who contributed to a study on HVIP outcomes, said she'd like to see future analysis that pulls from broader pools of clients and attempts to gauge how the programs are tied to socioeconomic and psychosocial factors.
Richardson is also hoping to help expand the body of evidence on the effect of HVIPs. In the coming months, he said, he plans to begin the largest randomized study ever conducted on the effectiveness of HVIPs, which will include a sample of as many as 800 patients at participating programs in the Washington metro area.
A New Lease On Life
T.J. King, 35, grew up just a few blocks away from Bullock. He was hanging out in the neighborhood with friends in June 2017 when two men pulled up in a car and fired 56 times, striking five people, including King. All of them survived, but King's injuries were the worst. A round entered his back and came out through his chest, breaking two ribs and nearly hitting his lung and heart. After returning home from Prince George's Hospital Center, King got a call from Bullock, asking him to join an earlier iteration of the Capital Region program.
"I actually talked in that group about what happened to me, and how I felt and what I was going through," King said, explaining that he had never expressed himself like that before. "I probably didn't tell [Bullock] this, but I went home after and cried for like two hours."
Just months after King's shooting, his mother succumbed to Stage 4 cancer. King said he felt the best way to honor her was to continue improving his life. He stuck with the program and eventually got a job at Prince George's Hospital Center transporting patients. He also informally meets with survivors when Bullock is off duty. King said he hopes to join the program as a full-time employee soon.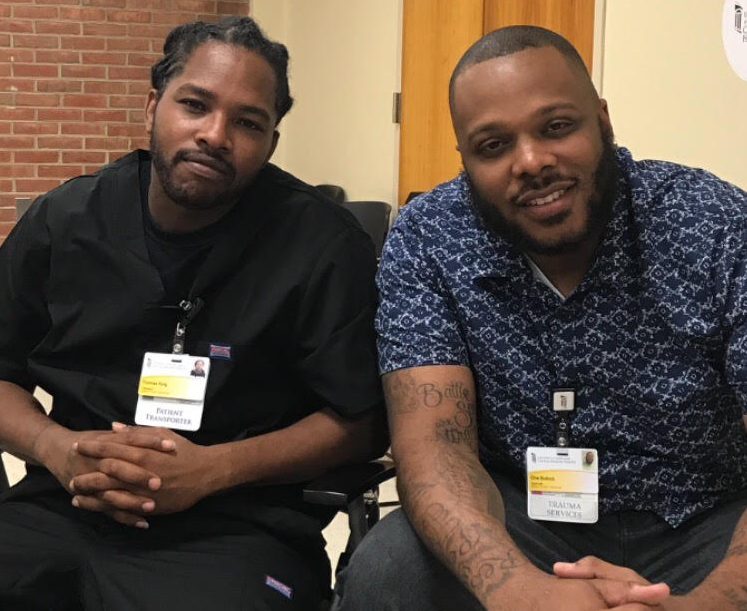 None of it has been easy, said King. It took a while to come to the realization that it wasn't worth seeking revenge against the people who shot him. King has also had to leave behind friends who weren't ready to give up the streets, he said.
But along with those changes have come a newfound positivity and passion for life. King woke up one morning a few months ago and decided he wanted to go fishing, he said. He'd never fished before, but he'd always been interested in it. He watched a few videos on casting and baiting, bought two fishing rods and headed to the Potomac River the next day. He caught his first fish.
Over the past few months, King's love of fishing has grown. He's taught his friends how to fish, including the ones who were shot alongside him last year. Sometimes he'll take kids from the neighborhood to his favorite spots.
Before he got shot, King never thought he'd be the kind of person who gets up at the crack of dawn just to sit by the water for hours, hoping for a fish to bite. Now there are fishing rods in his trunk at all times, he said, a reminder that anyone can transform their life ― even if they need a little help doing it.
"The same way we got turned around, it's possible the next person can turn around," King said.
Popular in the Community