October is Domestic Violence Awareness Month. To aid the public's understanding of the reality of lethal violence against women, each year the Violence Policy Center (VPC) releases a study that ranks the states by their rates of females murdered by males. This year we released the 20th edition: When Men Murder Women: An Analysis of 2015 Homicide Data. Using the most recent data available, the report found that Alaska had the highest rate of females murdered by males, followed by Nevada, Louisiana, Tennessee, and South Carolina.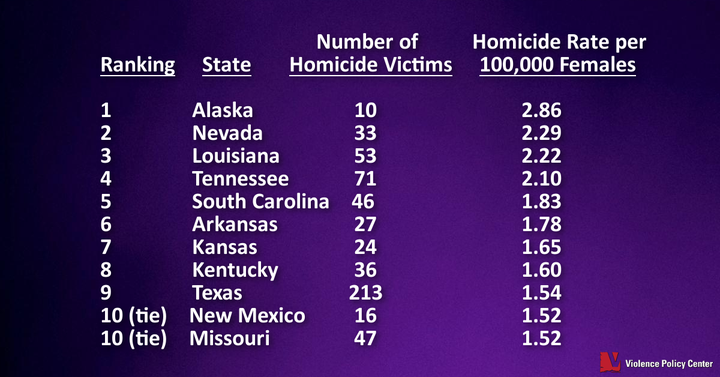 Since the study was first released in 1998, the rate of women murdered by men has decreased 29 percent. The 1990s saw the passage of three important pieces of legislation designed to protect women from domestic violence: The Violence Against Women Act (VAWA), the Domestic Violence Offender Gun Ban, and the 1994 Wellstone amendment, which prohibits individuals who are the subject of a protective order involving domestic violence from buying or possessing firearms. However, the number of women murdered by men each year remains disturbingly high: in 2015, 1,686 women were victims of homicide at the hand of a man—and guns are the most common murder weapon used.
The information presented in When Men Murder Women tells us what we should already know: guns don't keep women safe.
93 percent of women murdered by men in 2015 knew their killer.
For years, the NRA, along with its financial patrons in the gun industry, has been desperately working to convince women that only a gun can keep them safe, offering stereotypical scenarios of dangerous strangers lurking in the shadows. Yet the facts show that women are much more likely to be harmed by someone they know than by a stranger. In 2015, 93 percent of women were murdered by a man they knew. Of these, 64 percent of these victims were the wife, girlfriend, or other intimate acquaintance of their killer. This is domestic violence in its most lethal form, enabled by access to firearms.
Firearms—especially handguns—were the most commonly used weapons.
For homicides where the weapon could be identified, 55 percent of female victims were killed with a gun, and 69 percent of those victims were killed with a handgun. The number of women shot and killed by their husband or intimate acquaintance was more than five times higher than the total number murdered by male strangers using all weapons combined. The deadly combination of domestic violence and guns cannot be overstated. Having a gun in the home is a key factor in the escalation of nonfatal spousal abuse to homicide.
Most homicides were the result of an argument, not the result of another felony crime like robbery.
When the circumstances could be determined, 84 percent of homicides were NOT related to another felony, such as robbery or rape. The majority of these homicides occurred following an argument between the killer and the victim. Of the homicides resulting from an argument, 49 percent were committed with a gun. Guns are designed to kill, and the efficiency and lethality of firearms can turn a relatively minor argument into a murder.
Black women are impacted at a disproportionate rate.
Black Americans, both men and women, are disproportionately impacted by homicide. In 2015, black women were murdered by men at a rate more than twice as high as white women: 2.43 per 100,000 versus 0.96 per 100,000. Not surprisingly the killing of black women by men mirrored national trends. Black women were more than 13 times as likely to be murdered by a man they knew than by a stranger. A gun was the weapon used in 58 percent of homicides, and 88 percent of murders were not related to another felony crime.
The clear picture that emerges from When Men Murder Women is that women face the greatest threat from someone they know, most often a spouse or intimate acquaintance, who is armed with a gun. For women in America, guns are not used to save lives, but to take them.