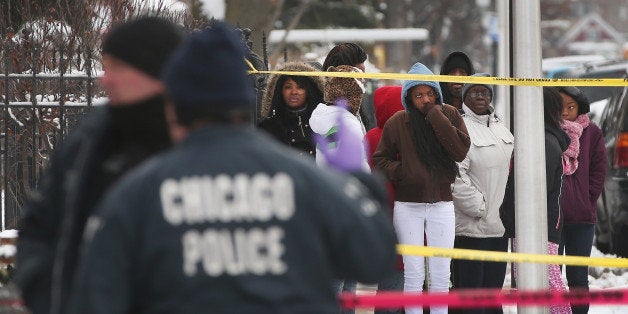 A new study published by the journal Social Science & Medicine suggests that gun violence is indeed an epidemic "transmitted" by high-risk groups, much like HIV or Ebola. But when you consider who falls victim to gun violence, the statistical data don't seem random at all: The networks through which this violence spreads are rather small and specific. And the key to curbing the epidemic might be similar to efforts used to contain other infectious diseases.
"The majority of people who are the victims of these crimes are young men with criminal records, and people in these sorts of networks." Andrew Papachristos, an associate professor of sociology at Yale University who co-authored the study, told The Huffington Post. "The idea that [street shootings] are truly random is overstated."
After poring over six years worth of data on gunshot victims and arrests in Chicago, Papachristos and his co-authors put together patterns among co-offenders and their victims. Their results indicated that 70 percent of nonfatal injuries occur within networks containing just 6 percent of the city's population. (The study did not look at gunshot victims from mass shootings or cases of domestic violence.)
"You don't choose your genetic code or your ZIP code," Papachristos said. "If you're born an African-American male in Englewood, you don't have a say. If your dad was a felon or your cousin is in a gang, you don't have a say in that."
The pool of people most likely to be shooting victims is a fairly concentrated one. In Chicago, victims are overwhelmingly black men between 18 and 24-years-old in low-income areas. According to Papachristos, that pool is also represented among people who engage in "high-risk" behaviors -- such as owning a gun or belonging to a gang with easy access to weapons -- which put them at a greater likelihood of becoming a victim.
Papachristos said even the high-profile shootings of victims like 15-year-old Hadiya Pendleton and 6-month-old Jonylah Watkins -- both of which seem random considering the victims' age, sex and lack of criminal history -- don't seem as random when viewed through the lens of social network factors.
"In Jonylah Watkins' case, her father was a target and may or may not have been an active gang member," Papachristos said. "Hadiya Pendelton was an unintended target, but [the shooters] were targeting someone in the park. It's not like the shooters rolled up and just sprayed [bullets] into the park for no reason. She still lived in an area of the city touched by those factors."
With such a large proportion of shootings contained to such a small segment of the population, Papachristos said the city's "Chiraq" nickname, which conjures images of a dangerous hellscape where citizens can be gunned down on any corner, is off base.
"Statistically, if 70 percent of the shootings happen in a network that's 6 percent of the city, that means 94 percent of the city is at a very different level of risk."
"If you think you catch a bullet -- or rather, if you think gun violence is an airborne pathogen -- then everyone is at equal risk who is in sneezing distance," Papachristos said. "I'm arguing that it's not: It's a blood-borne pathogen. It's transmitted primarily within these networks and for specific reasons."
Papachristos said the spreading of gun violence via specific, high-risk behaviors can be mitigated in ways that mirror the efforts to contain HIV or Ebola.
"When you look at an epidemic like HIV, we don't have one solution," Papachristos said. "With the HIV analogy, we have baseline primary education: We teach people about how it's transmitted. In 2014, you're going to be hard-pressed to find a drug addict that doesn't know they could get HIV through needle sharing. That wasn't the case in the late 1980s."
"Primary education. It's the same thing with gun violence," he continued. "Gun safety is important. We need to have access to health care. We need to pull in health officials in a non-trivial way. We need to treat trauma, and not just the victims but their families."
And despite the political support for sweeping police tactics like stop and frisk policies, Papachristos suggests they're not the most effective response.
"It's the opposite," he said in a recent Washington Post op-ed. "[It's] highly targeted efforts to reach specific people in specific places, akin to providing clean needles to drug users to prevent the spread of HIV."
"I hope this research guides debate around 'how do we reach people in these networks?'" Papachristos told HuffPost. "What do we do, and how can we really use these types of information to improve what we're doing and make this not only a safer place, but also a more just and fair way of approaching the problem."
CORRECTION: An earlier version of this story incorrectly stated that the study was recently published in the American Journal of Public Health. In fact, the full study was published in Social Science & Medicine.

States With The Most Gun Violence: 24/7 Wall St.
Popular in the Community