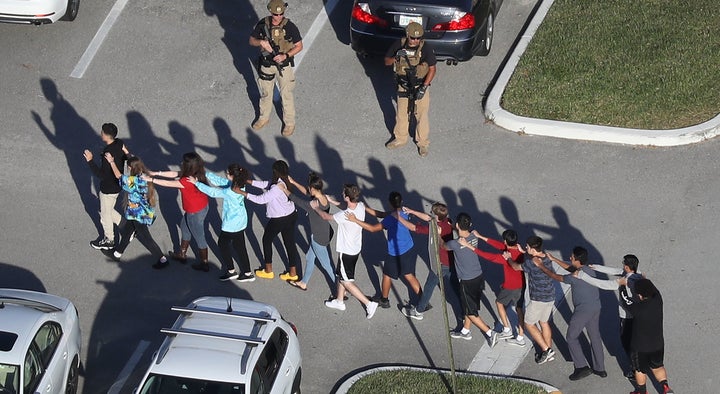 Comedian Michael Ian Black believes our "boys are broken" ― and he makes a good point. 
"Deeper even than the gun problems is this: boys are broken," Black tweeted on Wednesday evening. "Until we fix men, we need to fix the gun problem." 
The suspect, 19-year-old former student Nikolas Cruz, is now in custody. A 17-year-old student named Victoria Olvera told The Associated Press on Thursday that Cruz had been abusive to his ex-girlfriend and was later expelled for getting into a fight with his ex's boyfriend. 
Math teacher Jim Gard told The New York Times that students had told him Cruz had been obsessed with a female student "to the point of stalking her."
As gun violence becomes more and more common in the U.S., there seems to be one constant: The majority of shooters are men, many of whom have a track record of physically abusing the women in their lives. 
Black noted that strict gender roles are quite literally killing people. 
"The last 50 years redefined womanhood: women were taught they can be anything. No commensurate movement for men who are still generally locked into the same rigid, outdated model of masculinity and it's killing us." he said.
He added that men need to be given the same space that women have to explore their identities and express their emotions. 
"If you want to hurt a man, the first thing you do is attack his masculinity. Men don't have the language to understand masculinity as anything other than some version of a caveman because no language exists," Black said. 
Read Black's full tweet thread below. 
Melanie-Angela Neuilly, a professor in the Department of Criminal Justice and Criminology at Washington State University, connected toxic masculinity to gun violence in a conversation with HuffPost in 2016. 
"We raise our boys with an acceptance that violence will be part of their behaviors ('boys will be boys'), while teaching them to repress all feelings except for anger ('boys don't cry'), in a society which objectifies girls and women," she said. "While problematic in and of itself ('patriarchy hurts men too'), we see that abusers overwhelmingly come from abusive backgrounds, and thus only replicate patterns they have learned during their childhoods, patterns which, while criminal, are ultimately reinforced in a number of ways in a masculine culture of violence."
Calling all HuffPost superfans!
Sign up for membership to become a founding member and help shape HuffPost's next chapter