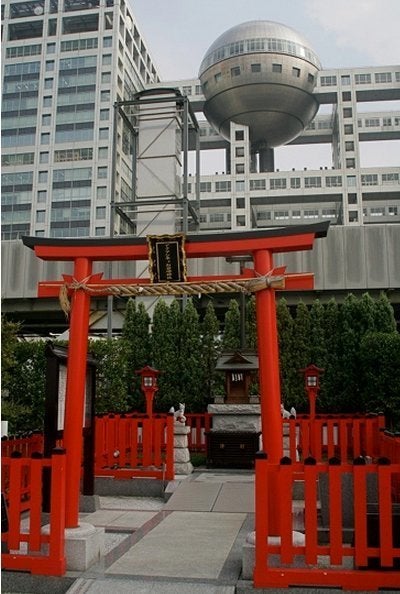 Gundam standing large and in charge.
Odaiba on the other side of Tokyo's Rainbow Bridge is an island of food and fun with the added perk of great views of the city, including Tokyo Tower and Sky Tree. But for Japan Fan Boys and Fan Girls, there's way more to it than that.
Where else can you get naked at the hot springs, check out a giant Gundam robot (with your clothes on), snap photo-ops from inside a huge metal ball, go to a maid cafe, eat robot sweets (not as crunchy as they sound), drink robot latte, visit an attraction for one of the top anime robot franchises ever, play at an indoor amusement park, and watch a free sound-and-light show with a giant robot?
Answer: No place but this island in the middle of Tokyo Bay.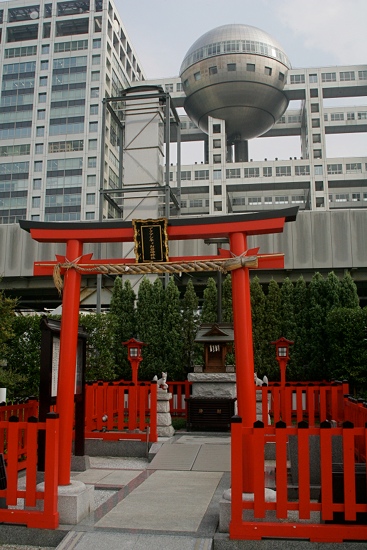 123-meter high observation platform at Fuji TV as seen from Odaiba Jinja -- the shrine is actually in the Decks shopping center.
Back in January, Huffington Post premiered the unveiling of the giant Gundam robot standing large and in charge outside the area's newest shopping destination, Diver City. But there's a lot more to do now than just stand and gawk. Check out this all-access Gundam guide.
Gundam is a long-running Japanese anime movie and TV franchise set in the future where Mobile Suits -- giant robots with human pilots -- patrol the Galaxy and beat the crap out of each other and various planetary systems Gundam, and its very distinctive styles of Mobile Suits, have a massive worldwide following.
Before fans jump down my throat, I know Gundam's not called a 'robot.' He's a Mobile Suit. If you don't know what that is, check out the preview for this summer's film, Pacific Rim, and America's own version of the mobile suit phenom.
At Diver City, an evening show mixing film on giant LED screens with lights and action from the Gundam robot draws big crowds -- especially during the warmer weather. The show runs once every hour and actually starts in the afternoon. However, it's not nearly as impressive, so stay until dark.
A free-standing shop outside sells Gundam goods especially created for Odaiba. The shop seems to shift position depending on the season. Right now it is between the statue and the sliding doors at Diver City entrance.
Gundam Cafe: Odaiba gives real fans a chance to indulge in a Gundam carbo/caffeine/sugary/salty/black-out blitz at the Gundam Cafe. Armed with their cameras, visitors come for the cafe's signature Mobile Suit lattes and a side of Gundam grilled sandwiches.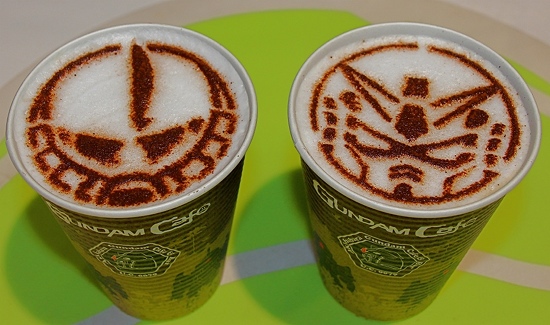 Gundam lattes -- drink the future!
Staff wear modified uniforms from the show and serve up each order with a snappy salute. Stock up on Gundam-shaped cakes, candy and crackers and exclusive Gundam Cafe goods. The Diver City branch is small with no inside seating, unfortunately.
Access: A few steps up from the entrance to Diver City, behind the statue to the right.
Hours: 10 a.m.-9 p.m., daily.
Gundam Cafe website is Japanese only but has lots of pictures.
Tokyo Station has recently opened a full service, sit-down style Gundam cafe in the B1 area of the Yaesu-exit side. (Try the Zaku Red Curry!) There's also a Gundam Cafe in Akihabara.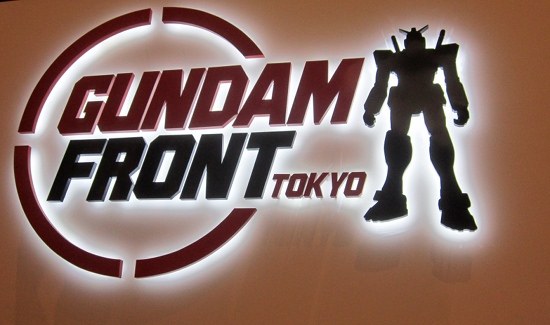 Gundam says: "Come to Gundam Front. You know you want to."
Gundam Front: Exclusive to Odaiba, this immersion exhibit and movie on the seventh floor of Diver City is worth the 1200 yen ($13) entrance fee for the devoted. The attraction draws bus loads of tourists -- local and international.
Inside are several imposingly large free-standing figures and ships plus interactive exhibits. One of the most popular is the photo station where you can pose for a snapshot with your favorite character from the many incarnations of the show.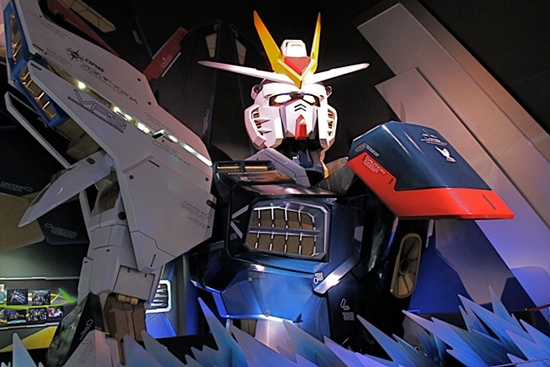 Gundam Front showcases several large, free-standing exhibits.
Three times an hour, a dome-style theater (you have to stand, well, lean) shows a montage film highlighting the different Gundam series that finishes with a dizzying CG battle in space. Photos are okay in most of the attraction except the theater or special exhibits. Two shops sell Gundam Front exclusive goods and fans of Japan's Gachapon toy-vending machines will not be disappointed - just remember to bring lots of 100 yen coins.

At the photo stations you can pose with your favorite characters like good/bad guy, Char.
Open: 10 a.m.-10 p.m. weekdays, 9 a.m.-10 p.m. weekends.
Adult tickets are only 1000 yen ($10) if you reserve in advance.
The shops and a truly impressive exhibition of scale model Mobile Suits from the series -- most of which you area allowed to take pictures of -- are free to access even without a ticket.
Gundam Hotel: Okay it's not actually called the Gundam Hotel. The Grand Pacific La Daiba right on the island has opened several Gundam suites for true fans called Project Room -- G. Japanese website.
Fulfill your fantasy to be either Amuro or bad boy Char from the original series, or sleep with them. (No one really wants to sleep with Amuro, do they? They just want to slap him. Sorry, Gundam inside joke.)
Besides the décor, the rooms have Gundam-themed amenities and a gift towel, a mock-up of the Gundam cock-pit for photos and even a special room-service menu.
Reservations can be difficult to come by and it's not cheap. For two people, rooms start at 13,500 yen ($145) per person.
There's more geekariffic fun to be had at Odaiba beyond the 'bot.
Maidreamin: If you've had your fill of Gundam (never!) and want to extend your geek-out adventure, Diver City boasts a branch of Akihabara's popular Maidreamin Maid Cafe on the sixth floor.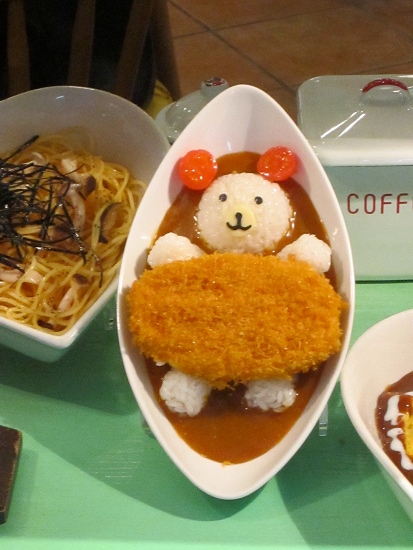 Noooo, don't eat me!
There's an achingly cute menu of treats -- teddy bear croquettes and heart-shaped omelette's -- served by overly-polite costumed waitresses which some Fan Guys and Gals find terribly attractive. (I'm not judging...)
Sega Joypolis: Inside Decks is the Sega Joypolis game center, stuffed with high speed rides and attractions all squeezed indoors on three floors.
Ticketing entrance for Joypolis.
Unfortunately the scary walk-through or interactive ones are only in Japanese. Their website is Japanese but has lots of photos.
Open: 10 a.m.-11p.m., daily.
Tickets: Entry only is 800 yen ($9)for adults. Day Passport 3,900 for adults ($42) Night Passport (after five weeknights, after six weekends), 2900 yen ($31).
Fuji TV: The giant observation platform at the Fuji TV Station building hangs 123-meters above the street and gives a panoramic view of Tokyo across the bay. Perfect for your Instagram or Facebook posts.
Tickets are on sale at the entrance to the building, but access is via the outside escalator and then a designated elevator up to the 25th floor. Open 10-6, closed Mondays. Tickets are 500 yen for adults ($5.50), 300 yen for kids ($3)
Odaiba Onsen: No matter what your interests are, the best way to end a day on Odaiba is at Oedo Onsen. 'Onsen' means 'hot springs; but this development is far more than just a lot of hot water. In addition to the beautiful large and varied indoor and outdoor baths - separate for men and women, of course -- the place is laid out like an Edo-era town full of food and drinking places, vendors, games and souvenir stalls. There is a complete range of spa services, if your wallet stretches to that.
To enter into the spirit of things, everyone must change into a colorful cotton yukata (simple kimono) and leave their regular clothes in the dressing room lockers. Fan Boys and Girls can pretend they are living one of their Japanese anime fantasies. And really, that's what many of the Japanese are doing as well!
Odaiba Access: Yurikamome Monorail out of Shimbashi Station. Tokyo Teleport Station on the Rinkai Line. For the Oedo Onsen, there's a free shuttle right in front of Teleport Station or a ten-minute walk from Diver City.
There is so much more to do at Odaiba -- geekarific and otherwise -- that it won't fit in one blog. I'll follow up soon with an insiders guide to the island.