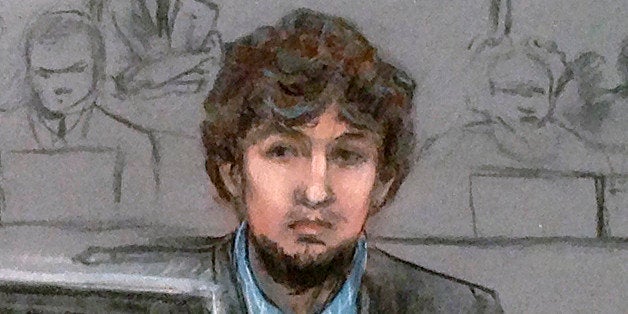 BOSTON, March 19 (Reuters) - The Boston Marathon bombing trial is due to turn on Thursday to damage to a residential street where prosecutors say defendant Dzhokhar Tsarnaev detonated a pressure-cooker bomb similar to the two devices he is accused of setting off at the race.
Tsarnaev, 21, is charged with killing three people and injuring 264 with a pair of homemade bombs on April 15, 2013, and with fatally shooting a university police officer three days later.
FBI Special Agent Brian Corcoran testified on Wednesday that a pressure-cooker bomb became embedded in a car parked on a Watertown, Massachusetts, street when Tsarnaev and his older brother, Tamerlan, threw explosives at police officers during a gunfight as the duo tried to flee the city on April 19, 2013.
"It's just some person's Honda, parked in the driveway?" Assistant U.S. Attorney William Weinreb, asked of the car hit by the bomb.
"It is," said Corcoran, who is expected to return to the witness stand on Thursday.
The gunfight ended when Dzhokhar Tsarnaev hopped into a black Mercedes and attempted to run over three police officers who were trying to arrest Tamerlan. The officers jumped out of the way but Dzhokhar ran over his brother, who was briefly caught up in the vehicle's wheels and dragged.
Tsarnaev's lawyers opened the trial early this month by bluntly admitting he carried out the bombing and shooting. Their goal is to convince the jury that the plot was driven by his 26-year-old brother, Tamerlan, with Dzhokhar a junior partner in the scheme. Proving that point could persuade the jury to sentence the younger brother to life in prison without possibility of parole, rather than death.
The bombing killed restaurant manager Krystle Campbell, 29, graduate student Lingzi Lu, 23, and 8-year-old Martin Richard. Massachusetts Institute of Technology police officer Sean Collier, 27, was shot dead three days later. (Reporting by Elizabeth Barber; Editing by Scott Malone and James Dalgleish)
BEFORE YOU GO
PHOTO GALLERY
Boston Marathon Bombings