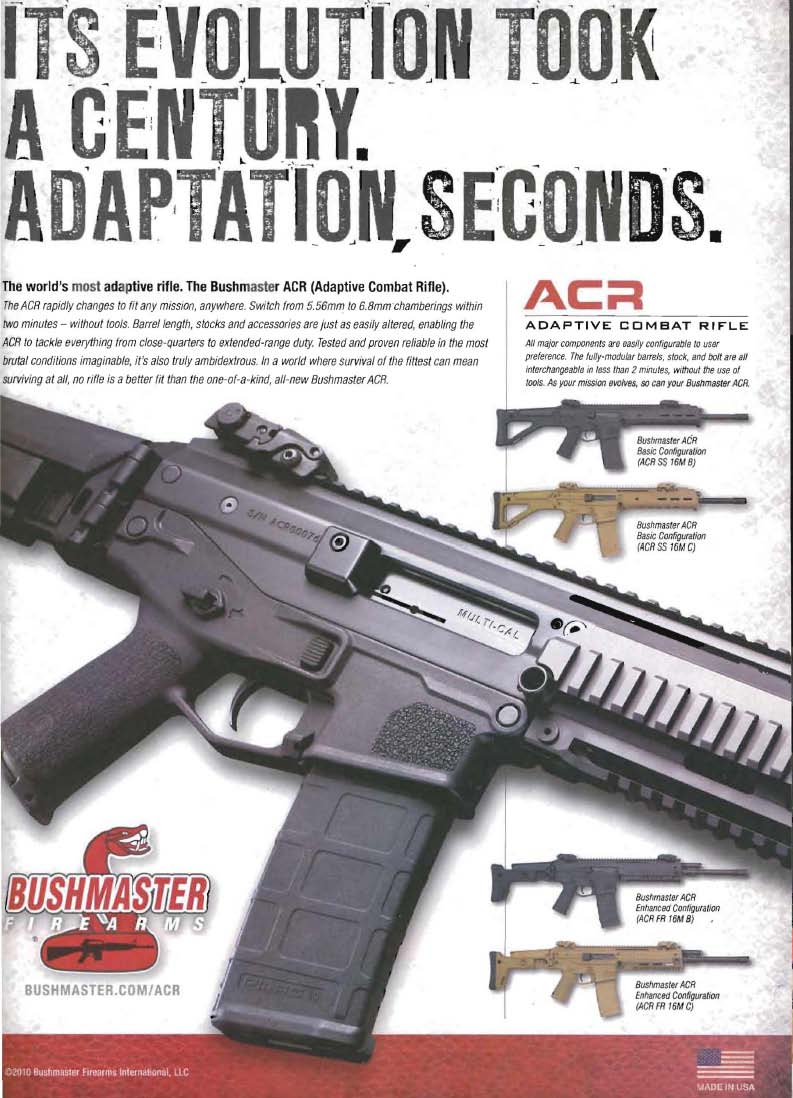 When is a "combat rifle" for the U.S. civilian gun market too combat-y?
When it fires like a full-auto machine gun.
That's the problem Bushmaster now faces with its new Adaptive Combat Rifle (ACR), an AR15-style assault rifle that according to a May 2010 cover story in the National Rifle Association's American Rifleman magazine is a "transformative firearm."
Perhaps a little too transformative.
According to an "Important Bushmaster ACR Product Safety Notice" sent to Bushmaster wholesalers, distributors, and dealers this month:
Bushmaster Firearms International, LLC has become aware of a possible firearms performance issue that may develop with a small number of ACR rifles and we are requesting you discontinue the sale of these firearms that remain in your inventory until appropriate action has been taken....During routine test firing, Bushmaster discovered a design flaw which could result in multiple rounds firing continuously when the trigger is pulled. This unexpected firing of multiple rounds creates a potential dangerous situation.
In other words, they're full-auto machine guns.
The Bushmaster notice asks that the guns' sale be halted, that Bushmaster be contacted so that they can "provide direction in executing a corrective action plan to correct these rifles," and that the contact information of any customer who may have purchased these accidental machine guns be provided to them.
Bushmaster is an integral part of Freedom Group, a roll-up of gun manufacturers by Cerberus Capital Management that has been threatening a stock IPO (Initial Public Offering) for well over a year. Apparently what seemed such a great idea in the balmy post-Obama days of heightened gun sales has been sidetracked by the reality of the recent precipitous decline in firearm purchases--particularly sales of assault rifles. Accidentally selling full-auto machine guns to the general public certainly isn't going to help Freedom Group's cache.
Nor will it help the gun industry's trade association, the National Shooting Sports Foundation (NSSF). Recently the NSSF launched a new campaign to try and rebrand assault rifles "modern sporting rifles." As in past rebranding efforts--let us not forget "black rifles," "tactical rifles," and longstanding industry efforts to conflate assault weapons with standard semiautomatic firearms--the real-world use of assault weapons, from mass shootings to attacks on law enforcement, has a way of undermining the NSSF's efforts. The fact that through a "design flaw" the guns become true battlefield weapons is only the latest rend in the tattered veil of euphemisms that the industry continually tries to hide these weapons behind.
Or maybe NSSF can just call them "modern sporting machine guns."

Popular in the Community