Every year, more than 1,700 women are murdered by men, almost always by someone they know, and most often with a gun. These and other sobering facts can be found in the Violence Policy Center's annual report, When Men Murder Women. In this unique study, we draw on unpublished Supplementary Homicide Report data from the Federal Bureau of Investigation's Uniform Crime Reports to expose the facts about women murdered by men in 2011 -- the most recent year for which data is available.
That year, there were 1,707 females murdered by males in America in single victim/single offender incidents. Ninety-four percent of these women were murdered by a male they knew.
Among the victims who knew their offenders, 61 percent were wives or intimate acquaintances. (This percentage could well be higher, because ex-girlfriends are not included in the statistics.) Nearly all the homicides (87 percent) were not related to the commission of any other felony, such as rape or robbery.
When it comes to guns and women, firearms are being used to take women's lives, not defend them. In the study, we found that more homicides were committed with firearms (51 percent) than any other weapon, and of those, 73 percent were committed with handguns. Nine women are shot to death by their husbands or intimate partners every week.
It's cynically logical that the National Rifle Association, which receives tens of millions of dollars from gun manufacturers, including money for marketing guns to women, would try to persuade women that buying a firearm guarantees personal safety. But having a gun in the home actually increases the chance that a woman will be killed. One study found that females living with a gun in the home were nearly three times more likely to be murdered than those without one.
Our report shows that lethal attacks by men on women are widespread across America, but it also highlights the states where it occurs at the highest rates. We ranked the top 10 states for the rate of females murdered by males, with South Carolina at the top.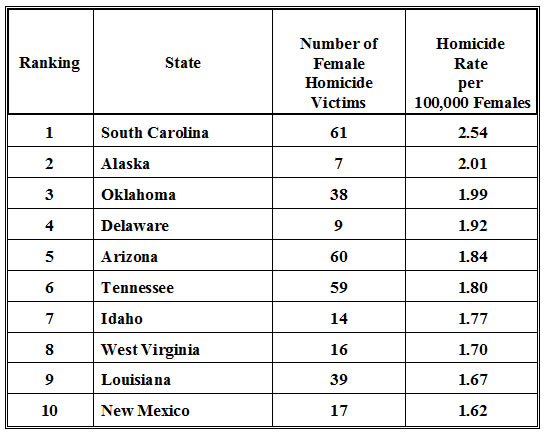 One woman murdered is obviously too many -- no matter where it happens. Around the country, action is being taken to prevent these killings and protect women and families. This includes efforts by policymakers, the invaluable work of state domestic violence prevention groups and local shelters, and the engagement of individual advocates. In addition, gun violence prevention groups like Moms Demand Action for Gun Sense in America are holding events throughout October that call on Congress to act to help protect women.
Given the role that guns play in escalating domestic abuse to domestic homicide, any call for change must include new laws that make it more difficult for domestic abusers to possess a gun. Expanded federal background checks are part of the solution, in addition to laws that prohibit abusers and stalkers from buying and possessing guns. Minnesota Senator Amy Klobuchar has introduced the Protecting Domestic Violence and Stalking Victims Act of 2013, which would prohibit persons convicted of misdemeanor crimes of stalking from possessing firearms.
Representative Lois Capps (D-CA) has introduced the Domestic Violence Survivor Protection Act, which would extend the prohibition on firearms possession to include persons subject to temporary protective orders (current law only includes permanent orders). The bill would also expand the victims protected by federal firearms prohibitions to include dating and former dating partners. Many states also have laws in place to keep guns out of the hands of abusers -- laws that need to be strictly enforced.
Too many women face the threat of violence by people they know and love. We all need to understand the role that guns play in domestic abuse. And it's past time for our leaders to pass meaningful solutions that will reduce the toll of violence against women.
Support HuffPost
The Stakes Have Never Been Higher
Popular in the Community