Patrick is sitting with his big warm smile across from me in a Bucharest pub, his goatee grown back now and his raven eyes smoldering with resolve. There was a time, in the early noughties, when the smile was, for all I knew, a tomboy's named Lolo, fresh out of film school, working in film production and looking to go into directing. For those of us who've known him that long, it's been a humbling experience, to see him go from Lolo to Patrick, the self-made man, from fledgling director to trans activist, living on his own terms in Romania, a country more prone to quashing diversity than taking the time to understand it.
But for those who've known Patrick all his life, for his family, the change was a hard pill to swallow.
"I first told my folks at 17, I was already having a hard time functioning as a girl... My mom kept silent, and then just left the room... just like that, speechless."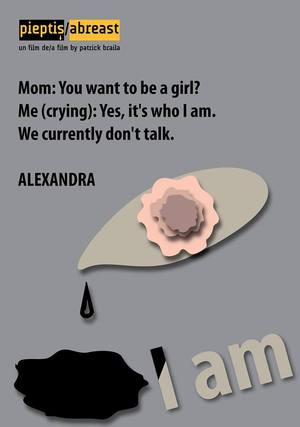 Patrick had the inspiration, and fortitude, to let his parents believe what they wanted, that it was just a phase, while he came to Bucharest to attend film school, and started work at Media Pro Pictures, back then the biggest production company in Romania. "I wanted them to see I was all right, they hadn't raised a nut-job."
I'm glad to see Patrick's smile is still the right side up after all that -- moreover, that he's turning this personal experience, his coming out story, into the Abreast short, a film that's set to shake our society's skewed moral compass to its core.
To see him now, a full-steam-ahead 30-year-old man, on a mission to mine and shatter the rich seam of hate in this country, it's hard to remember how out of left field it seemed to me once, his activist streak.
Patrick's good friend Sasha founded TRANSform, the first NGO to serve the needs of Romania's transgender community, in 2013 (the same year they both started their HRT), with Patrick taking on the role of executive director. It was an unofficial support group at first, picking up, in a way, where Robyn McCutcheon, the first American diplomat in the history of the U.S. who transitioned while serving with the DOS, had left off. Sasha and Patrick met at one of the group meetings she used to convene at her home away from home, in Bucharest.
TRANSform fields questions from the farthest reaches of Romania, especially from young people living in villages that don't even have proper healthcare professionals around, let alone counselors, to help the community. To give you an idea of how cut-off and alone LGBT youths are in Romania, there are, statistically, thousands of trans people here, but only a little over a hundred have made their existence known by joining TRANSform. The handful of polls conducted on the matter turn in the same chilling numbers again and again: asked how bothered they'd be by a member of their family coming out, a staggering 48% of Romanians rate the notion as extremely upsetting -- it's no surprise then that, more than any other minority, LGBT people are the most rejected group in Romania.
The work Patrick does with TRANSform has offered him the chance to interview Andrew Solomon, as well as being a launching pad for his efforts in promoting FAQiff, the first film festival in Romania honing in on LGBT subject matter. His voice has grown deeper with hormone therapy, but also louder with the voices of many, gathering strength from the stories of the community he's fostering -- stories of years spent under the microscope of an obtuse judicial system and incompetent medical practitioners, stories of forced sterilization, and of transgender women turning to video chat or worse for lack of fair employment opportunities.
Even though it was touch and go at first, Patrick has carefully, lovingly, managed to maintain his relationship with his family. He's now confronted with the task of shooting this very intimate short, Abreast, in the village where he grew up... where his grandmother still lives, still in the dark about her beloved Lolo. She can't know, not even now. She's why Patrick's held off on getting the surgery or filing for his ID change -- it's for her that he shaves his beard every time he goes back home.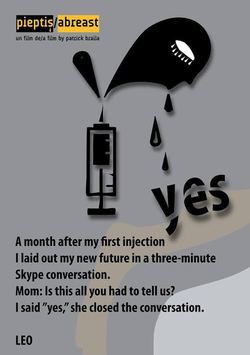 That's part of the reason why I'm shooting this independently, to keep the number of people there to a minimum...

I've told the crew to address me as Lolo, to never use male pronouns, and not to let the script about the house...

But I still get panicky and lose a lot of sleep over it...

When my grandmother passes, I'll start the trial [to change my ID], and it will be open to the public, to the press, to whoever wants to come... so that when -- not if, when -- they dismiss my suit, it reverberates across the country.
It's not pessimism, just cold hard facts: In over 25 years since the overthrow of communism, only a dozen or so cases filed by trans people searching to align their legal identity with their true self have been resolved in favor of the plaintiffs.
It turns out, the drive to shoot films and the need to fight deep-seated, knee-jerk rejection are connected, and by pouring them into a work of art and activism, Patrick can bear down and push through the hate. As he puts it:
[T]hat Abreast sees the light of day is important not just to me as its creator but to the community as a whole. Most of us have lived through some version of this moment I'm describing in my short, and we know first-hand how loved ones reacting badly when we're at our most vulnerable can hurt us, derail our dreams, even crush us beyond repair... [This film] has to happen in full view, to spark a conversation that is long overdue in this country, and it has to ultimately foster acceptance and respect.
As the night settles in the pub, I listen to Patrick talk about his film, a community's hymn and his very personal way of fighting back.
The panic is there in his eyes, but there's love too, burning for all the people whose struggles have touched him over time. If there's a fight coming, over the lives of Romania's transgender sons and daughters, Patrick is the one person in the world I'd entrust to lead the charge, with the carnation and the bullhorn both.
Follow The Abreast Short on Twitter!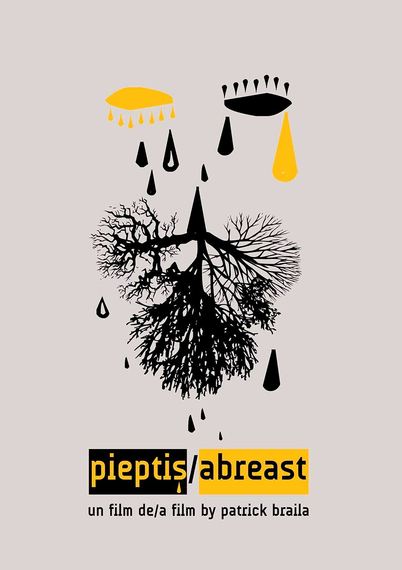 Popular in the Community