You can hardly walk more than 20 feet in downtown Cleveland without encountering some kind of firearm. Law enforcement, fearing mass violence and rioting, has turned the city into a secure area resembling Baghdad's "Green Zone." Large barricades line city blocks for nearly 2 square miles. Heavily armed police units, brought in from as far as California, patrol the streets in groups as large as two dozen, a show of force meant to intimidate would-be troublemakers. Open carry advocates proudly display their firearms in holsters or on straps across their backs. Signs in windows and doors of hotels, restaurants and bars prohibit patrons from carrying guns inside. 
Yet the conversation about gun violence in and around Quicken Loans Arena, the site of the GOP convention, has been largely nonexistent ― even on the first night, when the event's theme was "Make America Safe Again."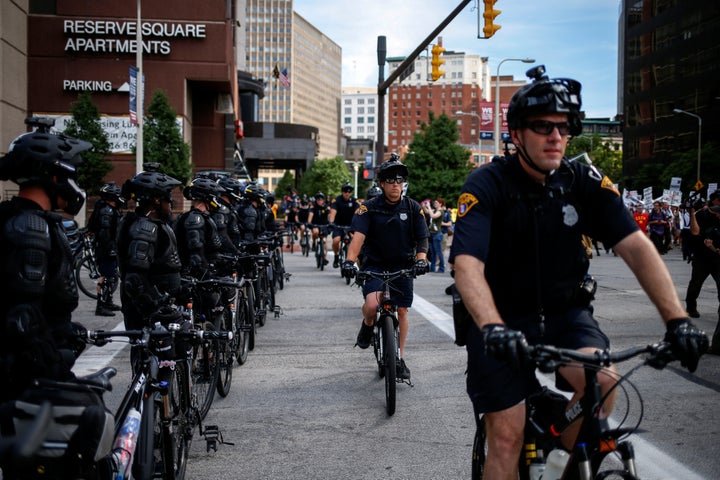 The silence on gun violence is especially striking in light of recent shootings across the country, including those involving police officers in Dallas and Baton Rouge, Louisiana. The most visible recognition of such events came in the form of spontaneous applause honoring patrolling police officers.
That's not to say guns didn't come up at all. The GOP actually strengthened its opposition to gun control this week. Delegates added language to their party platform opposing restrictions on magazine capacity and AR-15 rifles, the most popular type of rifle among gun owners and the weapon of choice in several mass shootings ― including those in Newtown, Connecticut; Aurora, Colorado; San Bernardino, California; and at Umpqua Community College in Oregon. A gunman used a similar type of rifle, an SIG Sauer, to kill 49 people at a gay nightclub in Orlando, Florida, last month.
While crafting the platform, one delegate absurdly blamed marijuana for mass shootings. Language was added to the document to recognize that "every human life matters" ― a rebuttal to the Black Lives Matter movement, which campaigns against violence toward black people.
Guns are prohibited inside the arena. Still, police have worried that Ohio's open carry law, which allows people to carry unconcealed firearms in public without a permit or safety training, could lead to violence between protesters and gun-carrying activists in the designated "protest zone." (Visitors are allowed to take guns into that space, but are prohibited from bringing in various other items like slingshots, sledgehammers, rockets and even tennis balls.)
But Jesse Gonzales, a 26-year-old from Lakewood, Ohio, felt at ease. Standing in a public square a few blocks from the arena, he proudly had an American-made AK-47 strapped to his back to increase awareness about guns.
"The only thing that people ever see about firearms is what they see on the television, and that's not an accurate depiction of what gun owners are or what they do," he said.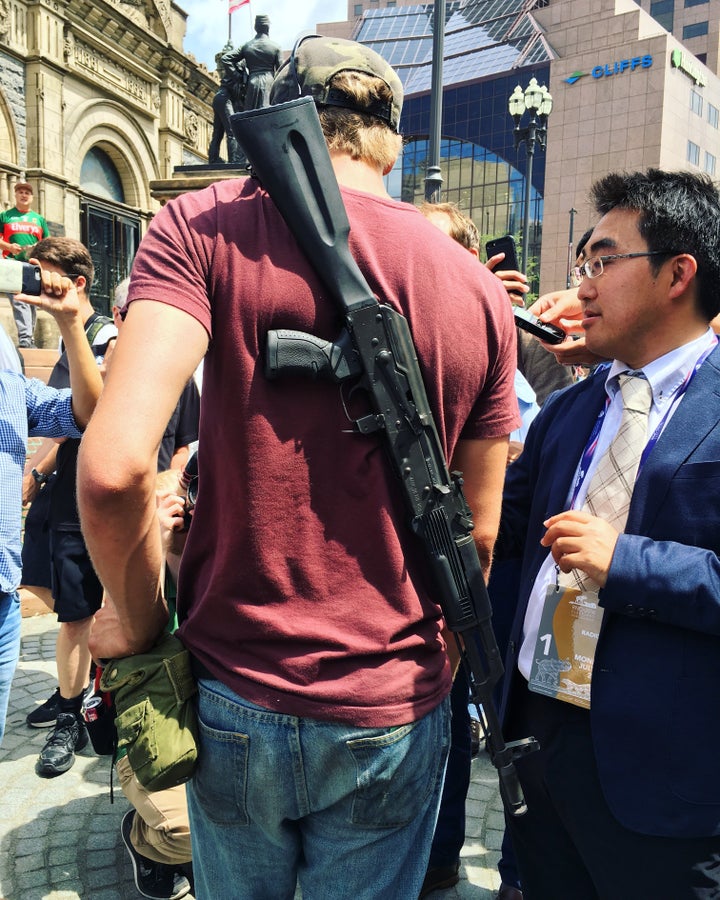 Shannon Watts, founder of Moms Demand Action for Gun Sense in America, said gun control advocates were focused on lobbying retailers in open carry states to prohibit guns on their premises. Twelve major retailers, including Target, Starbucks, Chipotle and Trader Joe's, have done so already.
"There's absolutely no way to tell who's the good guy and who's the bad guy," Watts told The Huffington Post, describing the added difficulties of policing in open carry states.
Broader efforts to toughen gun laws once again failed to gain traction in Congress this year, despite Sen. Chris Murphy (D-Conn.) filibustering on the subject for 15 hours and dozens of Democrats staging a sit-in protest on the floor of the House of Representatives. Bills aimed at preventing terrorists from buying guns and closing background-check loopholes also stalled in the Republican-controlled Senate.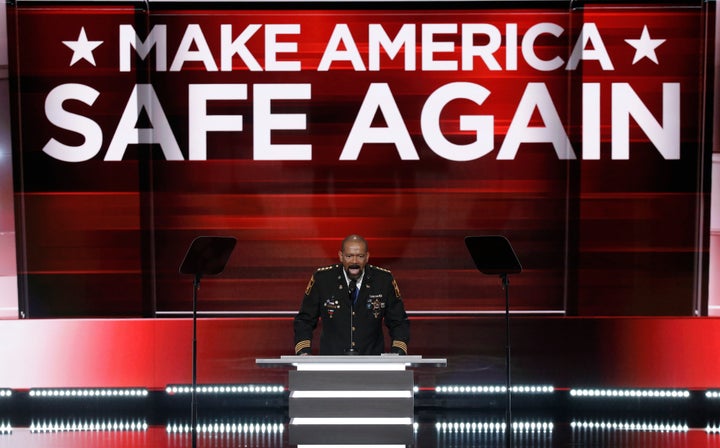 In the convention halls this week, over a dozen delegates who spoke to HuffPost voiced their opposition to Congress taking action on guns. They cited their Second Amendment rights under the U.S. Constitution, adding that state governments ought to handle the matter. 
"I think the place to do that is locally, rather than try to do something that fits everywhere," said Paul Deyoung of Michigan. "Because we know that every geographical area is going to be different." 
Some delegates seemed more amenable to the federal government taking action on expanding background checks ― which are supported by an overwhelming majority of Americans, including a majority of Republicans.
"I don't think there's anything wrong with that," said Ben Proto of New Mexico. "I have no problem with anyone who wants to buy a gun having a background check. I think if you are a felon, if you're someone who has a mental illness, that you shouldn't own a firearm. Now, I also understand, that by definition, criminals break laws and that's what they do, and they can probably still get them, but I don't have a problem with background checks."
John Taylor from Mississippi echoed the sentiment, saying background checks could be valuable in certain circumstances but that there shouldn't be other limitations on who can purchase guns.
"I think they should do more background checks, but other than that, it's a Second Amendment right," he said. "Crazy people should not have a gun."
Others warned that toughening background checks could unintentionally hurt members of particular groups, such as people with certain mental disorders. 
"I'm against that because it's really a slippery slope. At what place do you draw the line?" asked Becky Mitts from Oregon. "My father came back from Vietnam with PTSD. Is he allowed to have a gun or not? There's a fine line there, so I'm kind of against that. But we need to be aware of these people who have a problem."
David Ludwig from Arizona said he would "have to think through the civil rights connotations" of such regulation.
"Anybody who has the slightest of ― a bipolar disorder ― is not a threat to themselves or others, and shouldn't be on some kind of database," he said.
Randy Duke, a retired judge and delegate from North Carolina, may have best summed up where many party faithfuls stand on the effort to stem gun violence.
"The best curb on violence is for everybody to carry a gun," he said, while standing outside Quicken Loans Arena ― a heavily guarded area where guns were strictly prohibited.
Amanda Terkel contributed reporting.
Calling all HuffPost superfans!
Sign up for membership to become a founding member and help shape HuffPost's next chapter
BEFORE YOU GO
PHOTO GALLERY
Pivotal Moments In The U.S. Gun Control Debate