To the people who think guns make the world a safer place for women,
Over 51 percent of intimate partner homicides are committed with firearms.
This is a fact I hope that you were ignorant of, simply because of your willingness to use survivors of domestic violence as props for your anti-regulation arguments. In preaching that these nameless, faceless women you "know" now feel so much safer as gun-owners, you are neglecting to mention that 6,410 women have been murdered by their male intimate partners with guns in between 2001 and 2012.
6,410 women murdered in a little over a decade. More women dead at the hands of gun-toting abusers than the total number of U.S. soldiers who were killed in action during the span of both the Iraq and Afghanistan wars.
6,410 women who you blatantly disrespect when you advise young girls that if they had carried a gun they would have escaped sexual assault. You construct fantasy women, who suffered abuse once, then shot their abuser to prevent a second occurrence. You do this, not to congratulate them for their show of strength, but to use them to bolster your arguments at the expense of all those who did not or could not take that action. You do this at the expense of the women who are 11 times more likely to be murdered with a gun here, in the United States, than women in other high income countries.
When you propose guns as a cure-all for the problem of intimate partner/domestic violence in order to avoid stricter regulations, you are saying that the inconvenience of more stringent background checks is more of a heavy burden to bear than the lives lost at the hands of ill-intentioned gun-owners.
The indifference of federal and local law to the lives of domestic violence survivors has ensured the argument of ineffective background checks persists. There are at least 11,986 individuals in over 20 different states convicted of misdemeanor-level stalking who are still allowed access to firearms under federal law. Three states, Connecticut, New Mexico and New Hampshire, account for 79% of the FBI's NICS (National Instant Criminal Background Check System) database files. How can you possibly say that background checks are ineffective and therefore should be ignored as a method of gun control when 79% of the data these checks are based off of comes from a minimal fraction of the U.S. population? There are glaring, cavernous gaps in your anti-regulatory rhetoric and the very real violence that women in America face, and that very rhetoric is contributing to the passe way these incredibly dangerous lapses in state and federal judgement are being perceived.
Asking that domestic abusers be denied access to firearms is not an infringement upon your second amendment rights. Asking that states submit up-to-date records on individuals convicted of crimes such as stalking, domestic violence or sexual assault in order to ensure background checks are effective is not a violation of your right to privacy. Asking that the government do its part to protect its citizens and ensure them all a right to life, liberty and the pursuit of happiness is not an attack on your civil liberties. In portraying the call for stricter gun regulations as a left-wing crusade against the rights of Americans, you brush under the rug that no one wants to take away your guns. Gun safety and regulation is not a gun ban. It is simply the request that only those who have been vetted, and know how to properly handle a weapon, be allowed to keep them in their homes; a weapon that is responsible for 29.7 homicides per million people in the United States.
In the wake of another tragic mass shooting at Umpqua Community College in Oregon, gun control will become a hot-button issue again. Massacres should not be the only time we question the amount of gun violence in our country. Every day in the United States, five women are killed with guns, and in many of these cases, by an intimate partner. Five women a day is five women too many.
Dear people who think guns make the world a safer place for women,
Survivors of domestic violence are not an allegory.
Real women need real help. The 20th anniversary of the YWCA's Week Without Violence starts October 19th and goes until the 23rd. Join us in our efforts to #EndDVNow. Contact your local representative and demand more stringent gun regulations.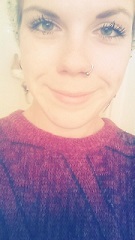 Nicollette VanDePlas is the Youth Programs and Advocacy Assistant at YWCA National Capitol Area. She is a Political Science major at Temple University, specializing in feminist political theory and the critique of oppressive policies and politics. She enjoys spirited debates, French literature and cuddling pitbulls.
YWCA's Week Without Violence is an annual campaign that takes place nationally and in communities across the country to end violence in all of its form, wherever it occurs. As the largest network of domestic service providers in the United States, YWCA is focusing our efforts on ending domestic violence - NOW. Everyday YWCA addresses the root causes and immediate needs associated with domestic violence. As we mark our 20th annual Week Without Violence, we invite you to join us. To learn more visit www.ywca.org/wwv and join the conversation with #endDVnow. Read more great Week Without Violence blogs!
REAL LIFE. REAL NEWS. REAL VOICES.
Help us tell more of the stories that matter from voices that too often remain unheard.