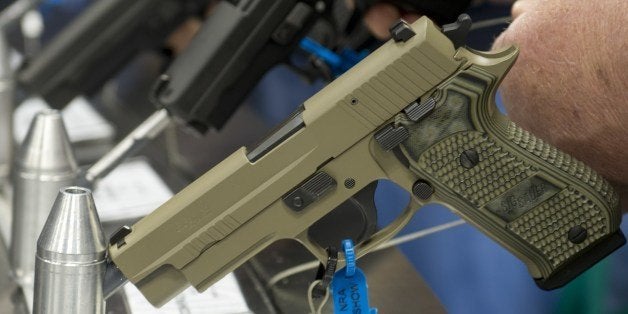 There are at least 11,986 convicted stalkers living in the United States right now who can walk into a store, pass a background check and legally purchase a firearm, according to a report released Wednesday by the Center for American Progress.
Between 2001 and 2012, more women were shot to death in the U.S. by an intimate partner than the total number of U.S. troops killed in the Iraq and Afghanistan wars combined. But while U.S. federal law prohibits persons convicted of misdemeanor domestic violence from purchasing a gun, the law has so many gaps and loopholes that tens of thousands of known domestic abusers can still either legally buy a gun or are never properly reported into the background check system.
Convicted stalkers and non-married, non-cohabiting dating partners who commit domestic abuse, for instance, are not included in U.S. gun restrictions relating to domestic violence. But these categories of abusers can be just as dangerous with a gun as a spouse convicted of misdemeanor abuse. The CAP report cites a study of female murder victims in 10 cities that found that three-quarters of women murdered, and 85 percent of women who survived a murder attempt by a current or former intimate partner, had been stalked in the previous year. And nearly half of all intimate partner homicides are committed by a dating partner who is not covered by federal gun restrictions.
"Stalkers and dating partners are critical loopholes in our gun laws," said Arkadi Gerney, one of the authors of the report.
Gerney noted that Elliot Rodger, the Santa Barbara, California student who went on a shooting rampage last month, admitted to having stalked a sorority house in the previous year. "Not all stalking behavior is going be caught before a shooting," Gerney said, "but in cases where they are and there is a restraining order, those people shouldn't have access to guns."
While nine states have laws that prevent convicted stalkers from purchasing guns, federal law only applies to spouses and perpetrators living under the same roof as the victim. Sen. Amy Klobuchar (D-Minn.) has introduced a bill, the Protecting Domestic Violence and Stalking Victims Act, that would close that loophole.
But legally prohibiting domestic abusers from purchasing guns is toothless if states do not provide all records of prohibited abusers to the National Instant Criminal Background Check System (NICS). And the CAP report has found that only three states appear to be submitting "reasonably complete" records -- Connecticut, New Hampshire and New Mexico. Seventy-nine percent of all records submitted to the FBI for background checks are from those three states alone.
"That doesn't mean other states aren't attempting to check for restraining orders, but in some cases, people with restraining orders out against them are slipping through the cracks," Gerney said. "We want to make sure all dangerous people are prohibited from purchasing guns, and all prohibited people have been researched and put into the FBI's NICS index so there is a definite red light when those people attempt to buy a gun."
Until this year, passing legislation to prevent domestic abusers from owning guns has been very difficult on a state level, due to heavy opposition from gun rights groups like the National Rifle Association. But even the NRA is now backing down from the fight and adapting to changing public opinion on the issue. A number of gun-friendly states, including Louisiana, Minnesota, New Hampshire and Wisconsin, have passed legislation in the last year that strengthens or adds gun restrictions for domestic abusers.
On a federal level, the Senate was unable to pass a bill last year that would have strengthened background checks on gun sales. But Klobuchar's bill to broaden the definition of domestic abusers to include stalkers and dating partners could be an easier political lift this year. Americans for Responsible Solutions, the well-funded gun violence prevention PAC started by former Rep. Gabrielle Giffords (D-Ariz.), has calculated through its polling that independent and Republican women voters in swing states are aligned with Democrats in wanting to pass legislation that keeps guns out of the hands of domestic abusers. One of ARS' recent polls in Texas found that 85 percent of women and 68 percent of men in that state favor a law requiring that stalkers turn in their guns.
Closing a few major loopholes through Klobuchar's bill, a stronger federal background checks law, and increased efforts by states to improve their submission of flagged records to the FBI "would undoubtedly save the lives of hundreds of American women every year," the CAP report concludes.

Calling all HuffPost superfans!
Sign up for membership to become a founding member and help shape HuffPost's next chapter