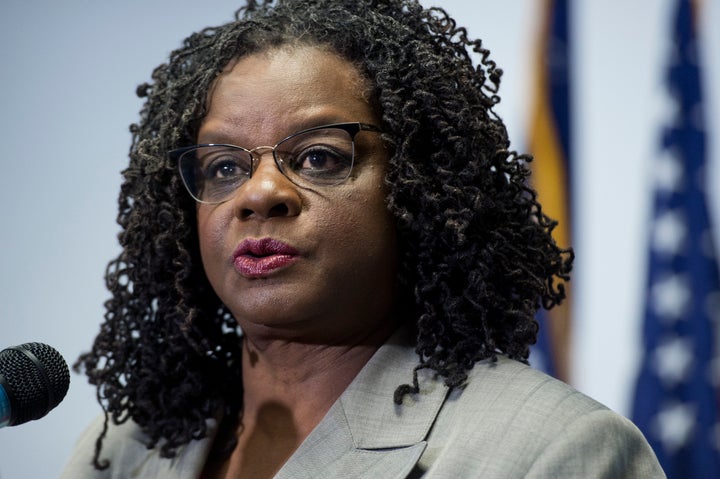 The first time Rep. Gwen Moore (D-Wis.) remembers seeing a gun in real life, it was pressed to her head. She was in her early 20s, and the man threatening her was her boyfriend.
He had beaten her up in the past, she said, once so severely that she landed in the hospital. He controlled Moore's finances, leaving her and her 3-year-old daughter effectively trapped. But once the firearm entered the scene, she knew she had to leave, or one of them was going to end up dead.
As she fled with her child, she never stopped thinking about the gun. Four decades later, Moore still remembers the almost overwhelming fear that comes with escaping an abusive, armed partner. Now, she is fighting to help victims who are in similar situations.
Earlier this week, Moore, along with Sen. Richard Blumenthal (D-Conn.), introduced the Domestic Violence Homicide Prevention Act of 2017, which uses grant money to incentivize states to keep guns away from domestic abusers.
Under federal law, individuals who have been convicted of a domestic violence misdemeanor, or are subject to a permanent order of protection, are prohibited from buying or owning guns. But 22 states lack equivalent legislation, which means state and local officials can't enforce the prohibitions. And in the vast majority of states, abusers who are banned from owning guns are not explicitly required to surrender the firearms they already own. In practice, many abusers remain illegally armed.
The bill encourages states to pass legislation to match federal domestic violence gun prohibitions, and to adopt proactive policies to remove guns from abusers who aren't legally allowed to possess them.
"The link between domestic violence and guns is well-documented, and deadly," Blumenthal told HuffPost in a statement. "Continued congressional complicity in this matter is unacceptable."
Ensuring that abusers can't access firearms while under an order of protection is especially important, Moore said, as victims are at a heightened risk of being killed during that volatile period.
"When women leave, they need somewhere to stay, they need child care, they need their locks changed, and they need law enforcement to step in and take the guns," she said. "Why would anyone try to leave if there are no guardrails to protect them?"
Most murders of American women involve domestic violence, and firearms are the most common weapon used. Every 16 hours, a woman is killed by an armed intimate partner. In addition, most mass shootings in the U.S. involve a perpetrator targeting an intimate partner or family member.
There is evidence that forcing abusers to relinquish firearms could save lives.
A recent study published in Annals of Internal Medicine found that firearm-related intimate partner homicides were 14 percent lower in states that required abusers subject to protection orders to hand over their guns, compared to states without them. And this summer, the Centers for Disease Control and Prevention said that limiting gun access for people subject to protection orders could serve as a preventative measure to reduce deaths.
Kim Gandy, president and CEO of the National Network to End Domestic Violence, called the legislation "an important investment in the promise Congress has already made to victims, that their abusers would not have guns, by creating an avenue for effective implementation."
Ruth Glenn, executive director of the National Coalition Against Domestic Violence, noted that women of color are disproportionately affected by domestic violence, and are murdered by their partners at twice the rate of white women.
"While many states have appropriate laws to keep firearms out of the hands of dangerous domestic abusers, not all jurisdictions have the resources or supports to actively enforce these laws," she said. "Research shows these laws save lives ― but only when effectively implemented."
Moore said she was hopeful that her legislation will receive bipartisan support ― though she acknowledged that because it's a gun bill, it could face opposition.
"As horrific as I recall it being, it is not rare for women to be controlled, to be beaten, to be physically and emotionally and verbally abused on a daily basis," she said. "This bill won't solve every problem, but it is one more loophole to close."
This story has been updated to include Blumenthal's comments.
Popular in the Community