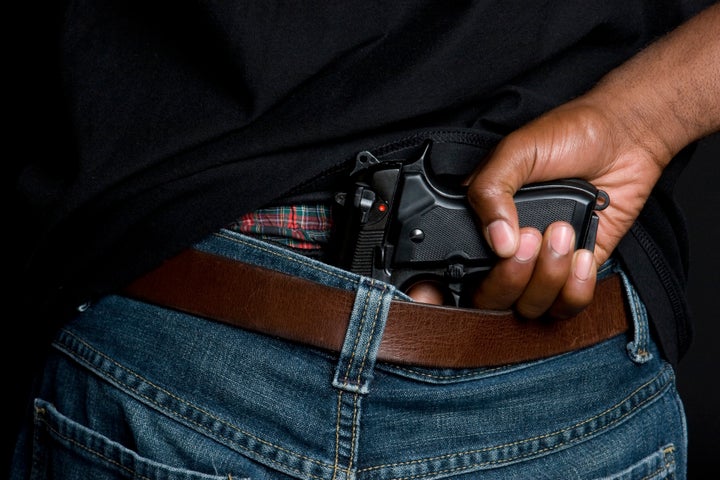 A loophole in the federal background check system has allowed gun dealers to sell thousands of firearms to domestic abusers before their background checks were completed, according to a new study published by the Government Accountability Office.
Normally, when a person attempts to buy a gun from a licensed dealer, their name is submitted to the National Instant Criminal Background Check System, or NICS, to make sure they're eligible to buy one. Under federal law, individuals convicted of a domestic violence misdemeanor or subject to a qualifying protective order are barred from purchasing a firearm.
The FBI has only three business days to complete the background check and clear or deny a purchase. But if the gun dealer doesn't receive a response in that time, they're allowed to sell the gun anyway.
This gap in the background check system was recently dubbed the "Charleston loophole" after accused Charleston shooter Dylann Roof legally purchased a gun before his background check was completed, despite an arrest for possession of narcotics and evidence that he was an unlawful drug user.
While the vast majority of background checks are completed quickly, checks involving domestic violence histories often take longer, as they can involve intensive state-level research.
"If we are looking at all background checks, 90 percent happen within three days," said Gretta L. Goodwin, acting director of the Government Accountability Office. "But when we tease out the domestic violence records, only 70 percent of denials were happening within three business days."
Between 2006 and 2015, she said, the three-day deadline for background checks resulted in gun dealers selling around 6,700 guns to domestic abusers who were later found to be ineligible to purchase a firearm.
"What a chilling message this sends to victims – that the guns are more important than their lives."
Given what we know about domestic violence and guns, keeping firearms away from prohibited domestic abusers should be a no-brainer.
There's plenty of research showing that domestic violence and firearms are a deadly combination. Experts say that if an abuser has access to a gun, victims are five times more likely to be killed. Over half of all women killed by intimate partners between 2001 to 2012 were killed using a gun, according to the Center for American Progress.
Goodwin noted that in cases where background checks take longer than three days, the FBI continues to investigate even after the gun dealer has sold the individual a firearm.
If the FBI ultimately determines that the person is prohibited from possessing firearms, the case is referred to the Bureau of Alcohol, Tobacco, Firearms and Explosives so the gun can be retrieved. In 2003, a full third of all cases referred for firearm retrieval involved individuals with domestic violence histories.
There have been some efforts at the federal level to close the Charleston loophole. Last year, Senate Democrats unveiled legislation that would require that a background check be completed before any gun sale proceeds.
"No check, no sale must be the rule — enacted as law — to close a gaping loophole spreading the epidemic of gun violence," said Sen. Richard Blumenthal (D-Conn.) in a statement. "Despite the distortion and dishonesty of single-issue groups like the NRA, the vast majority of Americans, including gun owners, believe in background checks and want the system to work well."
Lindsay Nichols, senior attorney at the Law Center to Prevent Gun Violence, said a number of states have already passed legislation to close the loophole, the most recent being Delaware.
"Dealers in Delaware will soon be required to wait 25 days (instead of 3 days) before transferring a gun if the person hasn't passed a background check," she said.
Kim Gandy, CEO of the National Network to End Domestic Violence, said she was troubled by the findings of the GAO study.
"With an average of three women being murdered every day by an intimate partner, the majority of them with firearms, it is shocking that thousands of abusers are buying prohibited weapons," she said. "The culprit is an arbitrary 3-day limit for background checks, as though the lives of domestic violence victims are not worth an extra day or two of delay. What a chilling message this sends to victims – that the guns are more important than their lives."
______
Melissa Jeltsen covers domestic violence and other issues related to women's health, safety and security. Tips? Feedback? Send an email or follow her on Twitter.
______
Related stories:
Popular in the Community