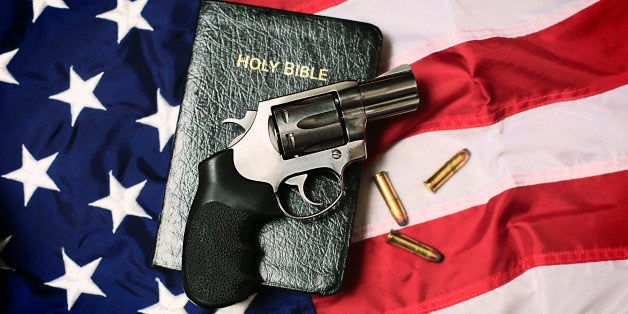 Unlike his father, Jerry Falwell the Younger has shied away from making political waves. Until now, that is. Last week, to rapturous applause, the president of Liberty University denigrated the president of the United States and, with manly bravado, revealed to Liberty's student body gathered in mandatory convocation that he carries a concealed firearm. Proudly patting his right back pocket and smiling broadly he wondered aloud: "Is it legal to pull it out?"
President Falwell went on to encourage Liberty's "champions for Christ" (the school's motto) to arm themselves. The university offers free firearm training courses, Falwell reminded students, and "good people" should hold a concealed-carry permit -- to be ready to "end those Muslims before they go out there and kill."
With these ill-timed and unwise remarks, Jerry Falwell Jr. sanctioned a firearm orgy on his campus of adolescents -- atypical, to say the least, because Liberty (ironically named) generally imposes strict authoritarian directives on students. Falwell's school reserves the right, under threat of suspension, to monitor and control students' public and private lives for absolutist conformity to a strict fundamentalist worldview. According to their Honor Code:
"The University provides educational and spiritual programming to promote our commitment to Biblical principles of abstinence and purity."
"Hairstyles and fashion should avoid extremes. Students must dress modestly and appropriately at all times."
"Facial jewelry is prohibited" for men and "Class Dress consists of shoes, long pants and shirts. Thank you for not wearing hats or hoods in class or convocation."
"Class Dress" for women "consists of shoes and neat clothing, skirts/dresses (no shorter than two inches above the knee), pants (including capri/cropped pants), and jeans. Shorts are not permitted for class....Swimming pool attire on campus should consist of a modest one piece suit."
"Students agree to...participate in and cooperate with the University's drug testing program, which permits the testing of any student (hair, urine or blood as specified by the one administering the test)."
"Media or entertainment that is offensive...to Liberty's standards and traditions is not permitted....Caution should be used in viewing movie content rated R and PG 13 and video game content rated M."
Fines are imposed for infractions of code, including twenty-five dollars "for gambling or attendance at a dance" and fifty dollars "for visiting alone with the opposite sex at an off-campus residence."
"Sexual relations outside of a biblically ordained marriage between a natural-born man and a natural-born woman are not permissible at Liberty University."
Remarkably, while male students cannot wear "facial jewelry" and female students cannot wear skirts higher than two inches above the knee -- and LGBT students are not permitted to exist -- firearms are welcomed, encouraged, even beloved on the Lynchburg, Virginia, campus.
Gun culture at this Christian university trumps the teaching of Jesus: "Put your swords [guns] away, for the one who lives by the sword will die by the sword." Gun culture trumps the hope of the prophet Isaiah: "They shall beat their swords [rifles] into plowshares and their spears [handguns] into pruning shears." Gun culture trumps "love your enemy" and "pray for those who hate you" and "turn the other cheek." Gun culture trumps the holy example of early followers of Jesus who did not take up arms against anyone -- not even Rome's ruthless occupiers.
Unfortunately, some conservative Christians in America, exemplified last week by Jerry Falwell, "strain out gnats" (no dancing, no bikinis, no poker) and "swallow camels" (guns, guns, guns!) -- thereby failing to conform to the lifestyle of the man they call the Prince of Peace. They are angry and afraid. They see enemies everywhere and they want a gun in every pocket and purse.
President Falwell's anxiety, unchecked, will give rise to a perversity on his campus: students forbidden to hang out with the opposite sex at off-campus residences and forbidden to attend a dance, but encouraged, as a sacred obligation, to stroll the campus green prepared at a moment's notice to unleash upon others their own personal weapon of mass destruction.
I wonder, Mr. Falwell, What would Jesus do?
REAL LIFE. REAL NEWS. REAL VOICES.
Help us tell more of the stories that matter from voices that too often remain unheard.