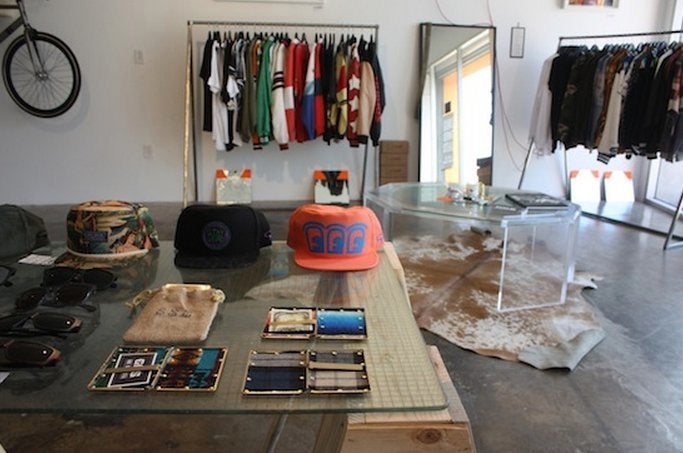 In the realm of menswear, there aren't too many stories that haven't been told before. However, in the case of LA-based brand Guns Germs $teal (GG$), nothing comes standard. First of all, they're six-foot-tall ex-models. Oh, and they're girls, a fact that has been continuously emphasized in their press coverage, which includes NBC New York, Acclaim Magazine and Bullet. Though praise for the brand isn't in short supply, co-creators Smiley Stevens and Philipa Price aren't relying on the initial reaction to their gender to carry them through the over saturated market.
While the road that they walk on has been paved before, GG$ aren't afraid to blaze their own trail. Through combining tried and true methods with their own personal beliefs, GG$ has carved out their own niche as the ladies explain, "We believe form follows function, but we have our own set of golden rules as well: History drives us forward, collaboration sharpens our edge and the hunger keeps us hustling."
This month, the ladies of GG$ venture into new territory with the opening of their first pop-up shop, basically a temporary store akin to a group art show, just in time for the holidays. "It's all men's stuff because we know, as girls, buying gifts for guys is difficult." Setting up in Willard Ford's 722 showroom in LA's Chinatown, Stevens and Price had to organize and design the space in a day.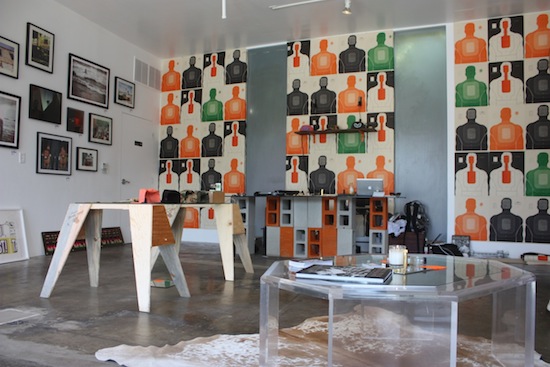 We weren't allowed in the space until the day before the show. It's all temporary so we had to design it with little money and temporary materials. Some things were found in alleyways, some stuff is from Home Depot. The racks are from our friends, Crybaby Presents. The space just reflects how our stuff is a mixture. It's a little bit earthy and rustic with weird modern and industrial accents.
The pop-up shop features handpicked pieces from like-minded brands, in addition to their new Spring Collection. GG$ take an innovative approach to running their company, favoring collaboration and fostering community above all else. "We believe in collaboration, not competition."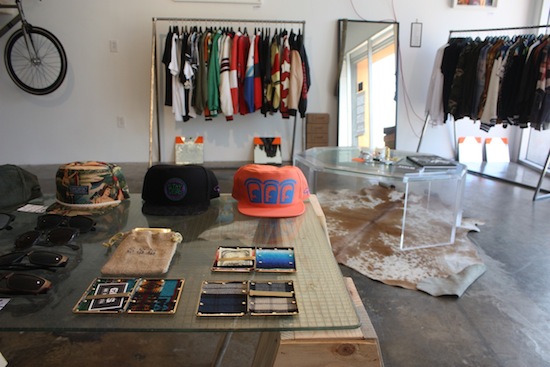 When walking around the space and perusing through the selection, you can feel the similarities in perspective between the brands represented. From the reasonable vintage pieces all the way up to the pricey KG&Co jewelry, everything feels cohesive. I found it hard to imagine how they managed to achieve this, but again, the girls went back to their core principles, "We chose products and brands that we feel care about design, which is pretty much lost in streetwear right now. With a lot of these products, you can tell that they have a process too. It's not just logo stamps."
Though it may be easy to lump them in the streetwear category, Stevens and Price are quick to dismiss the distinction,
Streetwear used to be so revolutionary. There used to be art and design behind it. It was a new movement, but now streetwear just means you make a brand and you have a posse and you put your name on everything in a million different colors and make it in China. It sucks because we would like to say we're streetwear because that's what we think we are, but we've just felt the reaction from stores that we want to carry our clothes and the kind of press that we want to get. As soon as they see 'streetwear,' they judge you immediately. We're not streetwear, we're street-inspired.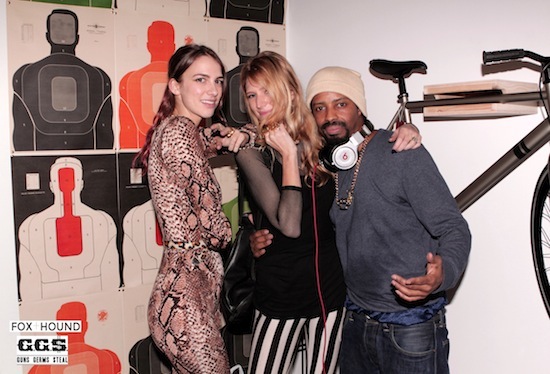 Opening night was flooded by Angelinos thirsty to see what GG$ had cooked up. With a room full of fresh threads and music provided by DJs Christian Rich and Fat Lip of the Pharcyde, they didn't disappoint. Though arriving at that point may have been their biggest challenge to date, Stevens and Price knew it would come together eventually. "We just rearranged everything until we got it right. We know when it's right."
The Guns Germs $teal pop-up shop will run through December 24 at 712 N. Figueroa Street, Los Angeles, Calif., 90012. Hours of operation are Tuesday through Sunday from 11 a.m.-7 p.m.