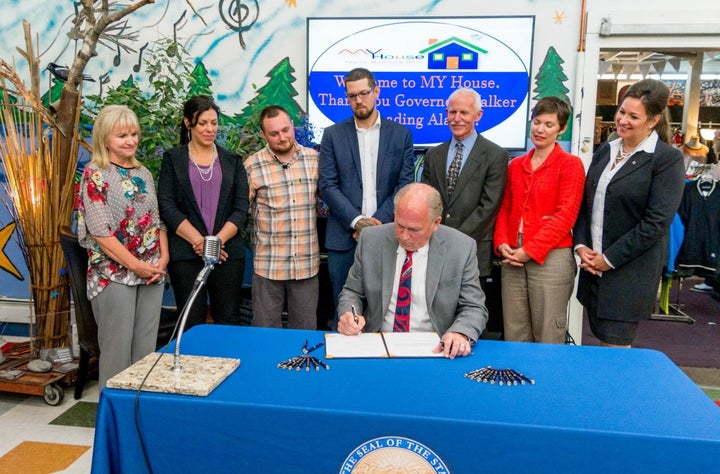 Full disclosure: I live in California. It's one of the bluest states in the nation. There are over a dozen rehabs in driving distance of my house, all of them claiming to offer the best treatment and the highest recovery rates. I thought that was progressive. Then, my friend Terria Walters, a woman in long term recovery who's the founder of Fallen Up Ministries, invited me to come visit her in Alaska: Sarah Palin's backyard, and one of the reddest states in the nation.
What I saw there completely changed my perspective on what's really "cutting edge" in treatment and public policy for addiction and recovery. I saw joy. I saw recovery. I saw Americans, working hard to help each other. Most of all, I saw hope.
Terria said that Alaska was tackling the opioid crisis head-on. "In big cities, you won't see any of the same recovery resources you see here in Wasilla or the Mat-Su Valley," she said. "We're just a community here. We're sick and tired of watching people die and decided to do something about it."
They may be 'just a community,' but they've taken strides that challenge many government agencies, hospitals, and treatment centers to match their progress. The results? More people with substance use disorder are finding lasting recovery, even in maximum security prisons and serving long sentences.
Mat-Su Opioid Task Force is using Medicaid to treat people with substance use disorder and protecting this vulnerable population. With drug and alcohol now a leading cause of death for people under 50, and killing one American every four minutes, it's a serious threat: shaming, silencing, and stigmatizing addiction doesn't work. Alaska is taking this seriously, and they're getting amazing results.
How do they do it? By focusing on support, treatment, and early intervention. I got to spend time with Karl Soderstrom and Kerby Kraus, who run the peer-to-peer support group Fiend 2 Clean. Their organization uses "presumptive Medicaid" to connect ER patients who have overdosed with a peer recovery network, sober housing, and recovery support. Instead of giving patients Narcan and then putting them back on the street, doctors work with Fiend 2 Clean to help people with substance use disorder get out of the system and get sober for good.
Another nonprofit, My House, offers support to homeless adolescents with drug and alcohol issues. Michelle Overstreet runs this incredible, forward-thinking group: she was actually recognized by Alaska Governor Bill Walker this week for her innovation. My House has a cool, steampunk boutique and a coffee shop in addition to housing and support for young people ages 14-24. It's not a scary, institutional-looking place: Michelle says that making My House feel like home was key for young people, who are at risk and need more than just a hot meal and a cot.
The same strategy works for people who are incarcerated, too. I visited two facilities: Anchorage Correctional Complex and Spring Creek Correctional Center. "We looked at the best practices guide and thought, best practices for who?" said Spring Creek Superintendent Bill Lapinskas. "What's best for one person isn't best for another one. We had to look closer and adapt." Instead, he worked with inmates, mental health professionals, and recovery groups to make a new program that focuses on the individual's needs.
Mindfulness, yoga, classes in entrepreneurship, Bible study group, and more help people address their substance use issues. Just as important is a change in the way prison is used: instead of unremitting, dehumanizing punishment, these programs are designed to rehabilitate people and prepare them to stay healthy and sober when they reenter society. By treating people with substance use disorder as people, Alaska's criminal justice system is breaking ground. Yet, its program is simple enough to be adapted to almost any facility. When will the rest of America catch up?
My week in Alaska was incredible: inspiring and energizing. I was reminded once again of the hard work communities are doing to fight the opioid crisis. Grassroots, local, and state level changes are helping stem the tide of overdose deaths. Instead of looking the other way, or waiting for the federal government to take action, we are helping our neighbors. When we do that, we all benefit.
Now that's what I call progressive.
Ryan Hampton is an outreach lead and recovery advocate at Facing Addiction, a leading nonprofit dedicated to ending the addiction crisis in the United States.