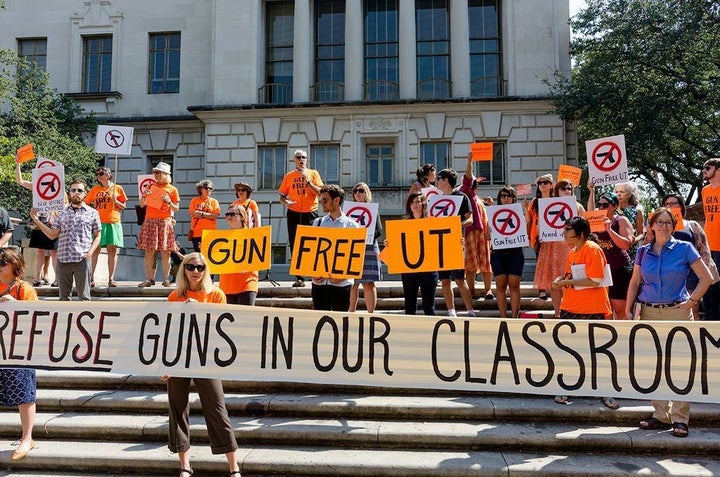 As a women's and gender studies professor at the University of Texas at Austin, Lisa Moore is often the very first person to expose her students to the ideas that underpin LGBT literature and culture. Now, she's worried a new state gun law could change how she teaches.
"I've had experiences over the years that have been frightening," Moore told The Huffington Post. "Like having my office broken into, and posters pulled off the walls and burned. Having 'Depravity Kills' written 16 times on my window."
Once, a student who had a mental illness and who'd been disruptive in class needed to take a medical withdrawal from one of Moore's courses. The student remained on campus, however. "I had to teach that class under an undisclosed location under armed guard for the rest of the semester," Moore said.
In cases like these, if students had been allowed to bring guns into campus buildings, Moore thinks things could have unfolded even more alarmingly. "I would have avoided my office and therefore not be available to my students or colleagues," Moore said. She doubts students, after witnessing an emotionally charged disruption in class, would return knowing one of their classmates might be armed.
"I hate to think of trigger warning not becoming a metaphor but becoming a reality, that students who are triggered might actually pull a trigger.""
A new law signed by Texas Gov. Greg Abbott (R) this year will force public colleges and universities in the state to allow guns into their campus buildings. But Moore is one of a number of educators who worry that allowing guns in the vicinity of classrooms and professors' offices could have a chilling effect on free speech, thus violating academic freedom. Many faculty members at UT Austin are rallying to push administrators to restrict guns from school classrooms and offices.
There is a fear someone "could shoot them for their viewpoint," said Pat Somers, a professor of education at the school. "Disciplinary hearings may take on an entirely new dimension when those involved in the charges may be armed."
At an open forum on the issue last week, several professors worried they would be at risk with guns in the class while they discuss controversial subjects.
"I'm a lesbian. That does not necessarily make me liked by all of my students or others, and I'm afraid for myself," said Ann Cvetkovich, a professor of English at UT Austin, at the forum. "I'm afraid for my students, but also very afraid for myself."
At one point, Cvetkovich alluded to a separate debate taking place on campuses nationwide, the question of whether instructors should offer trigger warnings when their lessons contain material that some students may find traumatizing. "I hate to think of 'trigger warning' not becoming a metaphor, but becoming a reality," she said. "That students who are triggered might actually pull a trigger."
State Sen. Brian Birdwell (R-Granbury), who sponsored the Senate version of the campus carry legislation that ultimately became law, did not immediately respond to a request for comment.
As of Monday afternoon, more than 300 professors at the University of Texas had signed a petition to "refuse" guns in their classrooms. Several faculty members staged a protest last week against allowing guns in classes.
Joan Neuberger, a history professor at UT Austin who helped organize the petition, told HuffPost that instructors' free speech concerns are at the "heart of the opposition" to guns in class.
"Classrooms aren't like other free speech areas," Neuberger said. "They're unique in the sense that you have young people, often in a situation for the first time, in debate with people who are very different."
Concealed carry has been allowed on campus grounds at Texas' public universities for about two decades, but the new bill extends that to the buildings themselves. Public Texas universities are now allowed to enact "reasonable" regulations about where someone can have a gun on campus, and where they must store them, but the new rules cannot "have the effect of generally prohibiting" license holders from carrying concealed handguns on campus. The university system is currently engaged in a working group to determine what limitations will be used on campus.
"I have spent my life fighting for the Second Amendment," McRaven said then. "You know, you have to ask yourself, 'Why did the Founding Fathers put freedom of speech as the First Amendment?' They may have done that because freedom of speech is incredibly important, and if you have guns on campus, I question whether or not that will somehow inhibit our freedom of speech."
The University of Texas System did not make McRaven available to HuffPost for further comment. UT Austin did not respond to a question about the faculty petition.
Faculty members have raised a number of concerns about the forthcoming law, pointing out that it will not necessarily prevent a mass killing of the kind seen at Virginia Tech in 2007 or Umpqua Community College last week. Opponents are encouraging people to refer to the legislation as "Abbott's Law," to make the governor take ownership of the bill he signed. But when professors voice their reservations, the discussion often goes back to academic freedom.
"I can write a syllabus that says what's allowed in the classroom," said Max Snodderly, a neuroscience professor at UT Austin, at last week's forum. "Normally it includes cell phones. I think it should also include horses and guns."
Andrew Jackson, an undergraduate at UT Austin, disagreed with the anti-gun views expressed at the forum. To say that concealed carry would inhibit First Amendment rights, he argued, is tantamount to saying you don't have faith in students' ability to "have adult conversations" about difficult issues.
Nearly two dozen bills have been presented in 2015 to force guns onto college campuses, according to the Campaign to Keep Guns Off Campus, an activist group. Only the Texas bill has been signed into law thus far. The law will take effect on Aug. 1, 2016, 50 years to the day after the first mass school shooting, which took place at UT Austin.
Popular in the Community