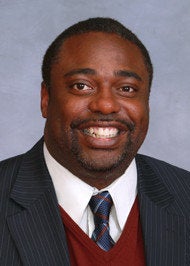 Two more state lawmakers - including a Democrat - are proposing that teachers be allowed to carry guns into schools.
Lawmakers in Virginia and North Carolina have said that not allowing teachers to carry guns into schools or having firearms stored in a central location for faculty to access when a shooter enters a school is increasing the danger to students. The legislators are joining an increasingly growing number of state lawmakers who have said that teachers should be allowed to carry weapons into their classrooms in order to ward off mass murderers.
"As long as you have some people with guns, the only result is that you have an elementary school sitting there and people with guns and no way to protect themselves," North Carolina state Rep. Marcus Brandon (D-High Point) told goqnotes.com. "The only thing that will stop a gunman is another gun."
Brandon, an African-American who is the only openly gay member of the North Carolina legislature, explained that he wants to enact a series of gun control measures including a ban on high capacity magazines in order to reduce gun violence. But he said that schools are currently dangerous, because they do not have weapons for defense purposes. Brandon also said that he would like to see a policy enacted to allow selected administrators and teachers, and school police officers, to have access to a school's guns in order to respond to shooters.
According to him, this would end a "bad policy" of not allowing administrators and teachers to defend schools from attackers.
Virginia state Del. Robert Marshall (R-Manassas) is proposing a plan that would require school districts to designate certain teachers in each building as staffers who would carry guns in order to respond to attackers, The Washington Post reported. These teachers would be certified in gun safety under Marshall's plan, which has been supported by Virginia Gov. Bob McDonnell (R). It would also allow teachers with concealed carry permits to carry guns to school.
In six other states, lawmakers have proposed legislation to allow teachers to be armed. This includes a proposal in Oklahoma to allow teachers to carry guns to school and to after-school events, including sports and concerts. In Tennessee, a Republican state senator is proposing legislation similar to Marshall to require at least one teacher to be armed at all times.
Former House Speaker Newt Gingrich (R-Ga.) told HuffPost Live on Wednesday that he supports arming school principals to prevent future shootings. Ohio Gov. John Kasich (R) has indicated he plans to sign legislation soon that will allow people to store guns in cars parked in the state capital garage in Columbus, although he said his decision is unrelated to the Connecticut school shooting.
REAL LIFE. REAL NEWS. REAL VOICES.
Help us tell more of the stories that matter from voices that too often remain unheard.
BEFORE YOU GO
PHOTO GALLERY
People Who Want More Guns In Schools