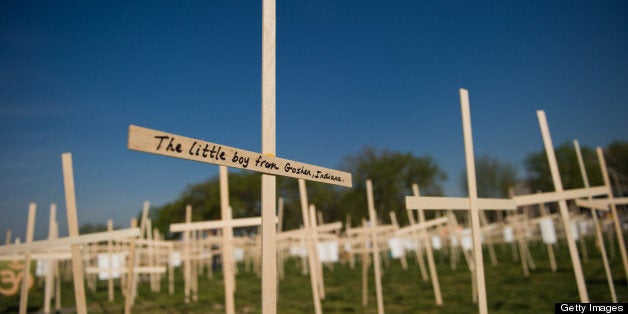 Here's the latest sobering news from America's gun violence epidemic: In a dozen states and the District of Columbia, you're now more likely to die from gunfire than be killed in a traffic accident.
A new study from my organization, the Violence Policy Center, found that in these jurisdictions in 2010 (the most recent year for which state-level comparable data is available), deaths resulting from firearms (including suicides, homicides, and fatal unintentional shootings) surpassed the number of deaths from motor vehicles.
These numbers are part of a trend. Nationwide, motor vehicle fatalities have steadily declined over decades, the result of careful strategies implemented to reduce deaths on the road. Meanwhile, violent gun deaths have continued unabated.

Overall, there were 31,672 firearm deaths in 2010 and 35,498 motor vehicle deaths. Compare these numbers to 1999, when there were 28,874 firearm deaths and 42,624 motor vehicle deaths.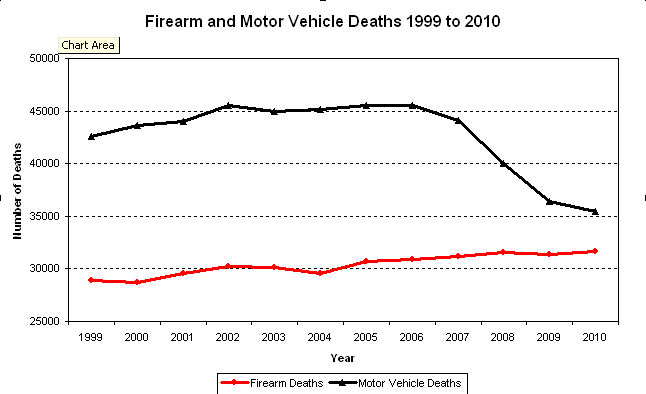 What accounts for this change? Quite simply, we recognized that fatal traffic crashes constituted a public health crisis, one that demanded a bold and comprehensive response. Over time, we adopted injury prevention strategies to reduce motor vehicle deaths, beginning in 1966 with the creation of a new federal body, the National Highway Traffic Safety Administration. We required new safety features for vehicles, such as seat belts and shatter-resistant windshields. Engineers helped make the highways that vehicles travel safer through design changes that included improved guardrails and barriers to oncoming traffic. We used new laws and societal pressure to discourage driving under the influence of alcohol.

The contrast to our nation's shameful response to the public health crisis of gun violence could not be more stark. We've done virtually nothing to address the issue nationally, even as the death toll continues to mount. Here are the 13 jurisdictions where gun deaths outpaced motor vehicle deaths in 2010 (data is from the Centers for Disease Control and Prevention's National Center for Injury Prevention and Control):
Alaska: 144 gun deaths, 71 motor vehicle deaths
Arizona: 931 gun deaths, 795 motor vehicle deaths
Colorado: 555 gun deaths, 487 motor vehicle deaths
District of Columbia: 99 gun deaths, 38 motor vehicle deaths
Illinois: 1,064 gun deaths, 1,042 motor vehicle deaths
Louisiana: 864 gun deaths, 722 motor vehicle deaths
Maryland: 538 gun deaths, 514 motor vehicle deaths
Michigan: 1,076 gun deaths, 1,063 motor vehicle deaths
Nevada: 395 gun deaths, 289 motor vehicle deaths
Oregon: 458 gun deaths, 324 motor vehicle deaths
Utah: 314 gun deaths, 274 motor vehicle deaths
Virginia: 875 gun deaths, 728 motor vehicle deaths
Washington: 609 gun deaths, 554 motor vehicle deaths
There has recently been some meaningful progress at the state level in the wake of the tragedy in Newtown (my hometown where I grew up), but public safety remains hostage to the National Rifle Association. (And while the NRA claims to represent gun owners, in fact it increasingly represents the interests of the firearms industry, as the VPC first revealed in our 2011 study Blood Money).
The result is that today, firearms are the only consumer product in this country not regulated by a federal agency for health and safety. (Tobacco used to share this dubious distinction until the Food and Drug Administration was granted such powers over tobacco products). The Bureau of Alcohol, Tobacco, Firearms and Explosives is charged with enforcing our nation's limited federal gun laws as they stand today, but it lacks the regulatory powers afforded other federal agencies like NHTSA.
[T]he time Americans spend using their cars is orders of magnitudes greater than the time spent using their guns. It is probable that per hour of exposure, guns are far more dangerous. Moreover, we have lots of safety regulations concerning the manufacture of motor vehicles; there are virtually no safety regulations for domestic firearms manufacture.
In fact, more than 90 percent of American households own a car, while little more than a third of American households contain a gun. And yet, if charted out year by year as seen in the graph above, deaths nationwide from these two consumer products are on a trajectory to intersect.
In the dark cloud that defines gun violence in America -- mass shootings, children unintentionally shooting other children (at times even with their own guns), and the "routine" gun violence that strikes families and communities across America every single day -- there is a small sliver of a silver lining. The road to reducing gun death and injury is clear and well marked, if only we would choose to take it.
Calling all HuffPost superfans!
Sign up for membership to become a founding member and help shape HuffPost's next chapter