The fight over whether shoppers should be allowed to tote guns openly in American businesses is about to spill into the aisles of Kroger, the nation's largest supermarket chain.
Moms Demand Action for Gun Sense in America, a national gun control organization backed by former New York Mayor Michael Bloomberg, will kick off a campaign on Monday that seeks to pressure the grocery giant to ban the open carry of firearms in all of its nearly 2,500 stores. The moms' group decided to take action in response to recent demonstrations by open carry activists in Kroger stores in Ohio and Texas, and after conducting research that identified more than a dozen shootings on Kroger property since 2012, said Erika Soto Lamb, a spokeswoman.
"Kroger employees shouldn't have to determine whether the person holding a gun in the frozen aisle is someone dangerous or someone making a political statement," Lamb said.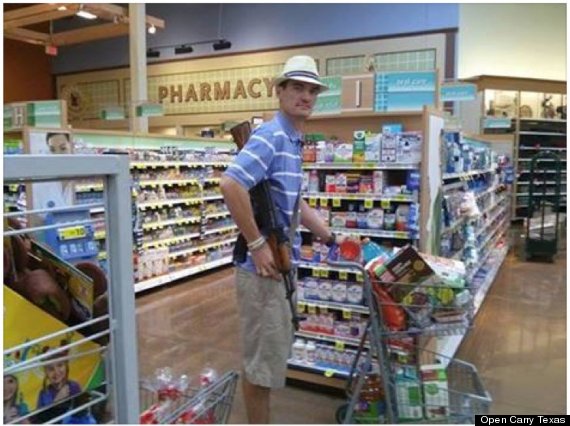 An Open Carry Texas supporter shopping at a Kroger store in Texas.
Open carry activists seek to force broader social acceptance of guns in public. Disciples of the movement wear guns while shopping or dining out. Tension over this practice has flared up in several states, especially Texas, where openly carrying a handgun in public is banned, but carrying long rifles is not. (On Friday, Open Carry Texas canceled a planned walk through a historically black neighborhood in Houston after residents protested).
Moms Demand Action, which was formed in the wake of the Newtown, Connecticut, school massacre, has seized on open carry as an effective issue to rally support for one of its ambitions: to limit the prevalence of guns in public places. The group has cleverly leveraged the power of social media, distributing photos of people armed with assault rifles in popular dining chains, and betting that the sometimes jarring images will prompt companies to react.
In recent months, Chipotle, Starbucks, Target, Sonic, Chili's, Jack In The Box and others have enacted no-gun policies.
These policies stop short of outright bans, but each company has announced that guns are no longer welcome in stores.
Given the current political climate, in which even overwhelmingly popular proposals like expanded background checks can't gain any legislative traction, what the gun control activists have accomplished via low-budget Twitter and Facebook campaigns is impressive.
In taking on Kroger, Moms Demand Action seeks to force the biggest grocery chain in the U.S. to take a stance on guns, something few major companies want to do.
Contacted on Friday, company spokesman Keith Dailey said the grocery chain had no plans to change existing policy, which is to abide by state and local laws.
"Millions of customers are present in our busy grocery stores every day and we don't want to put our associates in a position of having to confront a customer who is legally carrying a gun," Dailey said. "We know that our customers are passionate on both sides of this issue and we trust them to be responsible in our stores."
In a letter sent to Kroger CEO Michael Ellis last week, Moms Demand Action founder Shannon Watts said those existing laws aren't sufficient to keep customers safe.
"In most states, gun laws are exceedingly lax, especially when it comes to the open carry of firearms," Watts wrote. "In many states, virtually anyone can openly carry a loaded gun without going through any licensing, permitting or training."
Moms Demand Action has logged a dozen shootings that have taken place inside a Kroger or in the parking lot of one since 2012.
In June 2013, a 2-year-old girl was shot in a Kroger parking lot in Stone Mountain, Georgia, after a customer tried to intervene in an attempted mugging.
In February, in another incident in Georgia, a 42-year-old man shot and wounded two Kroger customers at a store in Lawrenceville, east of Atlanta.
It's impossible to say whether these incidents would have happened if Kroger were to advertise a no-gun policy. Gun advocates are quick to note that criminals are unlikely to abide by polite requests to leave their guns at home.
Related
Before You Go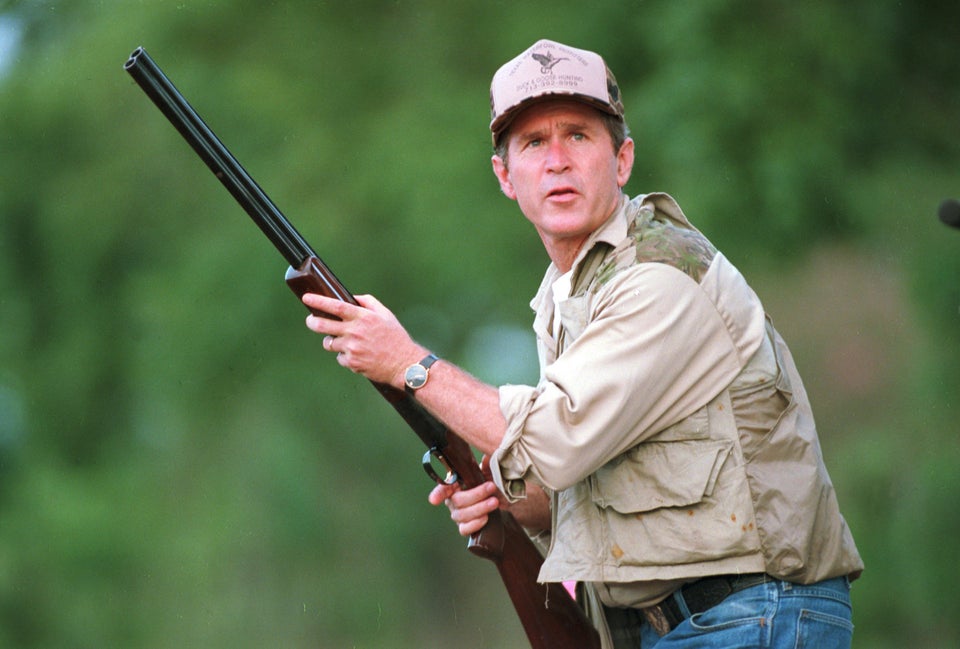 Politicians Holding Guns
Popular in the Community