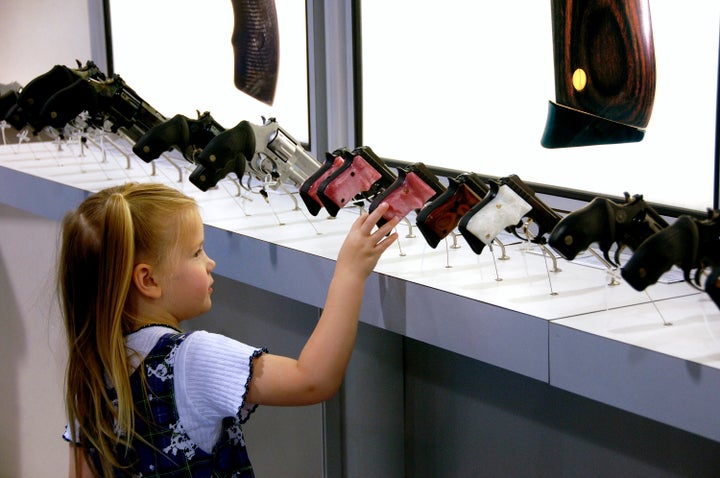 The U.S. firearms industry is designing and marketing guns specifically for children in a concerted effort to build a new base of customers, according to a new report by the Violence Policy Center. 
"As household gun ownership has steadily declined and the primary gun market of white males continues to age, the firearms industry has set its sights on America's children," the group said in a statement. "Much like the tobacco industry's search for replacement smokers, the gun industry is seeking replacement shooters."
The report, called "Start Them Young," documents exactly how the gun industry is working to appeal to kids. One company has a friendly cartoon mascot, "Davey Crickett," an armed insect that is used to market a beginner rifle. Consumers can also buy the "Davey Crickett" beanie baby, replete with fake gun. 
The gun industry is also marketing firearms in "child-friendly" colors, like pink, purple and orange, the reports states, and promotes rifles that incorporate plastic in their designs for young shooters, as they are lighter and easier to handle.
"Imagine the public outcry if the alcohol or tobacco industries introduced child-friendly versions of their adult products," Josh Sugarmann, the study author, said in a release. "Yet the firearms industry and gun lobby are doing all of these things and more in their aggressive efforts to market guns to children."
According to research cited in the report, more than 1,300 children under the age of 18 died from firearms in 2014.
In its recommendations, the Violence Policy Center said firearms should be treated as an adult product, like tobacco and alcohol.
"Just as our society does not condone the use of alcohol or tobacco by minors even with adult supervision, we should prohibit the acquisition, possession, and use of firearms by children," the report reads. "An effective public education campaign should be developed and implemented to warn parents and youth about the dangers associated with the presence and use of firearms."
The organization also recommends that the Federal Trade Commission investigate whether the firearms industry is inappropriately marketing firearms to children. 
Melissa Jeltsen covers domestic violence and other issues related to women's health, safety and security. Tips? Feedback? Send an email or follow her on Twitter.
REAL LIFE. REAL NEWS. REAL VOICES.
Help us tell more of the stories that matter from voices that too often remain unheard.