 Preparation for art exhibits typically involves rearranging temporary walls, meticulously centering frames and buying copious amounts of refreshments. An upcoming exhibit at the Cincinnati Art Museum, however, required finding a sharpshooter, bullet-proofing a gallery space and obtaining an emergency ordinance to fire a high-powered rifle. Not your usual curatorial duties.
The Cincinnati art haven recently announced that they will be featuring a show organized by New York-based artist Todd Pavlisko. Titled "Crown," it's going to be a multi-media exhibition, but the main draw will be a series of photographs and video clips of a skilled marksman taking aim at a solid bronze cube located inside the museum's Great Hall, reported Cincinnati.com last month. Yes, prior to the actual exhibit, a rifle-wielding man or woman (the name of the sharpshooter has yet to be disclosed) will be shooting at a 36-inch metal mass while inside the museum's walls and the artist, Pavlisko, will document it.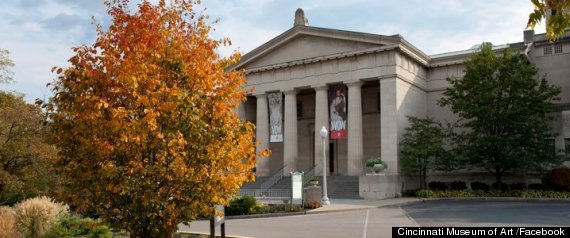 The Cincinnati Art Museum
According to a statement released by the museum, the shooting is expected to cause an inward collapse in the bronze cube, amounting to an imprint that resembles a crown (hence the exhibit title, "Crown"). The entire endeavor will be captured by Pavlisko using high-speed cameras, and the resulting images of speeding bullets are meant to pay homage to gun traditions of Ohio and the significant collection of weapon-related art housed in the museum already.
In order to plan for the staged rifle experiment, the museum had to file for an emergency ordinance authorizing the discharge of a firearm, which was granted this week. The museum states that there will be no public presence during the actual shooting and assures everyone that the fired bullets will soar no closer than 12 feet to the museum's existing displays.
Ultimately, the exhibition draws more from artist Harold Edgerton, a photographer known for capturing bullets in motion, than it does from the fearless Chris Burden, who was famously shot in an audience-filled gallery in 1971. The exhibit will not officially open until May of next year, but if you are walking by Eden Park Drive on October 29th between 8:30 a.m. and 5 p.m. and hear something in the ballpark of a gun shot, carry on your daily errands. That's just an artist at work.
Let us know what you think of the museum-turned-target-range in the comments section. And scroll down for a slideshow of more bullet-related art below.
PHOTO GALLERY
Andrew Tuohy's Gemstones and Bullets
Calling all HuffPost superfans!
Sign up for membership to become a founding member and help shape HuffPost's next chapter
BEFORE YOU GO