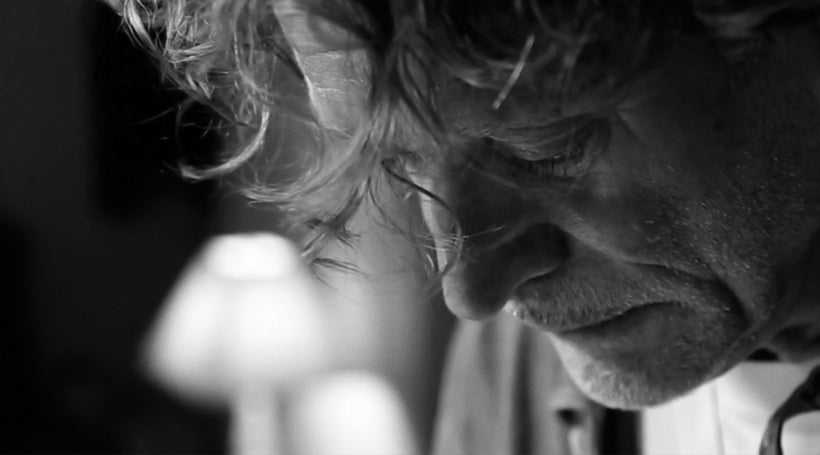 When I last wrote about Günter Seeger's namesake restaurant, he had recently garnered his first Michelin star, which only caused him to tell me, "Now we want to get better and better and better." On the basis of a recent meal at his beautiful dining room in the Meatpacking District in Lower Manhattan, he has clearly kept his promise.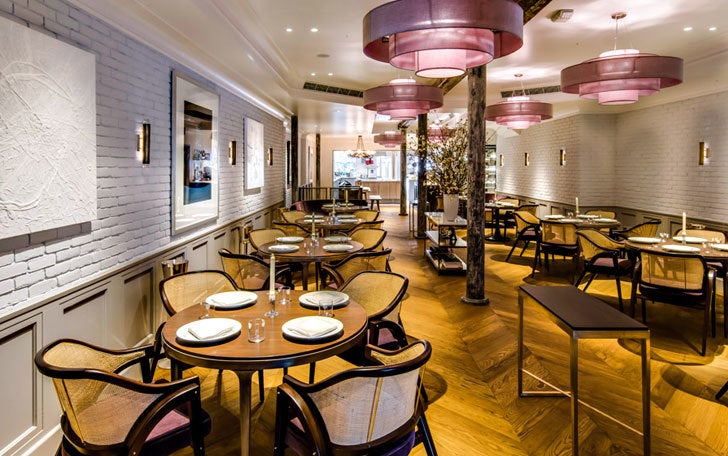 I've known Seeger and his cuisine since he was chef at the Ritz-Carlton in Atlanta and then opened his own restaurant there, earning my pick in Esquire magazine as Restaurant of the Year in 1998. Born and raised in Germany's Black Forest, Seeger arrived in Atlanta in 1985, to a city not quite ready for long, personalized tasting menus of classic and nouvelle European cuisine. He left Atlanta in 2007, did consulting out of NYC and finally opened his dream restaurant a year and a half ago on Hudson Street, where he again offered only a $185 nine-course tasting meal. Yet, despite some excellent reviews, business was slow, so that he changed the menu format to offer ten courses at $148 as well as four courses for $98—prices well below comparable fine dining menus around town. (Le Bernardin's four courses are $157; at Daniel, $142; at La Grenouille, $172.)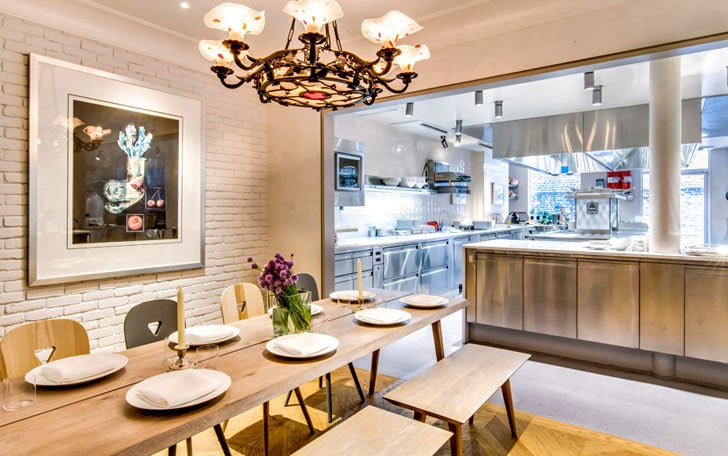 The dining room, with a separate section off the open kitchen, has also become a warmer, more inviting spot, with blond wooden floors, a lovely chandelier said to be Seeger's grandmother's, marvelous effusions of flowers, and wooden beams and columns that echo Seeger's Black Forest childhood. The stemware is of exquisite quality, and the bare tables are made of very beautiful dark wood. Conversation in a full room is easy; men are requested to wear jackets and women tend to dress up; the exceptionally cordial service staff is equally well dressed in black and white. The wine list is world class, with an admirable emphasis on German bottlings, which are reasonably priced to urge you to try them. Wine pairings are available.
I told the captain that my wife and I would rather not both have the whole ten-course menu, instead opting for two different four-course menus of Seeger's choosing. I lost that battle: It would be ten courses, which Seeger promised would be light and not last late into the night. Again, he delivered on his promise. For not only were the various courses light but the pace of the meal was such that they came out at ideal intervals to prevent feeling stuffed to the gills by the end of the meal. Indeed, Günter Seeger is the only restaurant I can think of where I would happily return for such an extensive tasting menu, which changes all the time. Seeger himself goes to the market to choose which ingredients he thinks he can make that evening into something special.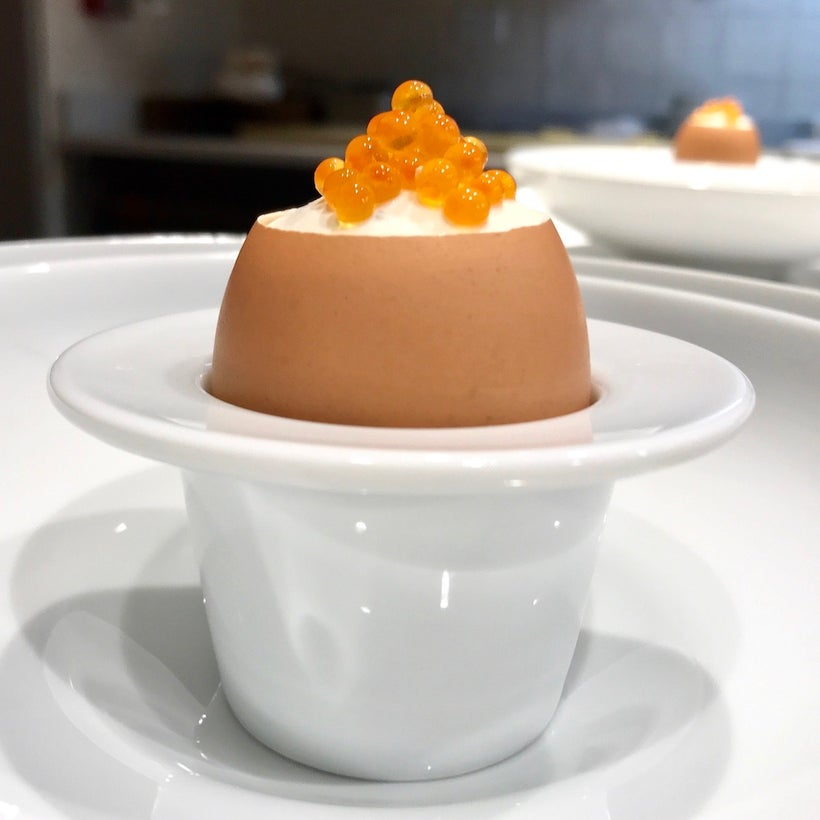 His amuse of a gently steamed egg with a maple Chantilly cream and smoked trout roe (above) has become something of a signature that proclaims that everything to follow will have the same simple presentation, color, and imaginative playfulness. It was served with a glass of Equipo Navazos Sherry La Bota de Amontillado. Next came marinated fairytale eggplant, pretty violet and white in color, with a subtle anchovy cream and pickled plum. Small heirloom tomatoes were the base for a salad with tomato sorbet and cool tomato gelée, enjoyed with a 2015 Hans Wirsching 'Iphöfer Kalb' Silvaner from Franken.
Adirondack Mountain trout came with nothing more than braised gem lettuce that served to emphasize the mild taste of the freshwater fish, accompanied by a 2015 Clemens Busch vom Roten Schiefer Riesling Trocken from the Mosel. Oddly enough at this juncture, the next course was a poached peach (below) whose sweetness was paired with woodsy chanterelles, with a glass of 2002 Ferdinand Krebs Trittenheimer Altärchen Riesling Spätlese from the Mosel. Just as unexpected was the marriage of a lovely squash blossom filled with creamy lobster mousse, squash pesto and lobster sauce, with a 2015 Burg Ravensburg Weissburgunder Trocken Sulzfeld from Baden. Notice that I said squash blossom—singular—for that is one way Seeger keeps the lightness of the meal and the appetite ravenous for more.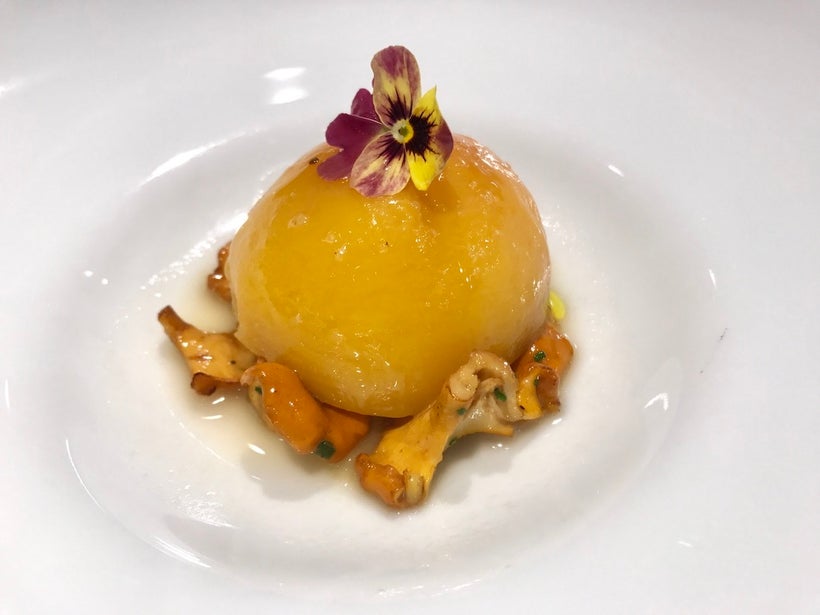 After all these delicacies, it made sense to serve beef tenderloin, with a deep, rich shallot sauce that showed how Seeger's perfecting of such a classic reduction will remind you of why they are still the bedrock of grand cuisine. He served this with okra that was not in the least viscous, along with a 2011 Michel and Stéphane Ogier Côte-Rôtie. A sheep's milk cheese with the charming name of Summer Snow, from Woodcock Farm in Vermont, was a fine match with a 2015 Alphonse Mellot 'La Moussière' Sancerre. The small surprise to end the meal was a strawberry sorbet sparked with Sichuan pepper and a braised sweet Nardello pepper touched with orange, ginger, lemongrass and fromage blanc sorbet, accompanied by a 2016 Renardat-Fache Bugey-Cerdon Mousseux Rosé.
At the end of such a grand evening, my wife and I had three reactions: First, this was one of the finest meals we've ever had in New York, or anywhere else; Second, there was not a moment when we felt anything less than excited by one course and by the arrival of the next; and third, that Gunter Seeger NY is, after all these years knowing him, fully capable of surprise without ever losing what made his cuisine entirely his own. Of course, had he not been so thoroughly well trained in the classics, he could neither improve upon them nor move beyond them. To call his cooking simple is like saying the poetry of Emily Dickinson or a painting of Mondrian is simple. For behind the simplicity is the intelligence to know exactly what is right, at least until Günter Seeger can make it better and better and better.
641 Hudson Street (near Gansevoort Street)
REAL LIFE. REAL NEWS. REAL VOICES.
Help us tell more of the stories that matter from voices that too often remain unheard.
This post was published on the now-closed HuffPost Contributor platform. Contributors control their own work and posted freely to our site. If you need to flag this entry as abusive,
send us an email
.