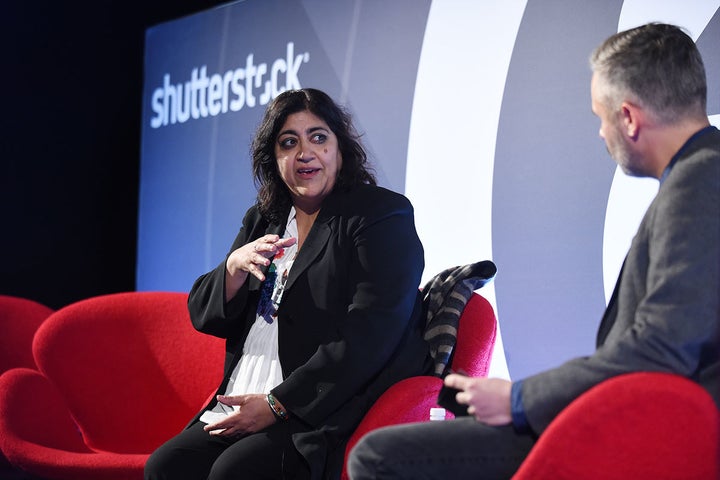 Gurinder Chadha, one of Britain's most respected filmmakers, responsible for writing and directing Bend it like Beckham, Bride and Prejudice, and – now in cinemas – Viceroy's House, knows a thing or two about telling a story. What is it that makes the cinema such an effective way of getting stories across, and what can we do with that power? Chadha, appearing in a talk presented by Digital Cinema Media, answered both of those questions and more.
According to Chadha, whenever she is considering a film the first step is to locate her own emotional response to a story. Speaking to an audience at Advertising Week Europe, she said: "I have to find myself in that story in order to tell that story." Like Spielberg or Ron Howard, Chadha insisted, any other way of operating would make her "a jobbing director". "Like all kinds of storytelling," she continued, "whether it's an ad, whether it's a doc, whether it's a book … a story speaks to you at a particular moment in time, it means something to you and then you express it."
It's a tactic that has stood her in good stead. The magic of Bend it like Beckham came from the contrasting of two worlds that didn't "go together" in an audience's expectations, and showing them why and how they were wrong. Chadha said she got the idea for the film while watching Ian Wright wrapped in a Union Jack flag at the Football World Cup in 1998. She said: "I was like 'That's the National Front, what is he doing?', because for me, growing up, that's what the Union Jack represented… and in pubs, people of all different colours watching the games and all going 'England, England, England'. In the 90's that was a very radical idea."
The question then for Chadha was: "How do I take these two worlds that seem diametrically opposed, and bring them together?" and this, she argued, is where the power of cinema lies; in the ability to "transport you into a completely different world, tantalise your intellect and your emotions and make you feel like you have just witnessed the word from a particular point of view, that's what the best films do, I think."
The other main piece of insight she had to deliver was: make it relevant. This is true (as ever), of Chadha's latest cinematic offering, Viceroy's House. The film – a big budget period about the Partition of India in 1947 – is "a film about division, about the politics of hate, about what happens when people are pitched against one another by leaders". If that sounds familiar – if not strictly planned (the film was begun under Obama's presidency, pre-Brexit and prior to the eruption of the European migrant crisis) – it is testament to Chadha's ability to find the human aspect of any story. She said: "we are shaped by what is around us. The power of storytelling is at its height when it is somehow touching the zeitgeist."
However, she said, it is the lack of representation, of BAME and female voices that led her to the film industry: "My journey into film and media really came as a direct result of racism. Not seeing people that looked like me on the screen and thereby feeling like people who didn't know people like me were missing out on hearing what I had to say about the world or what people like me thought about the world.
"When I made Bhaji on the Beach in 1993, I was the first Asian woman to make a feature film in Britain… 25 years later with Viceroy's House, I'm still the only Asian woman making feature films in Britain for a living. I think it's got worse, I think it's harder for people to tell their stories."
Popular in the Community