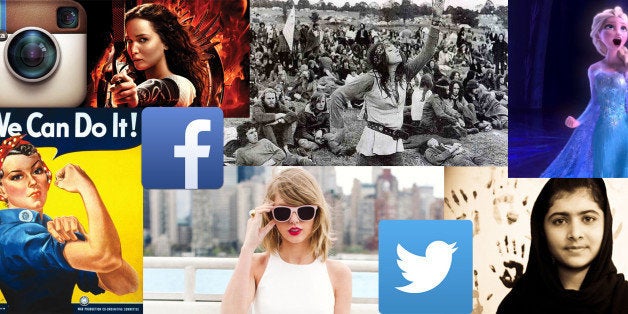 I know the stats. And they are depressing: the gender gap both in compensation (good karma notwithstanding) and participation in executive roles is alive and well. I have spoken on this topic on many panels and will continue to carry this message forward. Among the depressing numbers: for S&P 500 companies, women represent only five percent of CEOs, 15 percent of C-suite roles, and 17 percent of board positions.
At the same time, I feel something big and positive is happening for women now, something that may change that underrepresentation. What used to feel like a collection of dots of voices for empowering women, now feels increasingly connected, like an unstoppable force for social change; it is becoming shameful NOT to change. As a result, I believe we are going to look back at this coming decade as a time of the most profound change in cultural and economic attitudes toward women in my lifetime.
Telltale Signs in The Arts
Real social change often finds its root in the arts. The cultural and social movement of The Renaissance was characterized by the secularization of writing and art, as previous political and religious beliefs were challenged. Similarly, the 1960's is remembered by new music (e.g. The Beatles), films with less censorship, and the emergence of "hippies" (derived from "hipster" in the 1940's song "Harry the Hipster").
Music, movies, fashion and media all shape and are shaped by public sentiment. As Abraham Lincoln noted, "Public sentiment is everything. With public sentiment, nothing can fail. Without it nothing can succeed."
In music, books and movies, women are rebelling against historical stereotypes in gender roles. This is increasingly presented as the fierce, sexy, warrior, owning her own sensuality and vulnerability. Nicki Minaj's "Anaconda" and Miley's twerking shocker at the 2013 MTV Music Awards are just a few examples. Taylor Swift's new album "1989" has a softer version of the same theme.
If Taylor's "Shake It Off" was a shove to her critics, we heard a younger women's version from Elsa in "Let it Go" in Disney's Frozen. She found the power to accept herself and create her own world in exile. With four teen and preteen girls in my own household, I was stunned by the speed and power with which the lyrics of the songs in Frozen were committed to memory and belted from the backseat of carpools.
News media is also playing a role. Check out Megyn Kelly in this interview; it is a great no-nonsense takedown of antiquated perceptions about women as breadwinners. Or what about the statement released this month by Karl Stefanovic, co-host of Australia's Today? He very effectively made the point about the fashion double standard. While his co-host Lisa Wilkinson has to change outfits everyday, he revealed that he wore the same suit every day for the previous year without notice!
Social Media: Playing A Profound Role
An obvious question is why now? And what is the role of social media in shaping this sentiment at scale? Incredibly, more than 40 percent of content is now consumed via Facebook or Twitter, forwarded with a line or two of sentiment by a friend or follower. This generally invites a response and surfaces hidden communities of like-minded people, increasingly less inhibited to sharing their truths.
We are all increasingly playing both content roles, as creators and consumers, but social media's role in enabling the voice of women is really a sea change. By contrast, such unfiltered access has been more limited for women in old media, which has historically been controlled by men.
By contrast, the sheer volume of participation and female expression unleashed on the major social networks is having a profound effect. Across the internet, women are much more likely to use Facebook, Pinterest, and Instagram than men are, and participation on Twitter is close to equal weighted across men and women. In my opinion, it is this unleashing of this voice that is changing society.
I see this impact most prevalently on issues of sexual and physical violence against women. Such violence is not new to college campuses, professional sports, or in celebrity contexts, yet the speed and breadth with which it is now being outed through social media is rapidly accelerating...as is public ridicule for institutional apathy, denial and excuses.
For example, when the video was publicly released of Ray Rice knocking his fiancé against the wall and dragging her out of the elevator, outrage spread like wildfire across social and traditional media. Domestic violence in the NFL is sadly not a new issue, yet the Rice video struck an important social chord.
And it was also a video that went viral that proved the undoing of Bill Cosby. In October of 2014, comedian Hannibal Buress referred to Bill Cosby as a rapist in a comedy routine. The video of this performance went viral and it wasn't long before society began to hear this issue differently. What caused him to use this example in his routine at this moment of time? The allegations against Cosby go back decades.
Similarly, college campuses have been notoriously resistant to shine a light on the issue of student rape.But inspired a video made by Emma, a rape victim at Columbia University, millions of people have now heard her story. This led hundreds of students protested the university's sexual-assault policies on October 30th, 2014 to stack mattresses at president Lee Bollinger's doorstep and demand reforms.
Less than one month later, Rolling Stone ran an article about an alleged gang rape as a part of Greek life hazing at the University of Virginia, chronicling the intimidation and cover up pressures faced by the victim in the aftermath as well as tolerance by the university. The story sparked immediate national outrage, ultimately leading to the suspending of all fraternities pending an investigation.
Just as important as these examples is the venom in the backlash against women standing up for themselves. Counter movements such as hacker retaliation actions after spokeswomen for feminism have made comments show that the other side is feeling the heat. Consider the leaked nude photos "Celebgate" in August of this year by 4chan and other sites of more than 500 celebrities, including Jennifer Lawrence, Victoria Justice and others and the threats to Emma Watson after her recent eloquent speech on feminism. These speak to the panic being felt by those that feel threatened by true cultural and economic equality.
Getting to economic equality, in pay and in participation, is much more likely to occur when the culture of society demands it, from the bottom up. When boards and business executives are embarrassed not to have more representation and also embrace Warren Buffett's opportunity cost message that we are missing out on half of society's energy and intellect, we will see more acceleration in the numbers.
But women are taking things into their own hands. TechCrunch recently ran an article called "40 over 40." What caught my eye here wasn't that the most successful founders start their businesses at the age of 40 or older, but that 18 of the 40 on the TechCrunch list are women. That's 45 percent!
By contrast, it will likely take the Fortune 500 a very long time to get to equal representation of women in C-level roles and serving on boards, primarily because board and executive team sizes are not expanding. In other words, it is largely a zero-sum game and turnover in such roles is very slow.
However, in most industries, the surest way to create major and lasting value is not through market share, but by expanding or creating new markets. That's what women are doing to the stats by starting their own businesses.
For every new business that is started, a new URL is born.
It is hard to put a finger on where this momentum started. There have been many signals along the way. But what seems to be changing now, is that these signals are coming much faster, with more frequency, and from a much broader base, as society's views change. Social media is giving women a voice to tell their stories on a massive scale.
I find inspiration and hope in voices like that of 17-year Malala Yousafzai, recipient of the 2014 Nobel Peace Prize: "Why shall I wait for someone else? ... Why don't I raise my voice? Why don't we speak up for our rights?" While many obstacles remain, we all have to join this chorus if we want to keep this momentum going for the betterment of our girls.
Sue can be found on Twitter @suedecker and the entire article with more detailed references and links is on DeckPosts.net.