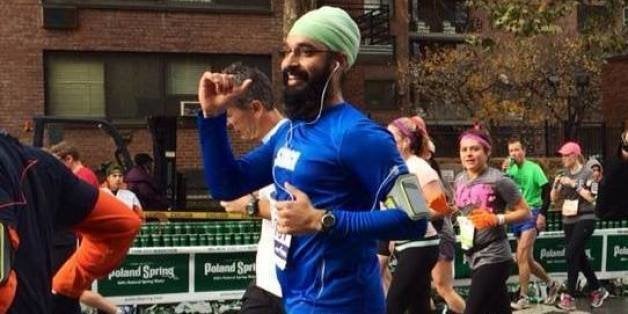 Today, Sikhs around the world are celebrating the birth anniversary of Guru Nanak (1469-1539), the founder of the Sikh religion. Guru Nanak was born in the region of Punjab, which currently falls within the political boundaries of Pakistan and northwest India. He observed the deep social inequalities and spiritual dissatisfaction in the world around him and began to share a unique message that addressed these issues. Guru Nanak traveled around South and Central Asia, preaching a message of oneness, love, equality, and service.
I thought about Guru Nanak quite a bit while running the New York City Marathon this past Sunday. Drawing inspiration from Guru Nanak's commitment to education and justice, I view marathon running as an incredible opportunity to counter negative stereotypes, raise money for charities, and build stronger communities. As I ran the 26.2-mile route around the five boroughs of New York City, I found myself marveling by the ground Guru Nanak covered in order to make the world around him a better place. My accomplishment is miniscule in comparison to his.
I reflected on how deeply the impact of Guru Nanak's contribution continues to reverberate to this day. The community he began to cultivate more than 500 years ago continues to thrive in the modern world, numbering nearly 30 million around the globe. His followers continue to balance his message of spiritual development and social contribution, and his poetic writings are preserved within the Sikh scripture (Guru Granth Sahib). On this day especially, Sikhs share stories about Guru Nanak and derive lessons and inspiration from his life.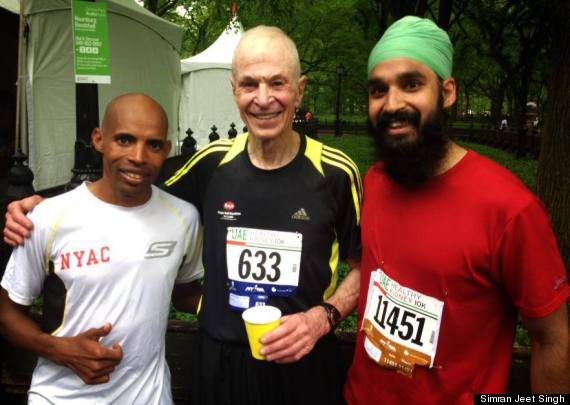 Simran alongside New York City Marathon co-founder and chairman George Hirsch, and US Olympic medalist and Boston Marathon winner Meb Keflizighi, after the UAE Healthy Kidney 10K in Central Park.
Guru Nanak's teachings have helped shaped my personal approach to running marathons. I see it as a deeply religious experience for a number of reasons: the unconditional discipline of training, the bonding with like-minded communities, the reflection and meditation of solitary runs, the practice of engaging with philanthropic causes, the ethical cultivation of mental fortitude - these are all aspects of distance-running that have contributed significantly to my own religious formation.
As I reflect on the life and legacy of the founder of Sikhism, I am reminded of how devoted he was to serving the world around him. The fact that his message and community continues to thrive more than 500 years later, and continues to follow his model of service and justice, speaks to the uniqueness of his teachings. His inspiring legacy merits that we all - no matter our backgrounds - take a moment to honor the birth of Guru Nanak.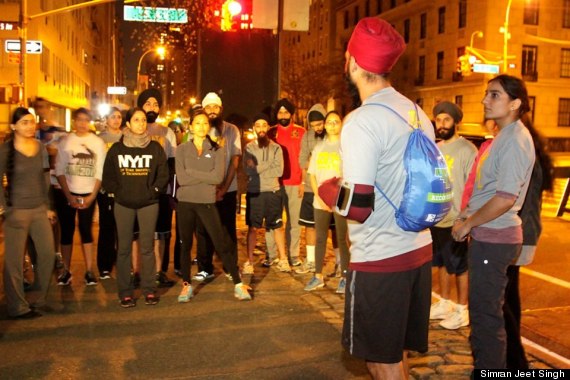 In response to the 2013 Boston Marathon Bombings, a Sikh-inspired running club -- the Surat Fauj -- organized solidarity runs around the country.
Calling all HuffPost superfans!
Sign up for membership to become a founding member and help shape HuffPost's next chapter