You've reached a certain age -- over 50? 60? 70? -- and stage in your life: Your energy level is still high, the desire to help others is stronger than ever, and the concept of retirement makes you shudder.
It is a question Marc Freedman, founder and CEO of San Francisco-based Encore.org, has grappled with for decades. And more than grappling, Marc has found many answers for people seeking purpose in their later years.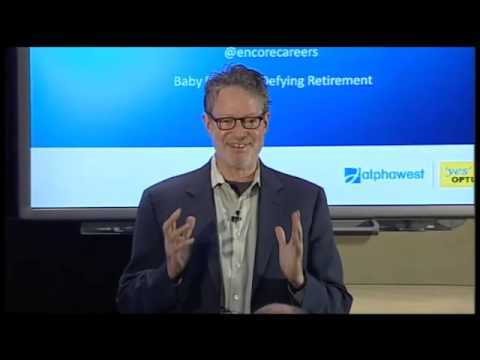 Marc was one of the founders in the mid-1990s of the Experience Corps, which is now part of AARP, and has been working ever since on programs to put older people's talent and energy to work on social issues such as poverty, human rights, health, education, social justice and protecting the environment -- anything that improves the lives of young people and the prospects of future generations.
He has written four books on the subject, is a frequent speaker, has been a visiting scholar at Stanford and visiting research fellow at the University of London, and was selected as 2014 Social Entrepreneur of the Year by the World Economic Forum and the Schwab Foundation.
Marc and I were classmates at the Yale School of Management. Marc always struck me as a thoroughly likable, focused, if somewhat reserved guy. We also seemed to share a desire to do something different from the management consulting and investment banking careers most of our classmates yearned for.
Though he is a few years younger than I, Marc is the father of three young children -- particularly interesting for someone who works mostly with people who are in their grandparenting phase.
I interviewed Marc recently about his career and the achievements of Encore.org
Q: What are the primary activities of Encore.org?
A: We do three things-- 1) work to change the societal narrative about what role older people can and should play (through thought leadership, story telling, and prizes like the Purpose Prize); 2) help create better pathways to purpose, through initiatives like the Encore Fellowship and education initiatives, including past work with community colleges and our new effort EncoreU; and 3) serve as a hub for the leaders of the encore movement, both through our annual conference and also through a fellowship program for leaders.
Q: What other programs is Encore similar to?
A: The people who join this movement are somewhat parallel to young people who join groups such as Teach for America, or even the Peace Corps. We're basically trying to shine a light on individuals immersed in second acts for the greater good.
Q: How had the "encore movement," as you call it, changed the concept of retirement?
A: In the past, even the recent past, people would work like maniacs for 30 years, then go prematurely out to pasture. The encore movement is helping to provide alternatives to that pattern. The movement is comprised of people with great talent and energy and a desire to give back. We help them navigate the transition to new careers. It's about passion, purpose and a paycheck. And it's not just about baby boomers. Half of the people born in 2000 are expected to live to be 100. I believe that they, too, will want more than just a life of leisure in their 60s, 70s, and beyond. The concept of "retirement" will never be the same as it was 50 years ago.
Q: If someone contacts you out of the blue and says s/he is interested in a second act career but doesn't have an organizational affiliation or specific ideas, what does Encore do? That is, should someone come to Encore for help if they simply want to "reinvent" themselves?
A: We can help them with guidance about how to navigate the path to an encore career, most notably through my colleague Marci Alboher's book, The Encore Career Handbook; connect them to local organizations in our network doing work supporting successful transitions; and impart the stories of peers who made the same journey. All that said, we're trying to work primarily at a systems and societal level -- for example, influencing Human Resources practice or the way financial advisors help people plan for this next chapter in life.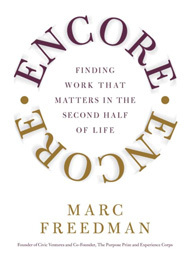 Q: Whether we have experienced it directly or not, most of us over 50 know there is ageism in the workplace -- finding a job, keeping one, being treated as though we are tech Neanderthals, and more. Is ageism a focus of Encore's efforts, or just a natural byproduct, given your constituency? Are there specific programs you have or are planning aimed to dealing with ageism?
A: We believe ageism is a real problem, and speak out against its adverse consequences at every opportunity. We're convinced that one of the strongest remedies is elevating the stories of what individuals over 50 or 60 are accomplishing, and helping to get more of those individuals in roles that demonstrate what they can do -- through the Encore Fellows program, for example.
Q: How many people currently are involved in "encore careers"?
A: Our survey found nine million people are in encore careers -- and 31 million more say it is a priority for them to move in the same direction. These purpose-driven second acts last roughly a decade on average. When you combine those numbers -- 40 million people involved in or desiring to have encore careers, and the ten years those careers last, you're talking about a windfall of talent, 400 million years' worth of human capital that could be applied to solving some of society's most pressing problems.
Q: How did you get into this field? I know you were in the arts before going to business school.
A: I wrote a book about the power of mentoring for kids, which led to the question of where the untapped talent and human capital in society could be found, so that more kids could have the essential support that only other human beings can provide. That led to an interest in the growing older population, as a resource for young people and society more broadly, which led to creating the Experience Corps with colleagues from the Federal Corporation for National Service and Johns Hopkins Medical School.
Q: What Encore achievements are you most proud of?
A: The research from Washington University and Johns Hopkins showing the powerful impact Experience Corps is having on its members, on young people, Experience Corps members, and on the schools where they serve; the impact of our Encore Fellowships initiative on corporate Human Resources pathways and practices, including Intel's decision to open this opportunity to all its retirement-eligible employees in the United States; and the influence the Purpose Prize has had on attitudes about what people can do later in life -- it has been described by the New York Times, the Wall Street Journal, and NPR alike as a kind of MacArthur genius award for people over 60.
Q: What have you not accomplished yet that you hoped you would?
A: Demonstrating in a large enough way how the idealism and experience of the Encore population can help solve critical problems facing the country, particularly young people. Next year we'll launch a major campaign to help us do just that.
PHOTO GALLERY
5 Inspiring Female Entrepreneurs Over 50
REAL LIFE. REAL NEWS. REAL VOICES.
Help us tell more of the stories that matter from voices that too often remain unheard.