I began my conversation with Gus Solomons Jr. by saying, "as a dancer, age is such a..."

"MYTH!" Solomons interjected. And then, grimacing, he added, "age is such a reality."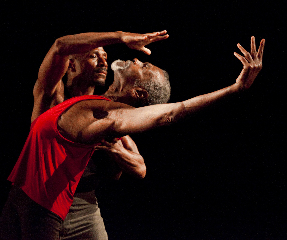 photo by Stephen Schreiber, courtesy of PARADIGM dance
January 1, 2011 marked the first day of a trend that will span the next 19 years: Boomers turning 65. Every day for the next 19 years, about 10,000 more will cross that threshold. Pew Research Center Population Projections states that in 2030 all the baby boomers will have turned 65, putting 18% of the nation's population in the 65+ age range.

There has never been a greater need to humanize and showcase the aging body in order to allow people to see themselves honestly reflected in art. Dance is a logical medium for such a representation. So on that same day, (1.1.11), Gus Solomons Jr. and I sat down to talk about his Bessie Award-winning company, PARADIGM dance, which showcases the work of some of the most iconic performers of our time. PARADIGM's eldest member will be 80 years old this March.
Founded in 1998 by Carmen deLavallade, Gus Solomons jr, and Dudley Williams, the company now includes now includes Valda Setterfield, Michael Blake, Karen Brown, and guest artists Hope Clarke, and Martine Van Hamel. Their mission is to 'present the eloquence of older dancers onstage in repertory appropriate to their gifts and in dances created by mostly younger choreographers'. You can see the company perform at the Gotham Arts Exchange APAP showcase in New York City, Jan 9, 7pm, at the Skirball Center for the Performing Arts in a piece titled Idyll, by Kate Weare.

We spoke about his decision to continue to dance and perform as he ages. Solomons affirms,

"I didn't think about dance as a young career - I thought of it as a career (period). I worked with Merce (Cunnningham, who made work until his death at age 90) and Martha Graham (who made work until her death at age 96). I know you don't have to stop, and the idea of continuing appeals to me in many ways. It is a great experience when Paradigm company members work as guest artists with younger companies. The youth gives resonance to the age and vice versa. Audiences are very moved by seeing people our age dancing at all and then paired with these kids... That's probably one of the reasons that it's important for me to keep doing this - because more and more people are getting to be our age, and it allows them to see possibilities."
Solomons occupies a very fortuitous vantage point as both a performing artist and the Artistic Director of Paradigm, as well as a full-time professor of dance and composition at New York University's Tisch School of the Arts. This spring he is scheduled to create two new choreographic works: one for the graduating class at Tisch and one for Paradigm. He will work with dancers who are up to 60 years apart in age.

"In working with older dancers, it's an issue of selecting the right instructions. An older dancer does not just do something - they start to be something - or express something through the movement. My work has changed a lot based on who is doing it - because it starts in a purely movement, kinetic conception - but as soon as the dancers do the movement, they are already investing it with some meaning for themselves. So it becomes a discussion about something emotional, and that's ineffable but very real for them. That's, for me, a very interesting thing - because I don't have to make dances about something. They become about something in the hands of the dancers."
The challenges are different when making work on younger dancers Solomons continues:
"Young dancers will do anything, remember anything, but you have to work with then to establish why they are doing the movement. You need to help them find who they are in relation to one another and to the movement."
Solomons has continued to challenge himself and his fans, shifting seamlessly from dance and choreography, to writing, to acting. Currently, he is in a play by David Gordon, titled Beginning at the End, and he recently starred in this Spike TV commercial for MANSWERS:
When asked who he wants to see his work, Solomons answered,
"I want it to be seen by young people who don't know the possibility of it. I want it to be seen by older people who can identify with it. I want it to be seen by funders who want to invest in it," he smiles. "Ultimately - I want it to be seen by anyone who wants to see it and a few people who don't."
REAL LIFE. REAL NEWS. REAL VOICES.
Help us tell more of the stories that matter from voices that too often remain unheard.