This year marks the 150th anniversary of Gustav Klimt's birthday, and museums around the world are celebrating the Austrian Secessionist's work. You can even "Klimt Yourself" if you want to see what you'd look like in one of his paintings.
In a new exhibition at the Neue Galerie in New York, we see classic Klimt: opulent and erotic portrayals of women are on display in spades. His gold-flecked paintings mix history and mythology to create charged depictions of women that arguably paved the way for the "femme fatales" we know and love -- combining Byzantine flatness, aestheticized excess, Pre-Raphaelite romanticism, and a predilection for the surreal. The Galerie will show everything from the famous 1907 portrait of Adele Bloch-Bauer to rare, never-before-scene photographs from Klimt's private life. The museum cafe will even be serving special Klimt cakes throughout the exhibition, (chocolate and hazelnut) in honor of the painter's sweet tooth.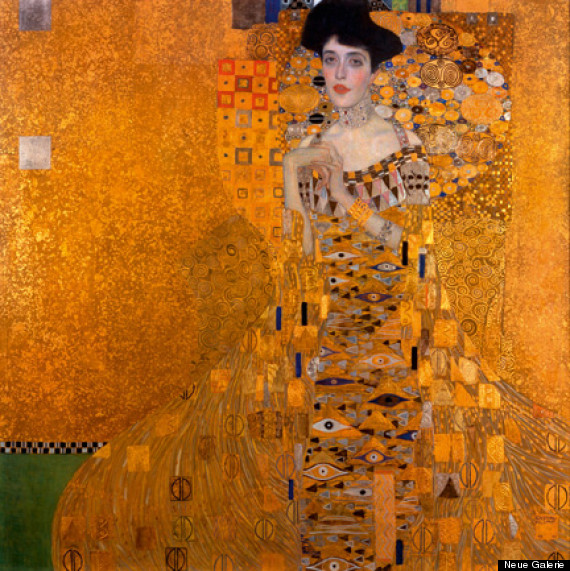 The son of an engraver, Klimt began art school at only 14 years old and soon made a name for himself in Vienna during La Belle Époque. With neighbors and friends including Sigmund Freud, Robert Musil and Gustav Mahler, Klimt's works often riffed off budding musicians, philosophers and writers of the prolific era. Klimt's iconic oeuvre is loved by many, although some critics cast him as a gaudy decorator-turned-painter. His dual-citizenship in the realms of high art and kitsch remains present today: his "Portrait of Adele Bloch-Bauer I" is the fourth most expensive painting of all time at $135 million, while "The Kiss" is arguably one of the most popular posters in college dorms. His influence also reaches as far as the runways; John Galliano for Christian Dior's 2008 couture collection being just one example where fashion icons have been influenced by his art.
Klimt was a libertine as well as a notorious womanizer, and is quoted saying "all art is erotic." At least where his own work was concerned, the statement proved true. From high society portraits of influential (and often unfaithful) wives to orgies of fondling and masturbating women, Klimt maintained consistent subject matter. However, there is of course more to his work than just lewd subject matter. Jonathan Jones of The Guardian described Klimt's "Adele" portrait as "pure beauty, pure art -- pure value." We can't help but agree.
PHOTO GALLERY
Gustav Klimt
Calling all HuffPost superfans!
Sign up for membership to become a founding member and help shape HuffPost's next chapter
BEFORE YOU GO