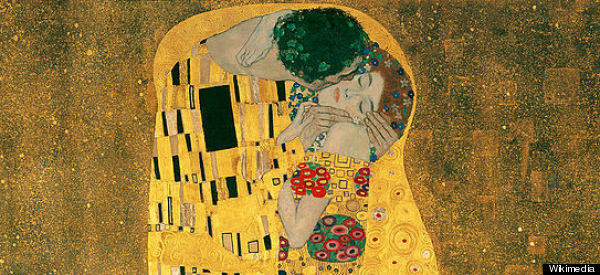 "The Kiss," 1907-1908
Gustav Klimt was born on July 14th, 1862 in Baumgarten, a town near Vienna in then Austria-Hungary. Klimt began his artistic studies in 1876 after being awarded a scholarship to the Vienna School of Arts and Crafts, the institute where he studied until 1883. There he was trained as an architectural painter, creating work that leaned more toward the academic, conservative side of art. Around this time, he, along with his brother and a friend named Franz Marsch, participated in an artist team called the "Company of Artists," receiving a wave of commissions to paint interior murals and ceilings.
In the late 1890s, Klimt's career veered more toward the unconventional, as he created three paintings -- "Philosophy," "Medicine," and "Jurisprudence" -- that were deemed radical and even pornographic by critics for their overtly sexual interpretations of traditional allegories. Meant to be displayed on the ceiling of the Great Hall of the University of Vienna, the works were rejected and this project turned out to be Klimt's last acceptance of a public commission.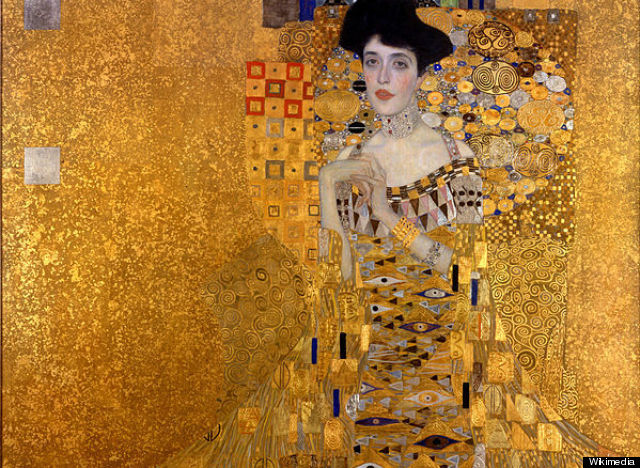 "Portrait of Adele Bloch-Bauer I," 1907
As Klimt's interest in painting figures developed, he became one of the founding members of the Vienna Secession. The group sought to highlight the best foreign artists' works and bring them to Vienna, and it published its own magazine to showcase the member's works. Unlike other movements, the artists associated with the Vienna Seccession were manifesto-less, aimed only at bringing attention to new and innovative works, and this unrestricted attitude attracted surrealists, realists, and naturalists alike.
After joining the movement, Klimt embarked upon his "Golden Phase," a period of his career marked by the use of gold leaf. It was at this time that the artist created his most iconic works, including "The Kiss" and the "Portrait of Adele Bloch-Bauer I." Inspired by the golden aspects of Byzantine art located in Venice and Ravenna, Klimt's love of all things gilded fed his obsession with costumery, leading to five decadent paintings of society women draped in fur, created between 1907 and 1909. His dreamy attention to the female form and mosaic-like portrayal of fabrics and texture remained definitive characteristics of his work for the remainder of his career.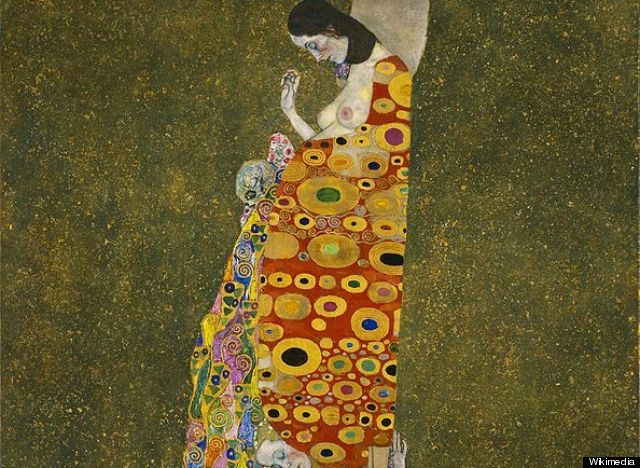 Hope II, 1907-1908
But Klimt's personality could not have been farther from his vibrant and mystical works. He was known to dress modestly in a long robe and sandals, faithfully practicing his art while privately tending to his family. He continued to work tirelessly on his complex and time-consuming paintings up until the time of his death, winning first prize at the world exhibition in Rome in 1911. After a praiseworthy tenure in the arts, Klimt died on February 6, 1918, at the age of 55 and was buried in Hietzing Cemetery in Vienna.
After his death, Klimt's work has soared to record-breaking prices, bought by museums and private buyers around the world. And his legacy will be put on display this summer as his homecountry's capital celebrates Klimt's 150th anniversary in style. If you can't make it to Vienna though, you can celebrate by Klimt-ing yourself in this hilarious web application, or you can check out Google's virtual homage to the painter.
So in honor of the great Austrian artist, check out these photographs of Gustav Klimt's private life, currently on view at the Neue Galerie! Cheers, Mr. Klimt!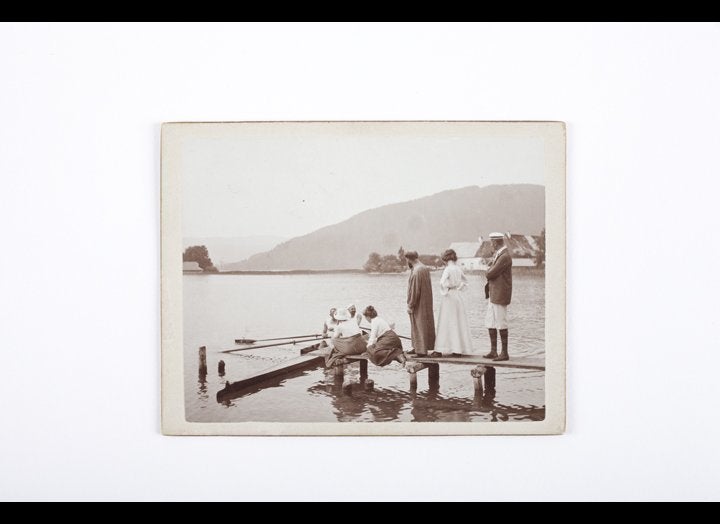 Gustav Klimt
Popular in the Community