When Gustavo Ramírez Sansano makes a dance, he uses everything. Richly painted movement and every kind of music, imaginative set design and careful lighting, costumes and character all come together in a multicolored harmony. Large scale or intimate, short-form or full length, he constructs his works like a composer who has invented a brand new kind of orchestra, just to be able to convey the visual emotions he imagines.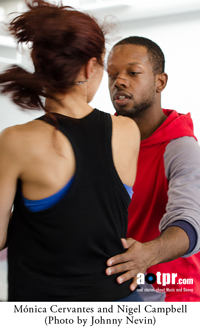 The impact of his all-in approach is exceptional: "emotionally fierce, intensely sensual, brilliantly danced and stunningly designed" was the way that Hedy Weiss, writing in the Chicago Sun-Times, described his full-length work Carmen, but his effectiveness isn't dependent on scale. He can bring it way down without dropping a beat in works like En Busca De, where the edgy precision of his movement design, sparse and staccato, is still full and engaging.
Ramírez is the artistic director of Luna Negra Dance Theater, and his works include the multifaceted talents of gifted colleagues. It's a whirlwind of a dance company; when Janine Parker saw them perform, she wrote in the Boston Globe that they "dance as if it's the last night on Earth," but it wasn't always this way when Gustavo Ramírez Sansano made dances.
His earliest works were made with less abundant resources, but the less you have to work with, the more you learn to use what you have. That may be how he learned to use everything, and when Luna Negra performs the World Premiere of Ramírez's 18+1 at the Harris Theater for Music and Dance on Oct. 13 (along with Fernando Melo's Bate and the World Premiere of Melo's Walk-In), the intensely unique company will present an even richer vision of "everything". In 18+1 Ramírez uses everything he's learned since he started making dances; he's bringing everything back to a new kind of beginning.
He began dancing in his native Spain, in the town of San Fulgencio, where nobody taught dance, but where almost everybody played a musical instrument. He danced at the local festival, and after awhile, other young people in San Fulgencio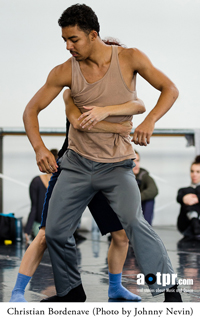 wanted to join him, so he began designing movement for them. He may have choreographed larger casts in those early days than he has since (despite having worked with some of the most successful Dance Companies in the world), directing sometimes nearly a hundred of San Fulgencio's young people at community festivals.
That was eighteen years ago, and that's how Ramírez began making dances, by helping to light up the night in the quiet countryside of southeast Spain. He's been making dances ever since, moving steadily through every imaginable step of a choreographer's career, and after eighteen full years he's ready to begin another, making it eighteen plus one.
"Most choreographers begin while they are dancing in big companies, they start choreographing with professional dancers and in really good conditions, and that's actually a good platform to begin from," Ramírez observes, but goes on to add, "I feel really lucky that I was able to go through all the different stages." He can describe each of them, from the nonprofessional ("... including myself, because I didn't have much in the way of material or knowledge, I was just working from intuition... ") to working with his classmates in school, then making works for other professional dancers in the companies he danced with, and then for dancers he had never met before when companies across Europe began inviting him to choreograph.
His resources expanded with his experience, and his experience expanded with his vision. So did his ability to visualize and co-ordinate a myriad of moving parts; not just movement, but also all of the other visual and emotional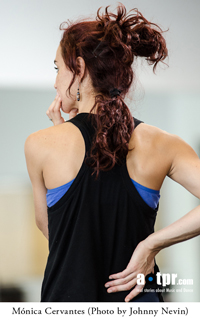 construction that engages an audience. He knows how to use all of it, everything, but in 18+1, he's chosen not to; instead he's making a dance the way he used to, building it entirely out of the mesmerizing, moving harmony of music and movement.
18+1 is Ramírez's return to something that he never really left behind. He calls it an "invitation and a celebration," in which he returns to a choreography constructed of music and the dance it inspires. This is how it was eighteen years ago in San Fulgencio, where he first choreographed for the town full of music lovers he grew up learning from. Back then the movement would be set to the vibrantly real music his world was immersed in, artists like Pérez Prado, who would drive a song like "Mambo No. 5″ so hard it could push a freight train up a mountain, or Los Panchos, singing a mournfully hopeful love song to a girl named "Perdida" ("Lost").
In 18+1 Ramírez returns to those sounds, those same artists, and with everything he's learned since, he weaves twenty minutes of dance into an exquisite celebration, with an enchantment of precision in movement that no one in San Fulgencio would have ever imagined. Yet it's the same celebration now as then, the pleasure and power of every moment, whenever movement and music are wrapped around each other.
"Dance and music are the perfect couple, the perfect marriage," Ramírez says. "They complement each other and make each other stronger." It's a different kind of everything, and it celebrates everything he's learned in eighteen years. 18+1 is Ramírez's celebration of everything he started with and of all of the new beginnings since. Back then it was just the music and the dance you can make with it, and that's still everything he'll ever need.
Related
Popular in the Community