HuffPost Live hosts Ahmed Shihab-Eldin and Marc Lamont Hill spoke with Guy Adams by phone earlier this morning before he was reinstated on Twitter. WATCH THE VIDEO ABOVE.
The Independent's Guy Adams had his Twitter account suspended on Sunday after the Los Angeles-based correspondent tweeted the email address of the president of NBC's Olympics coverage. His account was restored Tuesday afternoon.
Adams was one of many critics who took to Twitter to complain about NBC's coverage of the 2012 London games. On Friday, he directed viewers to send their grievances directly to Gary Zenkel, the president of NBC's coverage, and tweeted his email address. "The man responsible for NBC pretending the Olympics haven't started yet is Gary Zenkel. Tell him what u think!" Adams wrote.
NBC Sports filed a complaint with Twitter, which said the tweet violated its privacy policy and suspended his account. The decision raised eyebrows, because Twitter is an official partner for NBC's Olympics coverage.
On Tuesday, however, Adams' account was back up. "Twitter emails to tell me: "we have just received an update from the complainant retracting their original request," the journalist wrote. "Therefore your account has been unsuspended." No further explanation given, or apology offered."
Later, NBC said in a statement, "Our interest was in protecting our executive, not suspending the user from Twitter. We didn't initially understand the repercussions of our complaint, but now that we do, we have rescinded it."
NBC has been hit with heavy criticism on Twitter since the Olympics started last Wednesday. Viewers first tweeted their frustation that the network did not air the Opening Ceremony live on Friday, instead deciding to broadcast the Parade of Nations during prime time hours. Adams referred to the network as "utter, utter bastards" for its programming decision.
The network further enraged viewers for editing portions of the Opening Ceremony, including what many considered a tribute to victims of the "7/7" London terrorist attacks.
Adams showed his email exchange with Twitter over his suspended account to Deadspin's John Koblin. The journalist received a response that his account was suspended after he tweeted Zenkel's email address. Referencing the tweet with Zenkel's address, Twitter support wrote:
Your account has been suspended for posting an individual's private information such as private email address, physical address, telephone number, or financial documents.
Adams reportedly emailed Twitter's European PR head, arguing that he did not post private information, as Zenkel's NBC email address is "widely available to anyone with access to Google."
As Reuters' Felix Salmon points out, it's unclear whether Adams officially broke a Twitter rule.
Adams wrote about his experience in a post that appeared on The Independent's website on Monday. After submitting an online form questioning his account suspension on Sunday, Adams heard back from Twitter in what he called "apparently an automated email," in which the social media site attributed the suspension to his tweet with Zenkel's email address.
"Since I'm still trying to get to bottom of the hows and whys of my suspension, which conceivably raises various ethical issues relevant to journalism in the online era, it seems premature to comment further," Adams wrote. "Except, perhaps to say that I do not wish Mr Zenkel any harm, and to share a transcript of my most recent email to Rachhel Bremer, Twitter's head of European PR."
NBC Sports released the following statement:
According to Twitter, this is a violation of their privacy policy. Twitter alone levies discipline.
He spoke out about the situation with HuffPost Live's Ahmed Shihab-Eldin and Marc Lamont Hill on Tuesday, before his account was restored.

"I've emailed them back and my position is, I've read their rules, I've reread their rules, I still don't understand how I broke them," he told them. "I think they're making up their rules as they go along frankly."
He said that he has tried to get in touch with someone to discuss the situation, to no avail. "I've tried, I've left my phone number, I've sent emails, I cant get anyone at twitter to talk to me about this," he said.
Click over to The Independent to see Adam's full post and email. View a slideshow of Adams' tweets and the reaction to his suspension below:
Related
Before You Go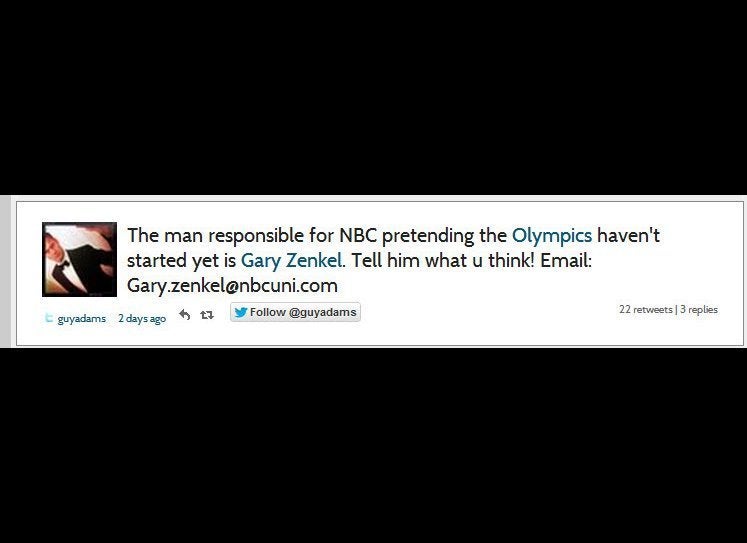 @GuyAdams Suspended
Popular in the Community