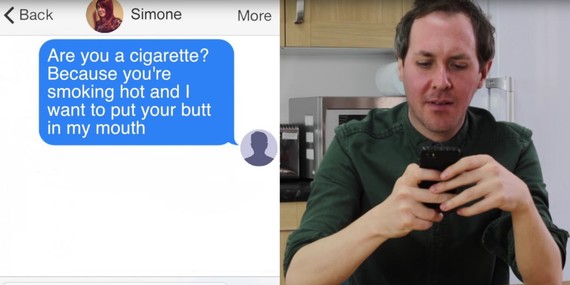 This one is pretty great -- frustrated by all the non-responses he gets on Tinder and curious to know what it's like to be on dating sites as a woman, a guy decided to undergo a male-to-female makeover... which is really going the extra mile. He could just have used some random pictures, but why not. I appreciate his dedication to the craft.
So what happens when the tables get turned and the shoe gets put on the other foot? How bad are dudes really, and how weird is it to get hit on with creepy messages? Let's just say that the "dirty laundry" message was horrifying, and the "are you a cigarette?" message was about as cheeky as it gets.
Let's face it: If you're straight, online dating is a bit of a battlefield. Whether it's on sites like eHarmony, Match.com, or AdultFriendFinder, or on apps like Tinder, Bumble and Happn, men and women seem to constantly be coming at things from cross purposes. A ton of guys know they should send the first message but seem to have no clue how to talk to women; scared of being friend zoned, they get extra vulgar right off the bat, and the women get creeped out and increasingly despair at the state of modern masculinity. There's got to be a better way!
Maybe if we all went undercover like "Simone" and experienced life from the other side's perspective we'd be able to sort this out like a bunch of adults. (Although from the looks of it, that was one expensive makeover. Maybe we should just stick to using pics of Instagram models we found online.)
Calling all HuffPost superfans!
Sign up for membership to become a founding member and help shape HuffPost's next chapter