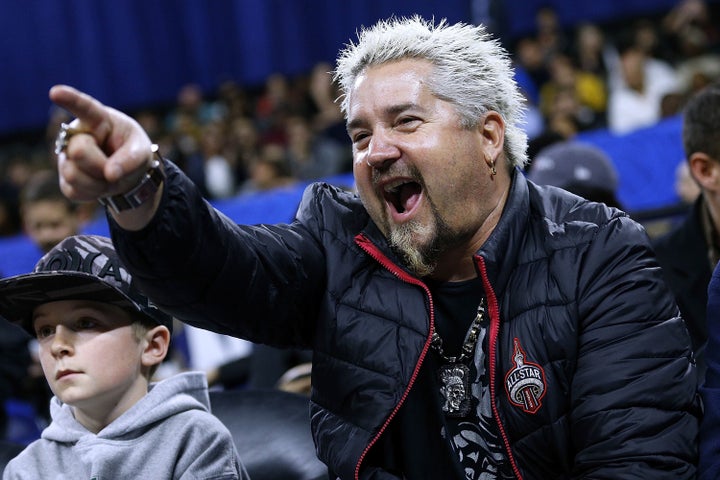 Food Network host and chef Guy Fieri is famous for his frosted tips, his ability to eat endless deep-fried foods and his references to Flavortown, but he's also just as well known for his Donkey Sauce.
It's generously served on top of or on the side of many of his dishes at his (in)famous Times Square restaurant Guy's American Kitchen And Bar, and it's one of his claims to fame.
There's been talk about how he developed the name for this sauce ― apparently he got the idea when he said that anyone who doesn't use sauce is a jackass.
But in a recent interview with Thrillist writer Matt Patches, Fieri explained what his famed Donkey Sauce is ― and then got pretty defensive about it.
Patches asked, "How do you reckon with the promotion of healthy eating and your personal brand, known for a certain type of comfort food? Donkey Sauce is a pillar of your business and isn't great for you."
"You're stereotyping it. If we called it aioli, does that make it sexier? It's aioli. This goes back to that exact comment that I said in the beginning: it's about moderation. I called it Donkey Sauce because you have to make fun of it."
Of course, Fieri's aioli has a little more kick to it than others because he adds mustard and Worcestershire sauce. (You can make your own at home with this recipe.)
But then he went on the defensive a bit.
"Triple D gets misbranded all the time. 'Oh, you're that dude that eats the deep-fried pizza corn dog sandwiches.' I'm like, everybody has their opinion on how they describe 'Star Wars'. By no means are we a 'Star Wars', but everybody has their interpretations. If you really look at Triple D, and if you really go and investigate the shows, and the style, and how I do the shows, I'm a huge, epic food fan. I'm a huge scratch fan. Scratch-made is super critical to me."
Looks like Fieri is out to change his reputation. Are you buying it?