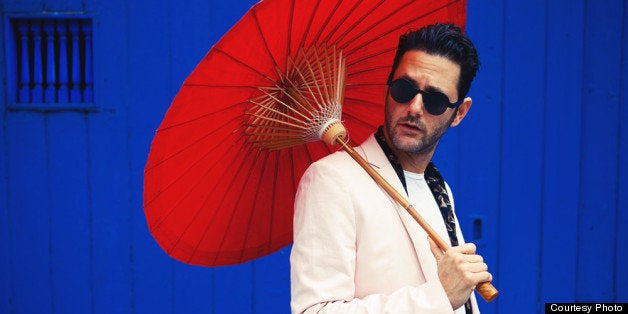 When we rang Guy Gerber, the producer and DJ was "recovering" from his new Wisdom of the Glove night at Pacha Ibiza. An after-party didn't help. "I'm not a great after-party person," Gerber sighed. "I used to be, but it's not my thing. If there's a girl you want to see, you go. If there are no girls, you don't go. It's easy to balance it like that."
The matter-of-fact honesty is characteristic for Gerber, who has taken over Erick Morillo's Wednesday night party at Pacha, the longest-running event on the island known as dance music's Mecca. Take, for example, Gerber's response when asked about his relationship with Morillo: "I don't really have a relationship with him, but I am a good friend of his ex-girlfriend."
Not that there's any bad blood there. Morillo, who is now taking some time to focus on kicking drug addictions that have led him to be a no-show at several gigs, gets nothing but praise from Gerber. "I wish it was more interesting for the media, because I think sometimes it's good for pop culture to have some sorts of fights and stuff," he said. "But honestly, I have only good words to say about Erick Morillo. It wasn't like, 'OK, guys, I want to take Erick Morillo's place.'"
"I feel like it's actually not the right time for a change in Ibiza, but I'm going to make it happen anyway," he continued. "It's becoming more and more commercial, more brands and more boats. I thought, 'Well, OK, that's cool, I'm not against it, but I want to do something different.' I want to give people a chance to experience something artistic, creative and less serious. But we are very serious about the line-up. The DJs that we book are very, very good at what they do. It was almost a suicidal gamble. I have a feeling that this experiment is going to be very successful."
It's that insistence on quality and rejection of harder-faster-rager vibe that's maligned mainstream dance music that has made Gerber one of the most respected producers and DJs. And while his style has earned him the attention of some of the biggest players in mainstream music (read his hilarious retelling of the time he worked with Diddy), he's still a bit of an easy going purist.
"I hate short sets, it doesn't compliment my music," Gerber said. "Anything under two hours is not a DJ set." The Israeli producer would know: He landed at No. 2 on Resident Advisor's Best Live Acts List (RA is dance music's website of record). That's a list that's much more meaningful than DJ Mag's much-derided Top 100 DJs poll, on which he did not appear.
Gerber also rejects some of the cliche tropes in today's electronic dance music world, like bashing American audiences. "The States are now some of the best parties in the world," Gerber said. "I played the Verboten stage in New York City on the Fourth of July, and it was one of the better parties that I have played in awhile. Everyone was smiling and very enthusiastic about the music. Toronto was great; Chicago, Wavefront -- so many people come to support this type of music. The best show was in Montreal at Piknic Elecktronik, where I played a four-hour set. It started raining, and literally no one moved. People just danced in the rain for four hours. It was beautiful."
"When I played in Detroit, at the Movement Festival for the first time, what I felt was that people were into the music but they didn't know know how to dance to it," he laughed. "They were dancing to it with like hip-hop moves. But now I think that people travel, they come to Ibiza. It's a bit more naive and perhaps people criticism them. But it's OK not to know and then ask, and know. Honestly, I started in a bit of an indie rock world and I didn't know that much. I was trying to create something like, let's say, French house, and it came out as something completely different. Right now, most of the people that complain about the U.S. are people who are not part of the scene. I was going there for awhile and it's very good for me in the States, but I know there were some DJs who were against it when the fees were low. And now they're not big, so they just criticize it."
Calling all HuffPost superfans!
Sign up for membership to become a founding member and help shape HuffPost's next chapter
BEFORE YOU GO