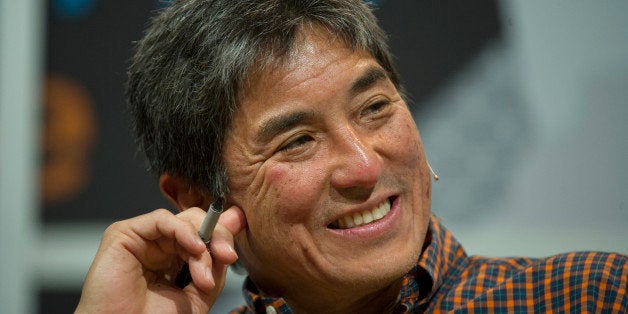 Guy Kawasaki might have the same job title he had 30 years ago, but his days of working for a benevolent dictator are over.
The author and entrepreneur was the "chief evangelist" at Apple under Steve Jobs in the 1980s, a title he's revived for a new job at a design startup called Canva. Kawasaki once evangelized for the Macintosh computer, and he'll now promote Canva's online graphic design tools, which can be used by both amateurs and pros.
According to Kawasaki, the management styles of the companies are polar opposites -- a sign of how much the culture of technology has changed since the dawn of the personal computer.
"Under Steve Jobs, Apple was an autocracy -- a benign autocracy, but you had one more or less dictator who was very good at his job," Kawasaki said in an interview with The Huffington Post.
Jobs' high standards for his team sometimes made employees anxious, Kawasaki said, though he added it wasn't necessarily a bad thing. "Contrary to every HR theory, fear of a manager can work," he said.
Sydney-based Canva has a management structure -- and a management team -- that's a little less intimidating.
"Canva's management structure is very flat -- it's only 20 people," Kawasaki said. And the founders? "They're young enough to be my children," he added.
The same could be said about any number of new and established tech companies these days -- many of which have embraced a more relaxed management style than the one Kawasaki describes at Apple during his time there.
Despite their differences, Apple and Canva have at least one big thing in common, according to Kawasaki: "Both companies democratize, or have democratized, something very important," he said. "Apple democratized computers and later smartphones. Canva's going to democratize design."
"When Apple was founded, only large corporations and institutions had computers," he added. "Now, anyone can have one. With Canva, I think the same thing's going to happen to design. People who have never designed things, who never would have considered themselves designers, will now be making things."
Kawasaki added that even Jobs himself had "impeccable taste" when it came to design.
All this, he said, is why he has resurrected the "evangelist" title for the first time since his early days at Apple.
"Evangelism is a Greek word for 'bringing the good news' -- an evangelist is someone who wants to bring good news to people," he said. "I take the title 'evangelist' very seriously. It's different from being just a salesperson, someone whose job is to sell people stuff."
Bianca Bosker contributed reporting.
Calling all HuffPost superfans!
Sign up for membership to become a founding member and help shape HuffPost's next chapter