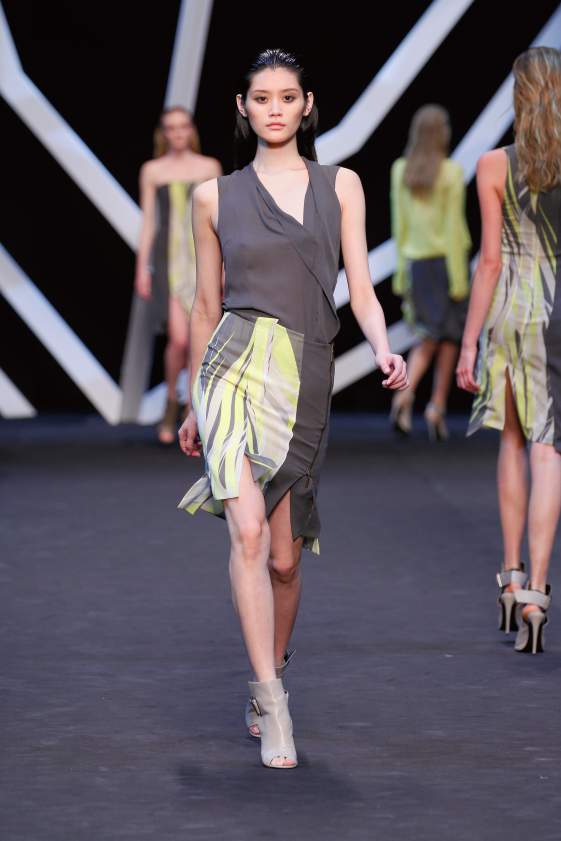 The spring/summer collection of Guy Laroche made its debut during Paris Fashion Week this fall showing off sexy creations constructed of luxurious fabrics.
What is sexy ? A woman getting out of the sea -- wet hair, moist skin...
The mix of a body hugging jersey dress and a coat taken from your admiral boyfriend...
Cleavage, shoulders and thighs are key in this "neo-classic" collection about sex appeal. Real clothes for real women! The sea is the main inspiration of Guy Laroche artistic director of fashion, Marcel Marongiu, who designed "stormy ocean" prints and marine inspired outerwear to luxurious silk chiffon "algae" creations. Marcel Marongiu has a passion for painting : Rothko, Motherwell, Kounellis. He adores baroque music, primitive arts, rock'n'roll, movies by Hitchcock, Greenaway, Visconti. He also has a passion for the work of the Italian architect, Andrea Palladio. This spirit, this culture, this sense of research, his technical capacities and his taste for delicate materials have made him the perfect choice for Guy Laroche. His style is a subtle blend of tailoring and dresses, a refined mix of feminine and masculine spirit, romantic, modern and sensual, a balance of Northern European and Mediterranean influences. Asymmetrical, draped styles are created with very sharp tailoring, respectful to the women's body. Alicia Keys, Dido, Madonna, Isabelle Huppert, Sandrine Bonnaire, Neneh Cherry, Emmanuelle Béart are wearing his creations.
Guy Laroche a staple of French fashion since he opened his own Fashion House in Paris in 1957 with sixty brilliantly presented looks that turned this young unknown into a Great Couturier overnight and proposed a new kind of image for women. This is the Laroche Allure that brought him to win the Haute Couture Thimble Award twice and to establish boutiques internationally, ready to wear and fragrances for both men and women.
Photo courtesy of Guy Laroche Paris.