A jury found Guy Wesley Reffitt, the first Capitol riot participant to stand trial, guilty on all five counts after just a few hours of deliberation on Tuesday in a clean victory for prosecutors going after the rioters.
Reffitt had driven from Texas up to Washington, D.C., for then-President Donald Trump's rally protesting the formal certification of Joe Biden's 2020 presidential election win. According to prosecutors, he acted as "the tip of the mob's spear" for the first group to storm the building where the certification was taking place, leading others past police barricades set up outside but stopping short of going in himself.
Photos, videos and a recording of Reffitt bragging about his participation ― taken surreptitiously by his son ― backed up their arguments.
Reffitt was charged with five felonies for his part in the Jan. 6, 2021, attack on Capitol Hill, including arming himself with a gun in a restricted area, attempting to interfere with an official government proceeding and intimidating his teenage children to discourage them from cooperating with investigators.
His son, 19-year-old Jackson Reffitt, testified against his father last week during an emotional stretch of the trial.
The younger Reffitt had flagged his father to the FBI in late December 2020 after noticing a change in his father's rhetoric after the election that he found alarming. Guy Reffitt boasted about being a part of the mob in the audio recording played in court, viewing the deadly attack as a historical achievement before seemingly realizing he could get in some deep legal trouble.
Prosecutors said Reffitt threatened to shoot his kids if they told anybody what he'd done.
"He said, 'If you turn me in, you're a traitor. And traitors get shot,'" Jackson Reffitt told the jury, outlets reported.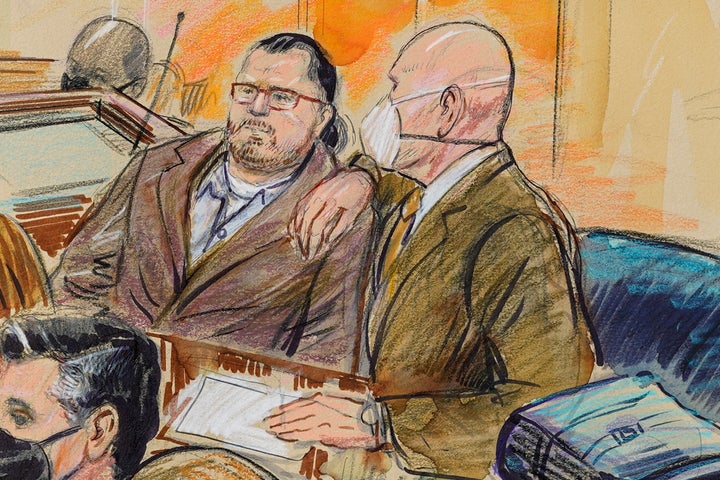 The teen also affirmed that his father was a member of the Texas Three Percenters, a far-right anti-government militia group, and held meetings in the family home.
Although federal authorities have arrested some 750 people in connection with the attack, many of them have avoided trial by accepting plea agreements. Guy Reffitt's case is viewed as a test of the government's charges, which have been challenged by defendants as unconstitutional but upheld by judges.
The defense called no witnesses and Reffitt, a former oil rig worker, did not testify. His attorney largely dismissed the government's claims by arguing that Reffitt was prone to exaggeration and blustery statements, and by pointing out that he was not charged with assaulting law enforcement like some other Jan. 6 defendants.
Reffitt was photographed at the riot wearing a helmet with a camera strapped to it along with a bulletproof vest, which prosecutors used as evidence that he was expecting violence. An object prosecutors say is a pistol could also be seen strapped to his waistband, although Reffitt said the weapon was not assembled at the time.
In his opening statements, Assistant U.S. Attorney Jeffrey S. Nestler told jurors some of what Reffitt threatened to do that day, quoting him as saying the mob was going to drag out lawmakers "kicking and fucking screaming."
"I just want to see [Nancy] Pelosi's head hitting every fucking stair on the way out, and Mitch McConnell, too," Nestler quoted Reffitt as saying, according to CBS News.
Outside the Capitol, Reffitt was pelted by chemical irritants from law enforcement officers who testified in court.
Defense attorney William Welch, suggested in his closing arguments that the government's photographic evidence was possibly fake, BuzzFeed News reported Monday. Clearly, the jurors didn't buy it.
Welch had previously argued that the trial should be moved out of Washington given potential jurors' proximity to the violence and inevitable exposure to media coverage of the event, but it was allowed to proceed in the capital.
Popular in the Community