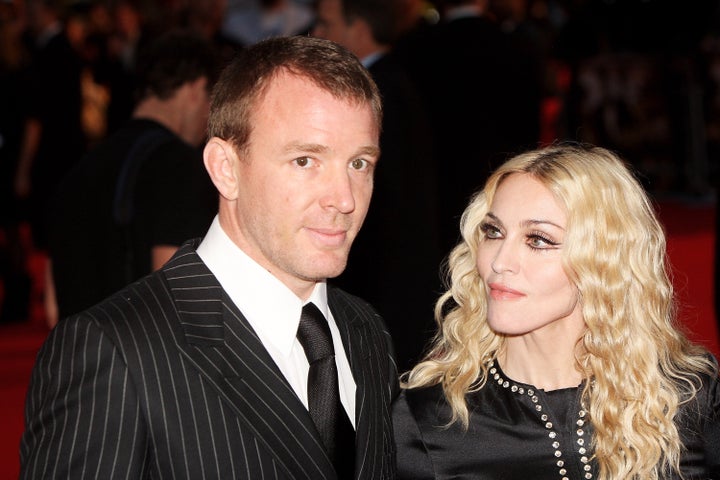 Guy Ritchie opened up about his eight-year marriage to Madonna in Details' December issue, on newsstands Tuesday. Though he described his time with the singer rather positively, he notes that his marriage was a "soap opera":
"I enjoyed my first marriage. It's definitely not something I regret. The experience was ultimately very positive. I love the kids that came out of it, and I could see no other route to take. But you move on, don't you? You're right, I stepped into a soap opera, and I lived in it for quite a long period of my life. I'll probably be more eloquent on it 10 years from now."
The Sherlock Holmes: A Game of Shadows director married Madonna in 2000, though they split eight years later in 2008. Despite their divorce, the former couple share custody of their two children -- adopted son, David Banda, and biological son, Rocco. Ritchie reportedly received between $76 and $92 million in the divorce settlement.
When asked about what he learned from his marriage, Richie gave a somewhat perplexing answer:
"When you end up with a lot of the things you set out to chase and find that you've stumbled into all sorts of hollow victories, then you become deeply philosophical. I'm quite happy that that experience was accelerated for me. I'm glad I made money, in other words. And I'm glad I got married," said Ritchie.
He welcomed a new baby in September with his girlfriend of nearly two years, Jacqui Ainsley. When asked if he had any advice for his new son, he said:
"You've got to work it out for yourself. What works for me might not work for anyone else. Because everyone told me that to be good at school was important, but for me it wasn't. So I am anti-school. And I'm anti people putting so much pressure on kids and robbing their childhood by giving them so much homework. I think if kids want to arse around, then they should."