There are many places in Paris where you can eat oysters. It seems to be one of the most typical things to do when people visit Paris: see the Champs-Élysées, climb the Eiffel Tower and eat a glittering platter of oysters. But Guy Savoy's newly opened " L 'Huîtrade" isn't in the least bit typical.
First of all, it's tiny - a mere 20 square meters. What used to be Savoy's private dining room has now been converted into a laid back oyster 'relais', or relay, between France's best oyster cultivators and your plate. This single mollusk is all you will find on the menu: platters of beautifully arranged, exquisite-tasting oysters. And that's it.
Ok, there's not just that. There's also one dish that involves a little more than just shucking: "3 oysters in a cold preparation". This dish includes Savoy's signature 'huître en nage glacée', an oyster concassée topped with a seaweed granita that's delicately scooped out of an ice dome shaped like a Hershey's kiss, and finally, the oyster 'en escabèche' that is topped with tapioca pearls. There is only one dessert, and of course an inspiring, and surprisingly affordable, wine list.
The industrial-chic interior design is highlighted by an entire wall lined with glass bottles containing hand written messages, and oyster motifs printed on the floor tiles. It successfully transports diners away from the Arc de Triomph and into a seaside ambiance where the oyster is king.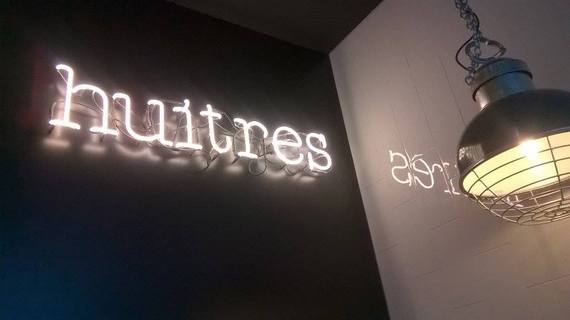 But more than being a new Parisian hot spot, the opening of L'Huitrade highlights the ongoing 'monomania' that's sweeping Paris. This trend revolves around taking a signature dish or specialty product, and dedicating an entire boutique or restaurant to it. It's specialization turned into hyper-specialization, and right now it's all the rage.
Though this trend has its roots in mono-product pastry shops, it has now extended to Michelin-starred chefs like Guy Savoy. It's easy to understand the growing popularity of such establishments: the idea of doing one thing and doing it well is an excellent gauge of quality. As for the consumers, we tend to have more respect for someone with this approach, as opposed to restaurants that try to do too much and end up with barely mediocre results. (Those hybrid Indian-Chinese-Thai restaurants come to mind).
Alain Ducasse recently launched a line of his own chocolates along with opening a chocolate bar, Pierre Hermé is world-famous for his luxury macarons, the Rostang family opened a meat-centered bistro, and you'll find cream-puff ateliers and eclair concept stores dotted throughout the city. But why are the French so obsessed with single products?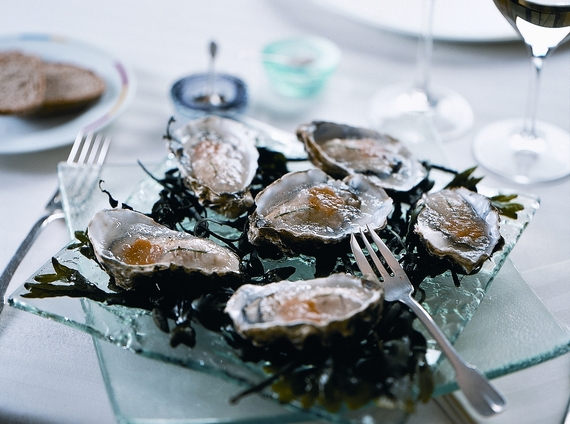 If we look at French food culture, the answer is surprisingly simple. For bread, they go to a bakery. For cheese, the cheese shop. For meat, the butcher and for wine, a wine cellar. Although supermarkets are popular, they are not one-stop destinations where people go to stock their pantries. Instead, they supply people with the basics, the backbones of domestic life like flour, sugar, household products and so on. But for the more important things, like the products that are to be enjoyed at every meal, they turn to the professional artisans who have dedicated their life's work to perfecting one product, and one product alone. Thankfully, there are still thousands of such small shops, run by families, with recipes and traditions still passed down from generation to generation, further perpetuating the love and respect for a single, perfectly made product.
For Guy Savoy, shining such a bright spotlight on the oyster is a question of love. His love affair is based on his original concoction, the oyster 'en nage glacée'. It's a dish that he simply hasn't been able to let go of, and one of the few constant items on his 3-starred menu. Hence the idea was born to dedicate an entire (albeit small) space to the glory of the humble oyster.