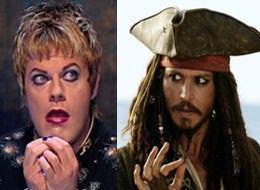 When Josh Lomon brought his fashion A-game to the Kelly Clarkson concert at DAR Constitution Hall this fall, he wore skinny jeans and a dramatic necktie and topped off the ensemble with a black fedora. But his friend Mary Betancourt was taken with the thick, black rings of eyeliner around his eyes, smudged just so.
"You look so . . . affected," she said.
Guyliner. The new catchphrase for boys behaving girly, joining last year's manbags (handbags), mandals (sandals), mannies (nannies) and himbos (bimbos). It's the lexical equivalent of making pink hammers for women.