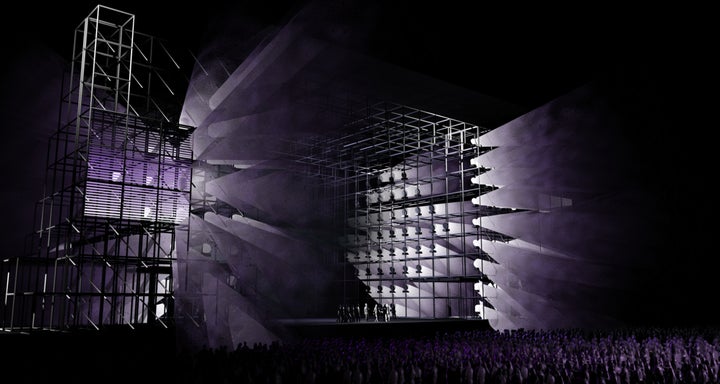 Over the past few years, a great deal of local gay theater has been dishearteningly mired in bad writing, lax direction and amateurish acting. I recently attended the GuyWriters Theatre Company's production of seven short comedies under the umbrella title Eat Our Shorts 4 -- Love And Other Disasters and was completely blindsided to find myself witnessing one of the funniest evenings of gay theater I've seen in years.
Several of the shorts offered new twists on old themes. Much of the writing was superb (and could give Paul Rudnick and Q. Allan Brocka a run for their money). While some of the actors were less skilled than others, there were divas on display who knew how to bring down the house.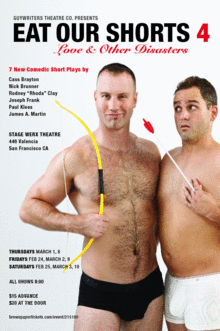 Poster art for Eat Our Shorts
Dedicated to exploring the unpredictable hunt for love, lust, flashy clothes and a top in San Francisco, the evening's bill of fare consisted of the following:
Poolside: Written by Rodney "Rhoda" Clay and directed by Candice Nite, this piece put a delightful new spin on an old, old tale. Jason has dragged his friend Matt out of hiding. Matt broke up four months ago with Ted and is still bitterly licking his wounds. When Matt goes off to get a drink, a handsome young stud arrives and stakes out a lounge chair. The shit hits the fan when Matt and Jason realize that Aaron is Ted's new boyfriend.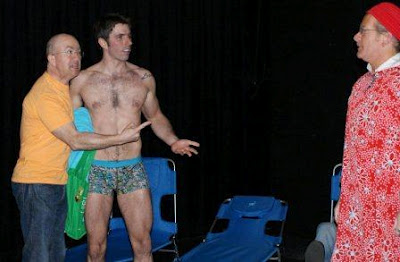 Ted (Chris Maltby), Aaron (Michael LeRoy), and
Jason (Dene Larson) in Poolside (Photo by: Candice Nite)
The Gay Man's Disaster Survival Kit: Nicely directed by Max Cherney, this play finds two gay men checking their emergency backpacks to be sure they've got everything they need in the event of an earthquake. Randolph is a Southern sissy who grew up on a farm and now earns his living as a hairdresser. Like one of Tennessee Williams' alcoholic tragediennes, he has substituted a bottle of vodka for the drinking water that should be stashed in his emergency backpack. Having recently been mugged in the Castro, he's added a gun to his disaster survival kit.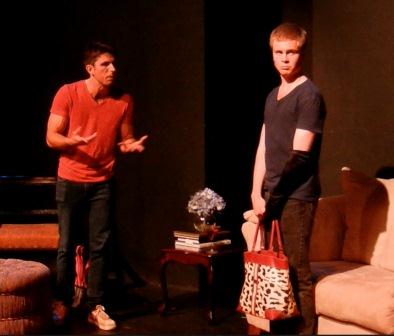 Darren (Michael LeRoy) and Randolph (Dashiell Hillman) in
The Gay Man's Disaster Survival Kit (Photo by: James A. Martin)
Although the butch and charming Darren may love Randolph intensely, he has good reason not to want a gun in his house. James A. Martin's brief duet makes the audience question the safety of the gay ghetto as well as their internalized assumptions about effeminate gay men -- especially those who know how to shoot a gun and are not afraid to pack heat.
Three Characters In Search of a Date draws its laughs with the precision of acid etching into glass. Written by Nick Brunner and directed by Ian Wolfley, it features Wolfley as a narrator who can't believe what is being said by the characters he is supposed to be supervising: three easily recognizable San Franciscan "types" whose neuroses make it difficult for them to get laid.
Flip The Switch finds new humor in the old battle of brains versus brawn. In Cass Brayton's delightful script, Otto and Cliché are two catty intellectuals trying to convince their hulking fitness trainer to attend a party for which they've already hired a man to service the guests. Alas, Bronco is one conflicted piece of muscle pudding. Known around town as an extremely butch top, he's recently met the one man he'd be willing to bottom for.
Carlos M. Mora has directed Flip The Switch with a delicious sense of irony, giving the audience plenty of opportunities to watch Adam Musgrave pump and flex while his two bitchy clients argue about what supplies they should purchase at Costco. Smartphone technology provides the hilarious surprise ending.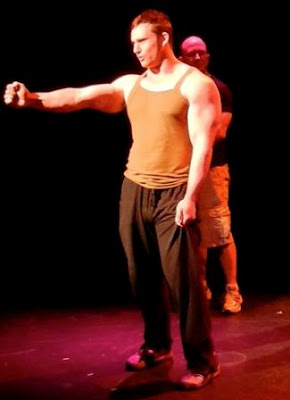 Adam Musgrave is Bronco in Flip The Switch
Photo by: James A. Martin
What Good Friends Are For: Written and directed by Paul Klees, this identity farce centers around the shocking announcement by Gregory that, after having had sex with lots of gay men since his arrival in San Francisco, he's been having a six-month affair with a biological woman and is now convinced that he's straight. Gregory's friends, Alan and Paul, want to support him but, when push comes to shove, are more concerned about losing their reservation at a local restaurant.
However, Ben (Gregory's roommate and oldest friend) is seething with cynicism and disbelief, and erupts in anger upon learning that the woman in question is both a close friend and co-worker. Hell may knoweth no fury like a woman scorned, but Rodney "Rhoda" Clay's bravura performance as a wounded queen with a volcanic sense of betrayal is pure comedic gold.
Two of the strongest plays on the program were written and directed by Joseph Frank. A Match Made In Heaven and Hell begins with a lonely, insecure nerd on his first Internet date. Lu has been seated at one of Café Attitude's tables, sipping one Shirley Temple after another as he waits for his online buddy to arrive. Despite withering insults from a super-cynical waiter, the very hunky Jesus (Aaron Tworek) eventually arrives on a bicycle he jokingly refers to as "his ass."
Both men have severe emotional baggage and lots of Daddy issues. As the audience becomes aware of their true identities, the laughs continue to build. When two conservative and much older café patrons take offense at the men's innocent kiss, Jesus and Lucifer find a simple but highly effective way to change the online profile settings for Agnes (Gabrielle Motarjemi) and Bertram (Robert Cooper) so that they can all live happily ever after.
Without any doubt, The Lamentation of Straight Girls Who Love The Sissy Boys was the highlight of the evening. Joseph Frank's play begins as a drab figure bemoans the plight of being a single straight woman in San Francisco. Enter Darius (Armando Rey) and Sasha (Jesus Fuentes), two hysterically funny and flamboyant Hispanic queens who bring to mind the ditsy banter between Lida Rosario Vazquez (Nicole Sullivan) and Melina Jacinto (Debra Wilson) on MADtv.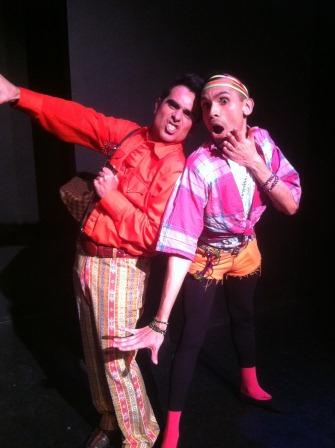 Darius (Armando Rey) and Sasha (Jesus Fuentes) are two
Hispanic queens in The Lamentation of Straight Girls
Who Love The Sissy Boys (Photo by: Candice Nite)
Defiantly clutching his "murse" and trying not to gag at the prospect of being forced to listen to a woman talk about her "Va Jay Jay," Darius is incensed that anyone would categorize him as a sissy. Sasha is straight out of the finger-snapping "Oh no, she din't" line of sassy characters who want some 'splainin' done. Together, they are a formidable team of fashion-conscious queens. Both actors offer pitch perfect portrayals whose body language and wounded egos have been so beautifully realized that you don't ever want them to leave the stage.
Calling all HuffPost superfans!
Sign up for membership to become a founding member and help shape HuffPost's next chapter