G.W. Pabst stands alongside Fritz Lang and F.W. Murnau as one of the three great directors working in Germany during the silent film era. Pabst, however, has not always gotten the attention paid to his more celebrated colleagues.
A month-long film series at Bard College in New York may help turn the tide of critical thinking. "The Best of G.W. Pabst" includes seven films by the Austrian-born director. It features his celebrated and often revived masterpieces Pandora's Box (1929) and Diary of a Lost Girl (1929), as well as The Threepenny Opera (1931), which stars Lotte Lenya and is based on the musical theater of Bertolt Brecht and Kurt Weill.
The festival is as much attention as Pabst has gotten of late, ever since Quentin Tarantino's multiple shout-outs to the director in his 2009 cinephilic rewriting of history, Inglourious Basterds.
Though Pabst is sometimes tagged as an expressionist, his films range from drama and social criticism to satire, melodrama, a comedy and historical epics. And that may have been his problem. Pabst may have been a little too varied for his own good.
Also on the schedule of the Pabst festival, which kicks off July 15, are the psychoanalytic thriller Secrets of a Soul (1926), the provocative The Loves of Jeanne Ney (1927), the bleak plea for peace Westfront 1918 (1930), and the socialist-toned Kameradschaft (1931). Not on the bill are two other notable works, Joyless Street (1925), which helped make Greta Garbo a star, and The White Hell of Pitz Palu (1929), one of the so-called "mountain films" so popular at the time. This latter work starred Leni Riefenstahl.
Why has Pabst not received the critical and popular attention given Lang (Metropolis) and Murnau (Nosferatu)? Some have argued that Pabst was never a true auteur like other better remembered directors, nor did he make the number of great films as had Lang and Murnau and even their contemporary, Ernst Lubitsch.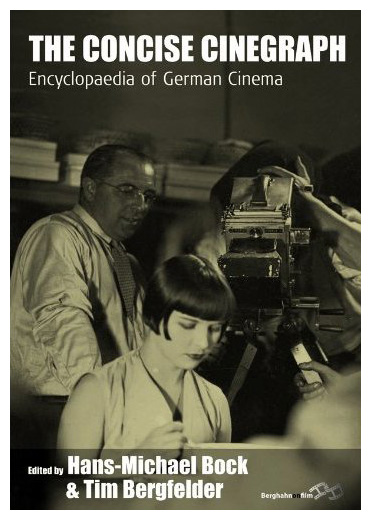 In his day, Pabst's films were on the receiving end of a fair amount of critical disdain and even official censorship. The recently released Concise Cinegraph: Encyclopedia of German Cinema, which depicts Pabst on the cover, notes that:
Pabst's films, which comprise some masterpieces of Weimar cinema, often revolve around themes of poverty, extravagance, sexuality and violence, and frequently caused problems with censors, meaning many of his films were released in only an abridged form.
Sometimes, it's hard to get your message out when your work is cut apart.
The other problem with Pabst's reputation is the fact that he spent the war years in Austria and Germany. Unlike the three previously named directors, Pabst didn't leave for a career in Hollywood. According to his wife, Pabst planned to emigrate, but was trapped on the continent when the war broke out. While there is evidence to support this claim, the fact remains he is the only important German director of the pre-war era to make films under the Nazis.
Pabst, however, was no friend to Nazism. His left leanings were known (he was even called "Red Pabst"), and they hated his "decadent" Weimar era films like Diary of a Lost Girl. Nevertheless, Pabst's reputation -- which could have been made in the post WWII era when Lang and Murnau rose through the ranks -- has never really recovered from the taint of collaboration.
Lee Atwell, the author of one of two English-language books on Pabst, stated in 1977 that "Pabst's strength as a director was not ideological and, second, that while pursuing a new vein of realism, he remained temperamentally still profoundly romantic."
Like Hitchcock, Pabst's other strength was his direction of women -- Garbo, Asta Neilsen, Henny Porten, Bridgette Helm, Reifenstahl, and especially the American-born Louise Brooks. Pabst brought the then little-known actress to Germany to play in two films which are now considered his best, Pandora's Box and Diary of a Lost Girl. Today, they are also the Pabst films most often revived.
Are we in the middle of a Pabst's revival? It's hard to say. Reputations, it seems, rise and fall. More information on the "The Best of G.W. Pabst" Festival at Bard College can be found here.
Thomas Gladysz is an arts journalist and author. His interview with Allen Ginsberg was included in Sarah Greenough's "Beat Memories: The Photographs of Allen Ginsberg" (National Gallery of Art, 2010). And recently, he wrote the introduction to the Louise Brooks edition of Margarete Bohme's classic novel, The Diary of a Lost Girl (PandorasBox Press, 2010). More at www.thomasgladysz.com.

Calling all HuffPost superfans!
Sign up for membership to become a founding member and help shape HuffPost's next chapter