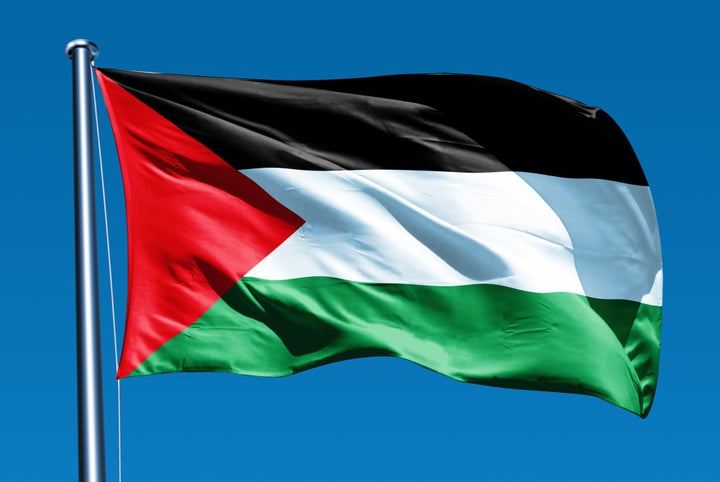 WASHINGTON -- Before hanging a Palestinian flag outside of his dorm-room window, Ramie Abounaja checked in with his two Jewish roommates to make sure it wouldn't make them uncomfortable.
"They were very much like, 'Go for it,'" Abounaja, a third-year biomedical engineering student at George Washington University, told The Huffington Post, recalling their conversation from October. His roommates then asked if they could hang an Israeli flag in their shared living room, which Abounaja had no problem with.
"I didn't put up the Palestinian flag for the notion of a pro-Palestinian or anti-Israel message. I just put it up because I'm proud of my heritage," explained Abounaja, a first-generation American whose parents were born in Palestinian refugee camps in Lebanon.
Roughly two weeks later, a campus police officer came to Abounaja's room, told him the flag violated school policy, demanded he take it down, and filed a report on the incident. Abounaja complied but was caught off guard by the police intervention for a seemingly innocuous incident.
"I felt victimized and criminalized in front of my roommates," Abounaja wrote in a letter to the school, adding that other students on his floor opened their doors to find out what had prompted a police visit. "Had an RA come to the room, it would have been different," he told HuffPost, referring to the student who supervises the floor in his building.
During his three years at GW, Abounaja had seen various flags and banners affixed to the front of residential buildings and was not aware he was violating any rule by hanging the Palestinian flag in front of his window. Even after the police visit, he had a hard time figuring out exactly what rule he had broken. Nowhere in the student handbook could he find a prohibition on flag-hanging.
A week after the police visit, Abounaja received a warning letter from the university informing him he had violated the "Code of Student Conduct" without specifying which rule he had broken. "We hope that you will be respectful of your peers and be aware of your behavior," the letter read, cautioning him of disciplinary action if the school received further complaints about the flag.
Only after Abounaja sought legal counsel from an independent law group called Palestine Legal did the university clarify which rule he violated. "GW has not banned any flags from its campus," the school wrote in a statement. "However, the university's Residential Community Conduct Guidelines prohibit the hanging of any object outside of a residence hall window (Section III. 7), and this is enforced when reported to the GW Police Department."
Even this explanation is not totally clear, Radhika Sainath, Abounaja's lawyer, told HuffPost. "It doesn't mention flags -- it makes it seem like you have to be throwing things out the window." The school's heavy-handed approach to Abounaja's case, wrote Sainath in a letter to the school, "threaten[s] to chill student speech on campus" and could constitute a violation of the 1964 Civil Rights Act, which prohibits discrimination on the basis of race, color or national origin.
Abounaja says he's seen "dozens of students, fraternities and other groups" hang flags and banners outside of their windows and was only inspired to buy and display a Palestinian flag after seeing adornments outside of other students' rooms. "I felt like I was being singled-out, because of my heritage and the viewpoint of my speech," he wrote in an unanswered letter to the school.
Judging by responses from students who weighed in on the public Facebook group, "Overheard at GW," the rule is inconsistently enforced. "I did hang an Israeli flag out of my window facing Square 8," wrote one student. "I received no word, no censure, or comment from GWU."
Another student dismissed the suggestion that Abounaja was treated differently because of his choice of flag, noting that his fraternity had to remove an American flag hanging on a nearby building.
A report by "The Intercept" on the issue included recent photos of an Argentinian flag, an American flag, a pirate flag, a banner and Christmas lights affixed to the front of GW buildings in a way that would violate the school's stated policy.
Sainath has asked GW to withdraw its warning letter to Abounaja, offer him a formal apology, and issue a written statement ensuring equal enforcement of its code of conduct going forward.
In the meantime, Abounaja has re-hung his Palestinian flag -- this time, inside the window of his room -- and hasn't received any complaints.
The pre-med student once worried that his encounter with the campus police would hinder his future career prospects, but he was comforted by a recent email from a member of the MCAT offices in Washington. After reading that Abounaja was an aspiring doctor, he emailed the student suggesting they get coffee and talk about medical school.
On Wednesday night, GW issued the following statement:
GW has responded to the student and Palestine Legal correspondence, and we believe we have addressed the concerns that were raised. Members of the Division of Student Affairs also met with the student. While we believe the university has been responsive, because of federal privacy laws, we are unable to provide additional information about the discussion or the outcome of the meeting.
Abounaja told HuffPost he was surprised by the school's statement. He met with an assistant director from the office of Student Rights and Responsibility but has not spoken with anyone from the Division of Student Affairs, he said.
"I do believe there is still a larger issue at hand, and I do not believe everything has been remedied," he said, adding that he and his lawyer are still in touch with GW.
On Thursday, GW President Steven Knapp acknowledged the school's "flawed process" of issuing a warning letter to Abounaja even after he had complied with the officer's request to remove the flag. "The student was understandably alarmed and believed that the warning was based on the fact that the object he had hung from his window was a Palestinian flag," Knapp said in a statement. "That was not the case, but, again, it was perfectly understandable that the student would interpret the letter in the way he did."
Knapp said that he had personally apologized to Abounaja and instructed the school to enforce its policy more consistently. In the statement, he did not suggest any changes to the practice of having campus police respond to similar future incidents.
This article has been updated with responses from the university and Abounaja.
Popular in the Community